The lights went out. The countdown started. The music blasted. Through the darkness a shadowy figure strolls on to the stage, arms open and back to the audience. Suddenly, the room was ablaze with his spectacular fairy-lighted form. Chris 'Y2J' Jericho was in the building and he certainly knows how to make an entrance.
Opening the first of two 'London is Jericho' evenings staged by PSI Events, the wrestling and rock legend hit the ground running. Commenting on the introductory video package that had aired in advance of his theme song, Y2J's opening gambit was: "Ive done a lot of s**t, haven't I?" and as for the LED-lined jacket, "it's even more famous than me". Jericho used this introduction to segueway into the first of some five or so fascinating tales which gave an exciting insight into his wrestling and musical life. Delivered with trademark confidence, natural comedic ability and first class showmanship, this was captivating entertainment at its best.
Expanding on the story of his notorious jacket, Jericho explained that he likes to change things whenever he returns to the WWE ("which has been, what, 15 times now?" he jokes) and the outfit matched his desire to be the (Kiss Legend) Paul Stanley of wrestling. He took us behind the seams to show the complex electrical arrangement and explained that trouble with one wire could result in a row of lights being extinguished.
Jericho's jacket was initially constructed for Wrestlemania 28 where he was scheduled to face CM Punk. We were told that prior to the match, Jericho had found both the giant (and recently released) Brodus Clay and Christian (compared in girth to the microphone stand) trying on the jacket. Just prior to his ring entrance, Jericho found the aforementioned tampering had resulted in a lighting failure on the $10,000 item. Cue a wonderful reconstruction of Y2J's awkward attempts to hide said failure from the cameras and Vince McMahon.
Jericho touched on both the ups and downs of his relationship with McMahon (of whom, in a similar fashion to HBK, he does a good impression) throughout the night. This included Vince's no-nonsense text response to Jericho's near arrest for stamping on a Brazilian flag: "WTF Chris!" and his more amusing observation that Jericho had "the most effeminate walk I've ever seen!". We're told Vince enjoys AC/DC and the Rolling Stones but there was no word on his interest in Fozzy. We did however learn that he is resentful of being McMahon Junior and so had the suffix removed from Chavo Guerrero, Rey Mysterio and others, considering its use to be a clever insult by WCW. So too, we learn that Vince hates scarves and this is why Alberto Del Rio, born a 'heel', wears one to the ring.
In another tale, Jericho shared the highs and lows of his first heavyweight title win in WWE. We were told that Kurt Angle (nicknamed 'Canary' for his incessant wittering and 'Thumb' on account of his muscular neck) had been certain of the win but that WWE Legend Pat Patterson (subject of another hilarious impression) had confided in Jericho that it was his time. Jericho remained unconvinced (to the detriment of his family who weren't invited to the bout) and only knew it to be true when prior to the match he overheard Vince McMahon purposefully joking with the Undertaker that the company awarding Jericho the title was a clear indication that business was going down the toilet. It was nonetheless an ecstatic Jericho that went on to win, only to return to a deserted backstage area, the rest of the company having left early to beat the traffic. Jericho drove alone to the next show and proceeded to lock himself out of his room, have his identity questioned to gain re-entry and dine on a championship dinner of cold pizza.
Jericho, by this point, had totally captured the audience. His good-natured confidence and sense of fun transcending the stage. We were treated next to a cowbell interlude, pleasing fans of the 'Talk is Jericho' podcast, where said cowbell has found fame.
Other stories covered by Jericho included his suspension following an infamous flag desecration incident in Brazil and his somewhat tumultuous journey to London. This latter tale included a self-confessed huff and thrown ticket, which embarrassingly floated to the ground. Masterfully, Jericho turned this too into a crowd-pleaser, showing then signing and donating his compensatory airline T-shirt to a fan in the audience.
Jericho finished the first half, having spent over an hour on his feet, by regaling us with tales of his interactions with Ozzy Osbourne and Mike Tyson. We hear that the Black Sabbath song title 'NIB' was a homage to a pencil-bearded friend of Ozzy's and that Mike Tyson almost knocked out Y2J.
The second half began in characteristically powerful style, with a rendition of 'Don't Fear the Reaper' including cowbell accompaniment. Next, it was the audiences turn for questions but Y2J had already ruled out a return to the WWE, stating he didn't know when he might be back.
In relation to the Undertaker's streak ending, we were told that Jericho "loved it", cheekily adding: "It was the biggest shock since my return at the Royal Rumble". He believes that if 'Taker had retired with the streak intact, it would have been "cheesy" and "un-undertaker". The torch had to be passed and Brock Lesnar's win was credible, we were told. The question now, he said, is who beats Brock.
Clearly a fan of the Undertaker, Jericho detailed the incident whereby 3 pyros exploded nearly turning the 'Dead Man' into one. Applying his 'Walls of Jericho' submission manoeuvre, Y2J recalled hearing Undertaker screaming in pain as his 3rd degree chest burns were pushed to the mat. Later, Jericho revealed that he refers to 'Taker as 'The Fonze' on account of his unflappable demeanour. This didn't stop Y2J trying to unnerve the big man. Jericho spent some 3 hours in a bar trying to convince the Undertaker to let him kiss him on the lips ('Taker finally agreed to a cheek to shut him up).
We also heard that WCW was not particularly conducive to the success of un-established wrestling talents. However good the younger wrestlers were, the commentators would be talking about the top stars throughout the undercard. Jericho praised the nWo storyline but believes that Vince McMahon was destined to win the Monday Night Wars as "he is a genius".
Jericho was prompted to reflect further on his WCW days when asked about a backstage incident with the infamous Bill Goldberg. Jericho recapped his WCW storyline feud which included attempts to belittle Goldberg's then unbroken winning streak. Taking this to heart, Goldberg (cue another impression) made his feelings clear and there were disagreements about the direction of the angle. Jericho ultimately argued successfully for a pay-per-view match, only for it to be cancelled when, we were told, Goldberg chose hunting over the booked appearance. Some years later, on the night Goldberg joined the WWE, Jericho was asked to look after him. The residual tension led to Y2J challenging Goldberg and a nasty fight breaking out. This culminated in Jericho being restrained by friends and Goldberg breaking free, only to pull Jericho's hair and for the two to exchange cusses (much to Booker T's amusement). They later shook hands and Jericho is keen to point out that he has respect for and no ill feelings towards Goldberg. He did however somewhat delight in telling us that Vince called him and said: "I cant believe you beat up Goldberg".
There were numerous other topics covered in the Q&A, including Jericho's selection of the first wrestlemania fight between HBK and the Undertaker as one of the best of all time and his admission that he missed the second to see Paul McCartney because the Beatles beats wrestling. We learn that he was pleased with his programme against Fandango and the popularity he was able to confer to that character. We were also regaled with stories of his time wrestling as Super Liger in Japan, Funaki's gratitude that Jericho is seemingly so keen to fight him (Y2J with tongue fully in cheek) and that whilst there were positive aspects to his work with Chyna, giving Triple H's then girlfriend a black eye was not ideal. We hear about the Jericho curse and exclusively, he told a Royal Ramblings blogger when asked, about his need to modify the 'Walls of Jericho' submission manoeuvre during his time at WWE to better suit the bigger wrestlers in the company.
When asked both about his latest Fozzy single and his multitude of wrestling tights, Jericho demonstrated a keen business aptitude. He told us that he diversified the colours to sell more figurines (not that his first pack helped, the barcode mislabelled the dolls as Sting & Hogan) and he compares the approach to Madonna, changing his look but staying true to what he is.
Jericho's true self is seemingly a combination of things. He is an entertainer extraordinaire, a leading man, a natural jester, a talented wrestler and all-round enigma. On meeting him afterwards, we can add genuine, kind and decent to the list. No review could possibly do justice to the colour and wit with which Jericho relays his stories and enthrals the audience. Who knows how long it will be before Chris Jericho returns. His podcast will perhaps fill the gap in the intervening period but something isn't quite the same today because for that night, London was Jericho.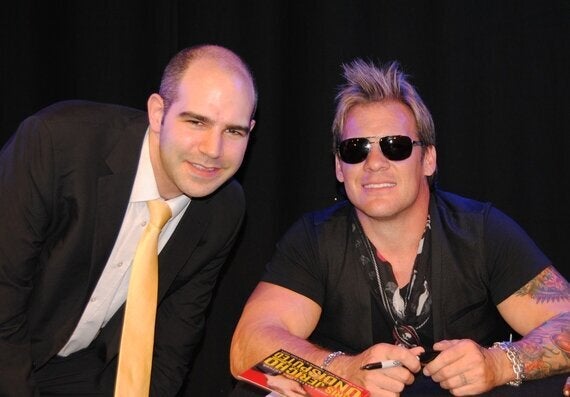 Popular in the Community