As ever, WWE is setting the pace for the entertainment world. Both on TV and live in person, the company is evolving, inspiring and revolutionising its approach. News broke last week that the company's Smackdown programme was to air live - for the first time ever - on Tuesday nights (at 10pm) on Sky Sports. Moreover, as part of a brand split, the show will now feature a distinct roster, with its own writing team and storylines too.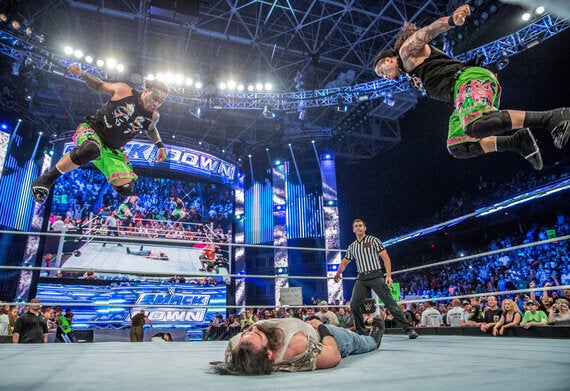 Meanwhile, the ground breaking NXT brand is coming back to the UK and will for the first time ever be performing at the Donnington Park Download festival! Among the superstars performing will be Bayley, Jason Jordan and Chad Gable (American Alpha), Asuka and Shinsuke Nakamura. From Friday, June 10 through to Sunday, June 12, the NXT stars will perform, sign autographs and much more. The tour will then stop at the 3Arena in Dublin (June 13) before moving to Belfast (June 14), Liverpool (June 15), Bournemouth (June 16) and Plymouth (June 17). Tickets for Download can be sourced here and for the rest of the tour here.
Royal Ramblings was lucky enough to take part in a call with former NXT champ Finn Balor. Here's what we heard as we met him on the road to the NXT tour - read on!
The chants on the last NXT UK tour were impressive - what is it about UK fans that leads to this?
I think it's the football culture we have back home. Obviously, fans are conditioned to the chants with all the football games - and it translates to NXT. We were absolutely blown away by the fan reaction we got on the last tour in the UK and Ireland. For a lot of people, it's helped with their confidence. Like Chad Gable and Jason Jordan who kind of went on the December tour and weren't unknown, but lesser known stars. They solidified their place on the roster with the help of the UK fans and their chants. The "Hey, hey Bayley chants" have transcended the UK- it's now over at NXT shows in the states too. So the UK and Ireland fans have helped add a lot of atmosphere to the current NXT product in the US right now.
You're facing Samoa Joe in a cage at the next 'Takeover' event (available on the WWE Network). What is your favourite cage match?
There's a lot of firsts for me in NXT. It was my first ladder match at NXT Takeover:Brooklyn against Kevin Owens and now we've got a cage match at Takeover in June, Myself and Joe have been at it twice at Takeover this time they're putting us in a cage. William Regal said that it's because he wants to ensure the safety of the fans at Full Sail Arena but this has been going on a long time and I feel the only way to settle things is by putting us in that cage. As for cage matches it's got to be Hell in a cell with the Undertaker and Mankind with Mankind coming off the top of the cage. That's something that will last in everyone's memory forever.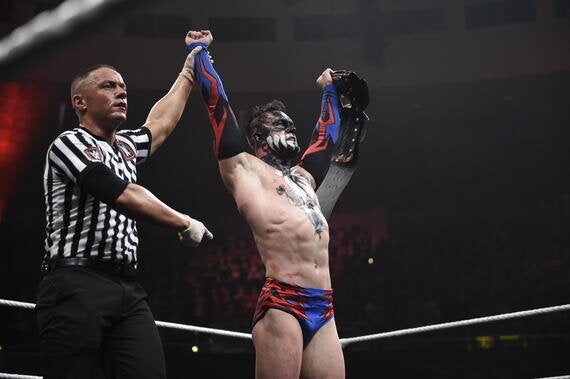 Above: Balor as NXT Champion, will he win back the gold at NXT Takeover: The End?
You'll be performing at Donnington. It's unusual, how do you feel about the brand being at a music festival?
It's incredible. This will be the first international music festival we'll be performing at but we have done two or three festivals in the United States. The atmosphere is very different but it's always good to put yourself out of your comfort zone and wrestle in different environments and we're all looking forward to the Download festival.
A number of NXT stars have moved to the main roster, so how is the roster shaping up for the tour?
Its funny because when you look around at the current roster, you think 'God, we'd be lost without that person' when just a year ago we had Adrian Neville, Sami Zayn, Kevin Owens, Baron Corbin, Apollo Crewes. If you looked around the roster you'd say "Wow, if all those people were gone to Raw and Smackdown what would be left of NXT?" Well, this business has a funny way of regenerating itself and it feels to me like the current roster is even more raw and more exciting than the one we had two years ago. Obviously I'm still here - best part of NXT - but we've got recent international signing Nakamura who's a huge star in Japan and I believe is trying to transcend wrestling into mainstream culture. We've got Asuka the Women's Champion, American Alphas, Samoa Joe, Austin Aries, these are all people that have kind of stepped in and filled the positions and I'm sure in a couple of months' time a couple of those people will be gone to Raw and Smackdown and there'll be other people stepping in too. It just keeps regenerating itself.
Triple H recently tipped you for greatness, does that heap pressure on you?
I haven't spoken to him since then but to be honest if I wasn't being tipped for those sort of things I'd feel under more pressure! I'd want to know what I was doing wrong! Obviously it's nice to hear someone of his pedigree (no pun intended) saying nice things but you can have people talk about you all day long in the end you've got to live up to the hype and I'm very aware that I've got a lot of work to do. I've got to maintain everything that I'm currently putting out there. The responsibility is in my hands to keep performing and I'll just rely on myself to keep doing that.
Balor is resolute and determined. There's no question he'll be giving it all to fans at Download and across the tour - and who knows maybe on Raw or Smackdown in the future. Make sure to catch him in the UK tour by getting your tour tickets here and for Download here!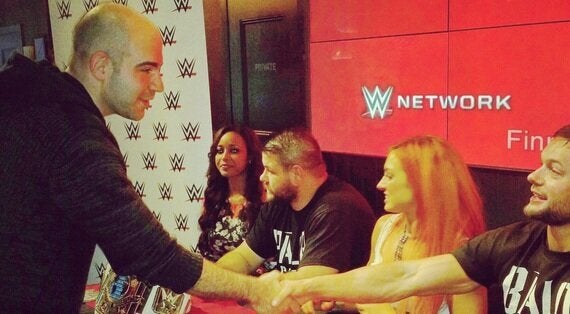 Above: Royal Ramblings meets Finn