This month, following a second major UK tour in six months, Insane Championship Wrestling (ICW) did what no other UK promotion has done in over 30 years and sold out the 5000 seater SECC Arena in Glasgow. Not since Big Daddy and Giant Haystacks faced off at Wembley has such a feat been achieved and it is little surprise that it was the men and women of 'I See Dub' that delivered the goods. Fans that have missed out can still catch November 15th's 'Fear & Loathing' show on ICW On Demand and with a stacked line up, it's one you won't want to miss.
Some six months ago, we had the good fortune to interview ICW's Zero G Champion, Stevie Boy. Since that time, he has established himself as a worthy champ and an ICW MVP. In the second of our new round of ICW interviews we talked to him about his change of character, future plans and his thoughts on Kay Lee Ray's NXT debut - read on!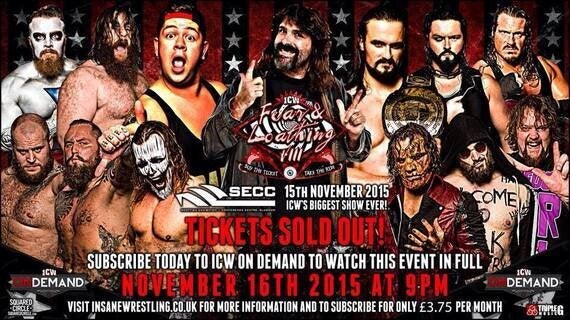 When we last met, you'd just become the Zero G champion. You've changed character and defended the belt multiple times, how have you found the last 6 months?
Absolutely surreal! On the last tour, word in the locker room was that it would get bigger and better. I'm not sure anyone was 100% certain it was really going to happen but it has, ten-fold. Every show, every month, we're not pushing the bar, we're ripping the f***er off. We're the guys doing what has to be done, trying to put British wrestling not just on the map but get it really out there.
Have you enjoyed your character development, turning to the dark side with the New Age Kliq?
It's been a fun learning experience. I've done bad guy stuff before but usually on day shows. It's really easy to be mean to children but when you walk into that over-18's environment and most guys in that front row can punch my lights out, it's kind of hard to establish the limits. In Newcastle, we were getting in trouble for trying to fight with the crowd. There were drinks being flung everywhere and people being spat on but it's been so much fun. Obviously I do it with my best friends now and it's all I could ask for.
What's the aim for Stevie Boy over the next six months?
I don't really have a set goal at the moment, I'm just taking it as it comes. I want to learn as much as I can. I do want to move up and start challenging for the Heavyweight Title but personally I don't think I'm quite ready for that yet, so I'm just enjoying the learning experience I've got. The first four years I was in ICW I was part of a tag-team, so the last six months I've had to find my own feet and to be myself - the attentions on me now. It's been hard, it's been challenging but I'm absolutely loving it and I just want to keep pushing on and see where it takes me.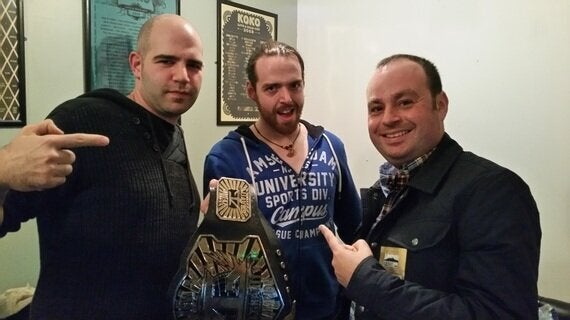 Who are you learning from in the locker room?
I think you take bits from everybody. Just backstage watching on. Certain guys and the way they interact with the crowd - not even big things but just certain movements or facial expressions in the ring or the way they move their hair. You have to sit there and you have to study to see "what am I missing here". I try and see as much of the shows as possible and ask for feedback. I don't think anyone here is in it for themselves, we're all in it for the bigger picture. So by someone helping me they're actually helping ICW in the long-run.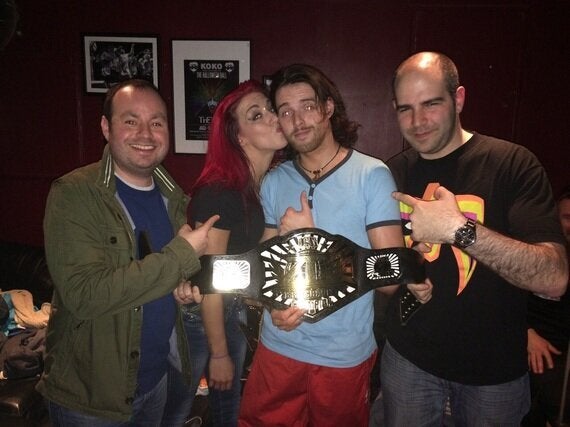 Kay Lee Ray made an appearance in NXT - how was that for you as her long-time partner?
Oh wow!! It's absolutely amazing! I couldn't be more proud. I've not actually spoken to her an awful lot. I messaged her on the day and then obviously I saw the picture go up so I sent her messages. I'm absolutely over the moon. Obviously for anyone that starts out in this company, that's the dream. We want to go there. Kay Lee and I have been together for eight years now - so to see my other half on the big screen doing what every one of us is dreaming of doing... it's like a dream. Im waiting for someone to pinch me and wake me up. I'm so chuffed, I really am. When I saw the photo I even had to kind of double-check it! I can't put it in words - I'm overjoyed with it. It's amazing.
ICW certainly has form (see Drew Galloway), so it wouldn't surprise us if you saw Stevie on US TV but with the march of ICW to the top, he might be better off staying where he is! Make sure to check out ICW's live event dates (30 October: Manchester, 31 October: Birmingham or 1 November: Nottingham) and get along to a show!
Popular in the Community