Earlier in the year, we ran a six-part special in which we interviewed the stars of arguably the biggest and brightest UK promotion, Insane Championship Wrestling (ICW). On their return to the capital and as part of a remarkable second UK-wide tour in one year, we were able to meet and talk to more of ICW's top talent.
Here in the first of this second round of interviews, we speak exclusively with Big Damian O'Conner known affectionately by many as Damo. The "Beast of Belfast" is as an intimidating an opponent as many will ever face. He has impressed with his in-ring power and dynamism and is now a regular across the UK scene. Make sure to get tickets for his matches against Jack Jester at ICW's biggest show at the SECC on November 15th and for GFW in Grimsby on 28 October because Damo is someone you will want to see before he's snapped up.
You've been with ICW some time now, how have you found it?
I actually came into ICW a lot later than many of the guys, at the end of 2013 but even then it was doing very well. They'd put 1000 people into the Picture House in Edinburgh and since then it's been astronomical. The tours, we're doing the SECC November 15th and there's 5000 people! It's been brilliant to be a part of it. This has been massive for me because the exposure ICW has given me and a lot of the other guys has helped put me on the map worldwide. So my last two years have been a whirlwind and the next two years are looking to be even better. The tours been fantastic, the roster's so diverse but it's an excellent mix of people for us to learn from and for us to have great matches with. So it's been really special for us and we've all been buzzing this past couple of weeks.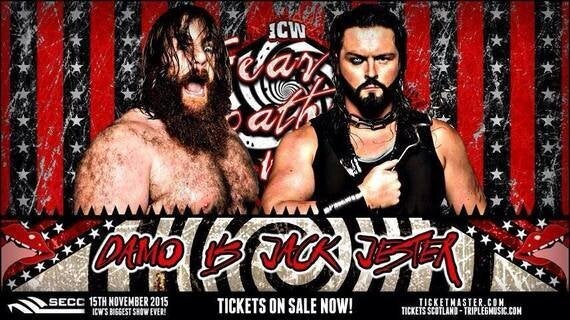 You've performed across the UK with various promotions, is the next move international?
Well when I first got into wrestling, one of my problems was that I wasn't very good at marketing myself. Coming into ICW, in my opinion one of the best marketers, I learned more about that side of things and that's really helped me. I'm from a tiny fishing village in Ireland and I'm now getting followers from Japan and America - all things that I never thought would have happened. I've wrestled Japanese wrestlers, Ive wrestled American wrestlers. When I first started out, these things weren't a possibility - I was thinking "yes! I get to wrestle someone in Glasgow!" Whereas now we all have to think bigger, we all have to dream bigger. My goals have changed so much since day one. I originally just wanted to give this a try. Then it became a hobby, then it became a part-time job and now it's a career. This is my full-time way of living. I've just entered my tenth year and it's great to think this is my career and what I've worked hard for. The boom of wrestling's really helped and now Global Force are coming into England at the end of the month and it's a great opportunity for myself.
How did the Global Force appearance come about?
When they announced they were coming to the UK I got a message from one of their team and that was it really! As I say, branding is something I learned so much from ICW about. Its helped people realise "there's a big lad from Ireland there who's wrestling" They asked me to send some of my stuff so I did. It will be a great opportunity for me. They announced today I'll be wrestling Bram - he messaged me to tell me he is going to give me a hiding but we'll see! I'm looking forward to it. He's a similar height and weight to myself so it will be a lot of fun to knock his teeth in!
You're a bigger guy but can move - did you train hard to be so agile?
I think when people see a larger chap they think it's based off someone just sitting on the couch and gorging themselves. I'm actually a powerlifter, I got into lifting - I had a weight set since I was 15 but I got into powerlifting a few years ago. As I put on weight I still wrestled the way I did before. I can actually probably jump higher now and do things that I couldn't when I was smaller. So people are telling me how I'm really agile and fast but I'm like "I actually think I'm quite slow!" Maybe in comparison to what people think a big wrestler should do I'm fast. There's been amazing heavyweight wrestlers like Samoa Joe, Vader, Bam Bam Bigelow before me and they're a great inspiration. I just want to carry on in their footsteps. I wrestled Samoa Joe and got some great advice from him, I'm delighted I had the opportunity to wrestle him.
With two tours in six months and much more are there any barriers for ICW?
I think ICW is riding the wave right now. I don't think it's going to stop. I've got full belief in Mark Dallas and the whole team at ICW because they've got ambition and they're not willing to take no for an answer. And I think that's what you have to do. The lads are going to Ireland next year which is big, we're hopefully going to push out to Italy and it'll be the biggest company in Europe. Who knows what comes after that. On the global side of things, wrestling's hot in Japan and America, ICW is going to make it super-hot in Europe!
If Damo is right, you'll want to get your hands on one of the last few tickets for ICW's SECC show on 15 November to see him in action. We have more interviews and a review of ICW's KoKo show to come, so keep tuned!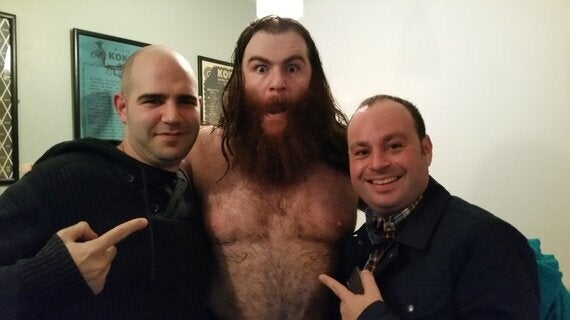 Popular in the Community