If you have had the pleasure of watching a Chikara show you'll know how entertaining and exciting the promotion is. If anyone embodies the energy, dynamism and character of Chikara it is Ophidian The Cobra. For those not steeped in Chikara history, Ophidian is a time-displaced anthropomorphic snake from ancient Egypt, stuck here in the present (!) We sat with Mr The Cobra (O) and his wife and business partner, Kate 'Mrs The Cobra' Nyx (KN) to discuss Chikara, wrestling gear and more. Read on!
You're here to wrestle at UK independent shows, what's your perspective on the scene?
O: There's a camaraderie amongst the independent scene in the UK that I don't feel necessarily exists in the US. For many different reasons - the US is massive. England, comparatively speaking is very tiny. So everybody kind of knows each other and it's easy to get around and make friends. That camaraderie inspires you to perform at a higher level - with your peers always watching.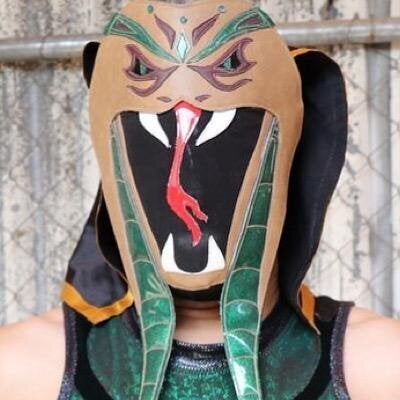 What advice do you have for UK competitors in Chikara's forthcoming King of Trios tournament?
O: The King of Trios is the biggest tournament in professional wrestling. Not so much by size but the sheer amount of talent that's in it. You're not just competing against local Chikara or other Americans but talent from around the world that's going to bring something you would never expect. So this is not a weekend in which you hold back or save your best for last. You come out guns blazing or else you get lost in the shuffle.
A year or so ago, your ring gear and mask were stolen - there was an amazing fan response. Can you tell us about it?
O: That was right before my last UK tour. I had a King of Trios, a music video shoot and the UK trip all within a week and a half of each other and my gear was taken from my stoop at home. It was a late night, coming home from a show at four in the morning. It was on our front steps for three hours or so and it was stolen. The outpouring was amazing. The fan base rallied and raised close to 1200 dollars for me and we were able to rush order masks from Japan. The mask maker had never made a mask in four days and saw it as a challenge. He sent me pictures daily of him trying to dry the glue on the masks with industrial fans. I was able to do the video and king of trios.
We were struck by how Chikara delivers sheer entertainment, has that been lost to wrestling?
O: I think that's just entertainment as a whole. People want to be entertained in the realest way possible, so that it feels like this could be them. Amongst all of that and everything being produced the same way, Chikara is not. Chikara is staying true to what entertainment should be. You should be able to suspend your belief. People should be able to watch something and get lost in it without feeling that you need to be the characters involved. You yourself would never be a professional wrestling ant, snake or pharaoh - that's the fun of it. I can watch and think "this is just pure entertainment", I don't have to relate to mine or others personal lives. It's something you don't get in other forms of professional wrestling. We know this is ridiculous and that's ok - let it be ridiculous.
KN: Wrestling is the only form of entertainment where you can directly interact with the performers too. You're meeting Robert Downey Jr, you're not meeting Iron Man. In wrestling, you see Ophidian the Cobra do this amazing thing, then you go and talk to him. The masks don't come off.
You have a joint company Closet Champion what are your future plans and when will you be back?
KN: He's the spokesnake but I do all the work! At the moment my whole life is spandex. It's hard to see a Chikara match and not see at least one guy in our gear. I always ensure that elements of the gear make sense for what they're doing. For example Soldier Ant was a prisoner of war and the larger bullet holes in his gear have matching exit holes on the back - those little details are important to me. Ideally we would both like this to be our job but I'd also like to branch out more into fashion design - sometimes spandex, vinyl and foam drive me crazy!
O: One of the things I enjoy most is teaching. I'm one of the head trainers of the Chikara School. Mike Quackenbush is the headmaster but under him there's myself, Chuck Taylor, Fire ant and Hallowicked. We all have our specialties....I'll be back at some point in the UK - its been successful for me. When? Can't say for sure but I'll be coming.
Popular in the Community