Love him or hate him, one cannot dispute that Robbie E has made a phenomenal impact at TNA since debuting some five years ago. With TNA back in the UK in January 2016 (29th in Manchester, 30th in London and 31st in Birmingham), Robbie stopped by to talk with us about the tour, his ambitions and more. Read on.
What's your favourite memory of a UK tour past and how will this one be different:
I think it was smacking 'bigger Rob' [Rob Terry] in the face. It was such a good smack and it made so much noise that it's kind of hard not to remember that. The tours only get better as they go on because TNA listens to fan feedback, improves and makes it better. That's the great thing about TNA. They always come up with new creative kinds of matches too, so I'm sure on this year's tour there'll be something new and fresh going on.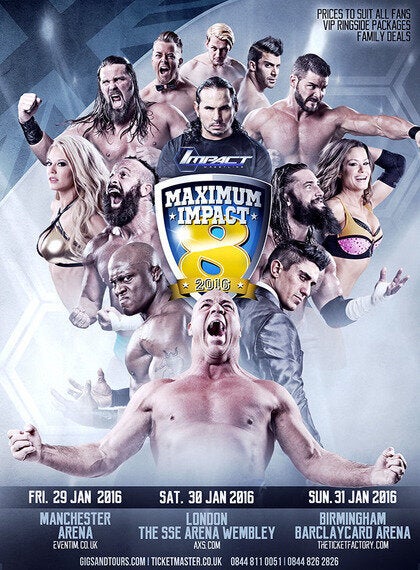 You'd long been a 'bad guy' at TNA but now you've changed direction. Was that difficult?
No. Whether I'm a 'heel' or 'face' or whatever you want to call it - I was always being myself and being Robbie E. I'm still myself, I'm still who I am. It's just that now instead of being focussed on being a goofball, I'm focused on wrestling and I really want to show people I am a great wrestler. I'm focussed on being a Grand Slam champ. I'm a former X-Division, Television and Tag Champ and I want to be added to the shortlist of Grand Slam champions. So EC3 is on my mind and I would love to get a world title shot.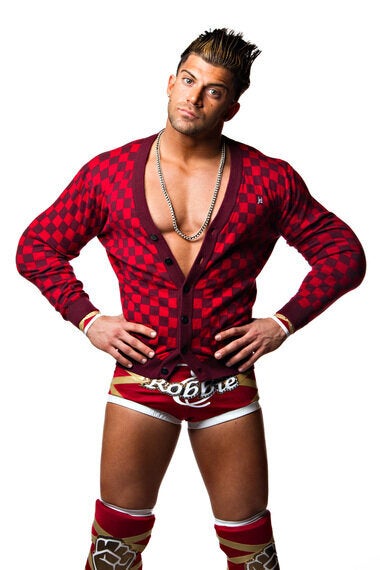 In a match recently on Challenge TV, you performed a rather daring stunt which has already been getting positive feedback online. Are you attempting to further showcase your talents?
Yeah, I was trying to showcase them. To get world title shots and to get people behind me, which is what I want now, I think I need to do things like that. It's to wow people and have them say "Robbie E is the man, let's get behind him". If I get them behind me then I'm going to get the shot that I want. I've got to take some risks now.
What was your reaction to Jeff Jarrett turning up at Impact and what do you think of the GFW invasion storyline? Might we see you on a GFW show?
I was on the phone going to the bathroom because I was in a segment within twenty minutes, so I was pumping up and putting on my oil and I saw out of my side vision a car and thought "is that Karen Jarett". I was in such a rush I didn't really pay attention and then when I came back, Jeff and Karen were right there, going out through the curtain. They'd been hiding all day- my reaction was like everyone else, "what the heck is going on". The angle is a buzz. It gets people talking. I think it's caught some interest and will get more eyes on our product and it's fun. Of course TNA is going to win the war because we never lose. As for a show, I'm not opposed to it. Anywhere that I can wrestle and make a name for myself is a good thing.
TNA are giving talent time to wrestle on independent shows - does it work in your favour?
You know, it's cool for me. As long as I'm wrestling, I'm happy. When I got into wrestling my goal was to be able to wrestle full time and wrestle as a living, and that's what I do. I survive and live nicely off pro wrestling, so I'm happy whether it's for TNA or independent wrestling. I will say TNA's schedule is getting fuller because we're announcing more and more live events.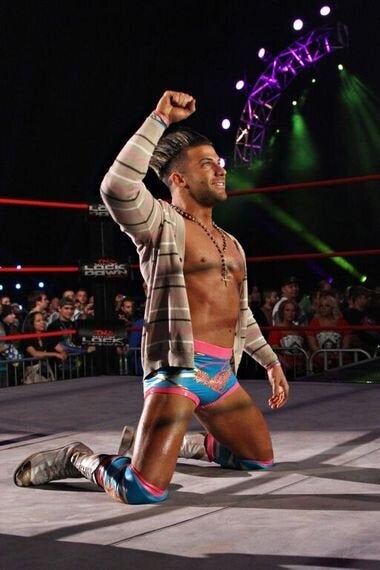 What did James Storm leaving do for locker room morale?
He was pretty much one of the last men standing that was there from day one. It was cool to have one guy around, one original but on the other side of things, he was a top guy and now it's another spot open for someone like me to move into. So for that, I'm happy about it.
Has the product changed since Billy Corgan came on board?
He great. He takes his time, he likes to work with talent and he loves pro-wrestling. He thinks that everyone on the TNA roster is super talented. He's just finished a tour with Marilyn Manson and on his one or two days off, he's flying to Orlando to work with the guys. He's not being lazy at all. He wants to be a part of it so it's cool to have him around.
What has been your strangest fan interaction?
I guess it would be in Japan, when we were there for the TNA-Wrestle-1 One Night Only Pay-Per-View. Randomly fans just know what room you're in and are regularly knocking on your door. Some of that is normal because they want to buy your wrestling gear but some would knock on the door and I'd answer and say "hey". They'd say "hey" and then you're just standing there. You say "you want to buy wrestling gear" and they're like "no" and just stand at the door. We had to have a security guard in the hallway because they were knocking on everyone's door just wanting to talk to the wrestlers. It was pretty weird!
What's the best rib [practical joke] you've been a part of?
When Grado just re-started with TNA he kind of ran his mouth a little bit to some of the wrong people. To make up for that, if he wanted to survive in the locker room, he ended up having to do his full entrance in the empty impact zone in his underwear. With the music, with his belt pack and nothing else. Bare foot and everything. Down the ramp, the whole roster clapping, up to the top turnbuckle - do his whole thing. I don't have a video but I'm sure there's one out there.