Ask a wrestling fan in the UK what their favourite promotion is and you'd perhaps be surprised to find how high a percentage say Ring of Honor. Grit, passion and entertainment, RoH has it all. Household names like CM Punk, Daniel Bryan and Kevin Steen were born in RoH. Now, nearly ten years since the company's last UK tour they are bringing back their unique brand of entertainment to these shores and with names already announced including Jay Lethal, Adam Cole, the Young Bucks and the Briscoes you can guarantee this is not one you'll want to miss. The tour kicks off in Liverpool Olympia on November 18th, heads for the Community Sports Arena, Leicester on the 19th and in a change of venue (although the seating plan remains the same and tickets still valid) for their London show, RoH will be at the world famous York Hall in Bethnal Green on November 20th. Tickets for all the shows are available online and pre-show Meet and Greets which take place 90 minutes before bell time are listed here. For our exclusive chat with Nigel, read on!
It's been nearly a decade since Ring of Honor did a full tour of the UK, why now?
Well, I think it was just about time! Ever since we had such a successful tour the first time around, we've been talking about it. We just had to find the right time and be in a financial situation to make it work. There's a lot of moving parts to get this off the ground. It takes a lot of work behind the scenes and my job making the matches is relatively easy compared to all of the logistics. We just wanted to make sure we had everything squared away and that the fan base was there. We can't wait for you all to come and see it.
Is the presumption that if it works, you'll be coming back again sooner?
Yeah, absolutely. We're not going to turn money down! If it does well, we'd absolutely love to come back.
You've just announced that Marty Scurll and Will Ospreay have been signed to RoH contracts. Can you tell us about it? Why now?
I just think we live in a world now in professional wrestling where there's a lot more access for younger, exciting guys. We're certainly in the market place now where, when we see talent out there, we've got to snap it up whilst we can. These are two guys that are top of their game now. Two of the best in the world.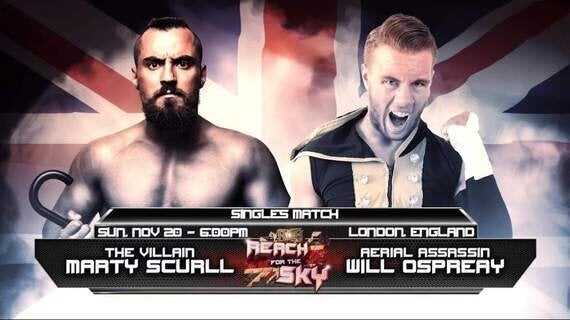 You book the matches for RoH. Looking to the tour, what matches are you excited about?
Obviously Sunday night in London it's Jay Lethal getting his re-match against Adam Cole, so that's going to be huge. I know myself, wrestling Bryan Danielson in the main event of the first show over there in Liverpool, what a huge match that was for me and the company. I guarantee this will be just as big. Then of course, you mention Marty and Will, they're teaming up against the Young Bucks in Leicester on the Saturday night and that will be huge as well.
Not this time but they've been doing really well. There's a lot of buzz about it, a lot of people watching. I think there are more people watching Women of Honor on YouTube than some of the guys matches. If the tour does well and we come back that's certainly something I'd like to see on the next one.
Looking at NXT, there's a huge talent pool that's come through RoH. Does that vindicate RoH's approach?
Yeah, I think the Jury's well and truly delivered its verdict. RoH always has been the place that cultivates the best professional wrestlers in the world. Even before NXT was a thing, look at TNA or WWE - CM Punk, Bryan Danielson, Samoa Joe, the list goes on. Everyone that comes through RoH and goes onto the next stage just shows what a breeding ground it is for talent. Always has been and always will be.
You mentioned TNA. Do you think it's current issues will see RoH become the 2nd largest company out there?
No, I don't think it's a factor to be honest with you. I believe we've got a constantly growing fan base and as long as we keep putting a good product out that will continue to be the case. If TNA was to go away - and I hope it doesn't - I don't think we'd see a big spike in our business necessarily. Nor would WWE. The main goal of anyone in the business should be to get outside fans that aren't watching pro-wrestling.
How has RoH changed since the last UK tour?
Now we're owned by Sinclair broadcasting, we're part of a bigger family, a bigger company so to speak. Before then with Cary Silkin essentially funding the whole operation it was a smaller, close-knit sort of family environment. Now it's bigger. There are pros and cons but we have better financial stability which is able to see us through some difficult situations. The fact we're able to come back and do this tour is in no small part due to the fact we have that financial backing.
Have you kept track with the UK Indie scene?
A bit here are there. Of course I see stuff on social media and I'd heard of Will (Ospreay) through some of the matches he had. Marty (Scurll) I knew from back in the day, he's been wrestling as long as I have I think. So I know a few of the guys and I come over and do training seminars with some of the schools out there, I get a sense of who's around and who's moving up.
You ran a campaign on trying to prevent intentional bloodletting in wrestling. Has that succeeded? It seems there's less of it.
I think it had some impact. Not the dramatic, complete success that I perhaps would have wanted. The reality is, like everything else, it's something about which people have to make their own decision. I can't tell people what to do and what not to do. I do believe everybody should have the right to wrestle in a ring that somebody else hasn't bled in. I talked to a few people. Vince Russo told me he believes me going public with it had a very positive effect and has stopped a lot of people bleeding. Who knows? I'd like to think it has had some effect.
If you could fight anyone on the current roster, who would you pick?
There's a huge list! Adam Cole of course, he's the champion. A young guy like Donovan Dijak, Lio Rush. You've got two guys there, different sides of the size scale but equally talented. Then guys I have wrestled before like Christopher Daniels who's still amazingly talented and of course, Jay Lethal who as I said may be the champion again. It's really hard to pick out any one or two people.
UK fans will be spoilt for choice too when RoH returns. Amongst those already announced for the tour are the Briscoes, Delirious, Dalton Castle, Jay White, the Motor City Machine Guns, the Addication, ReDragon and many others (besides those we've already mentioned). Make sure to pick up one of the last remaining tickets and keep checking their site and social media for updates.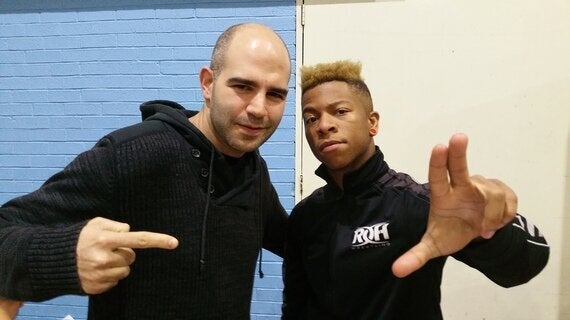 Above: RR with RoH's Lio Rush!