Randy Orton is one of the most celebrated stars in the WWE Universe. Known as 'The Viper' Orton's unpredictable, serpentine strikes leave his in-ring opponents reeling. In WWE Studios "The Condemned 2" (available on DVD and Digital HD from 29th February), the tables are turned and the hunter becomes the hunted.
WWE fans might remember the first film in the 'Condemned' series, starring none other than Hall of Famer Stone Cold Steve Austin. In that first film, Stone Cold battled against the odds to survive a wealthy television producer's game in which he was forced to fight to the death against nine other condemned killers from across the globe.
Whilst there is a brief reference to the original film in the Condemned 2, this second film is no copy of the first. Orton, with big (size 13!) shoes to fill, finds himself the subject of a game in which the stake is life or death.
Having seen the film, we can attest to the action being akin to a WWE main event bout from start to finish. Orton (playing likeable bounty hunter named Will Tanner) together with his hit squad of variously talented teammates embarks on a mission to capture the leader of a deadly gambling ring. Having failed his mission, disappointed his dad (Academy Award Nominee Eric Roberts) and nearly ended the family business in one fell swoop Tanner seeks out a quieter existence - as readers might expect, his past is not entirely behind him.
Over the course of the movie whilst high-rollers wager on his survival, Tanner is forced to make a gamble of his own as to whom he can trust, as his former teammates become his lethal competition. Facing bullets, bombs and the suspicious authorities, Tanner has to tread a path as unpredictable as an 'RKO Out Of Nowhere'.
Part of the enjoyment, as always, with WWE studios is seeing one of the beloved WWE superstars in a different context. Orton is not an acting rookie, having already starred in WWE Studios films 'That's What I am' and '12 Rounds 2'. His continuing development as an actor makes for enjoyable watching and the family scenes between Orton and Roberts are believable and touching. The villains of the piece are also not acting rookies by any means. Wes Studi of 'Avatar' fame and 'Breaking Bad' actor Steven Michael Quezada are well cast as threatening criminal masterminds.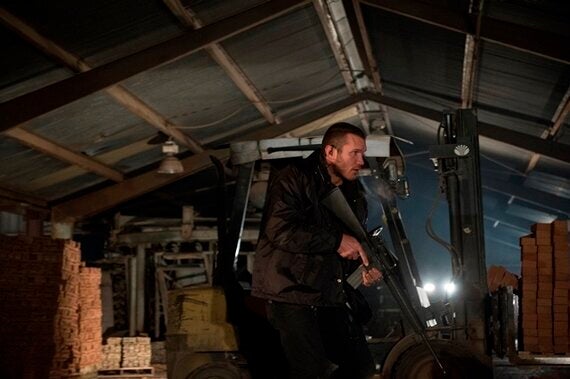 The DVD extras for the film include two featurettes and in particular the 'Drones' short makes for interesting watching. The Condemned 2 broke new ground in its use of camera-enabled drones and some of the resulting cinematography is superb.
The film, certificate 15 and running to approximately 90 minutes, is released by WWE Studios and Lionsgate Home entertainment on February 29th and Royal Ramblings is delighted to have a copy of the film to give away to one lucky reader! Our last competition winner, Laura Solimena, is no doubt watching her copy of 12 Rounds 3 as we speak. Join Laura as a winner by 'liking' and 'sharing' this review using Facebook or Twitter and then emailing royalramblings@gmail.com or Tweeting @royal_ramblings with your name and the answer to the following question by 19 February (UK entrants only):
Who did Randy Orton face at last year's Wrestlemania XXXI?