When Moby sang that he had picked up friends to travel to the South side only to return "so well" perhaps he was reflecting on a night spent at Southside wrestling. A favourite of ours, the promotion has been making its mark across the UK from Bedfordshire to Nottingham, Sheffield to Essex, delivering well-booked, energetic, exciting and talent-laden shows for years.
In an effort to find out more about Southside, we talked with founder and promotor Ben Auld who with typical humility outlined how the company had developed from a fledgling promotion to one of the top UK wrestling businesses in the country.
"Probably like most promoters, I was a wrestling fan and discovered the British scene quite late" he told us. "From the moment I went to my first show I got the buzz for it and by the time it got to 2010 I was pretty much going somewhere every weekend to watch it". Ben didn't hang around though and 18 months after watching his first British show, he was running his first event - and what a run its been.
Southside are now one of the go-to promotions in the UK and Ben counts himself amongst friends with other top-flight British promotors for shows such as IPW, RevPro, NGW, Progress, ICW and PCW. However Ben points out that "I don't really look on other companies as competitors now, I just concentrate on my own product". His hope is that Southside brings together the best of all the rest. "..There are a lot of companies that have their niche and are very good at what they do" he told us "Southside's a bit of everything so I think it maybe appeals to more people". That said Ben has looked at and sought to learn from other promotions. Having opted to focus on elements other than production value in the first instance, "we're catching up" he told us. "We've probably spent ten thousand pounds on visual stuff and we won't stop. I think our product's getting better and better but we're always looking for ways to improve it. We'll keep pumping the money back in that we make - well, maybe not all of it otherwise my wife would kill me!"
A key aspect of Southside's appeal is its phenomenal roster, something Ben has worked hard to develop. "I honestly don't believe there's really any company that has a better roster than us" he said. Utilising that roster has become problematic for him though as he'll only book those he thinks are great "which is getting hard in this country because there are so many great talents". The proof is very much in the pudding though and Southside are now repeatedly selling out the venues they occupy. Meanwhile, the bouts they are putting on which match international and home-grown stars, are the stuff dreams are made of. Abyss vs Jimmy Havoc? Matt Sydal vs Robbie X? Will Ospreay vs Uhaa Nation? They've all happened at Southside.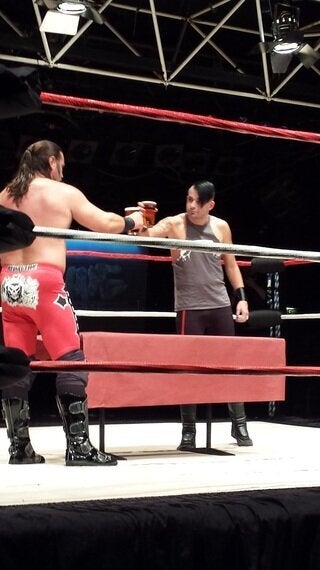 Above: "Cowboy" James Storm and Jimmy Havoc in a beer dual at Southside
The company famously hosts multiple international talents at their shows but the booking is very selective. A canny businessman, Ben tells us that there are "a few different factors" involved in choosing the right talent. "I have to feel they're value for money" he said. "No matter how much I'd like to book someone, if they're not, I won't book them and I've turned down many a person". Ben is also keen to get the mix between established and independent talent right. He has a working theory that "the ex TNA/WWE people draw fans to the shows" but finds that "the indie guys sell me a lot more DVDs". This arrangement seems to work financially for Ben and allows him to keep re-investing in his product. One shouldn't think however that the British get overlooked in this arrangement. Ben is keen to point out that "the talent in this country really is second to none" and that apparently "the americans come over here and they all go on about how good the British talent is".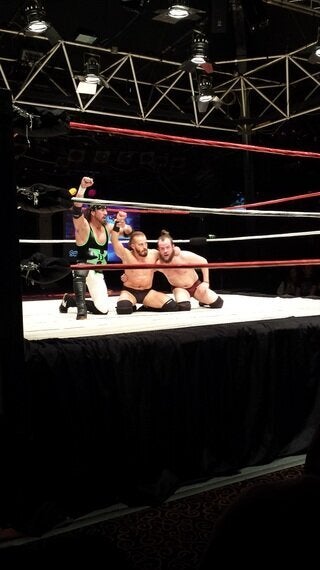 Above: Brits Mark Haskins and Robbie X with X-Pac
With so many talents on his books, a range of venues and over a dozen shows a year, one would be right to think that it's difficult for Southside to keep fans up-to-date with their storylines. According to Ben, "it is a lot more difficult than I would imagine for people that run one or two venues". "We're just very, very aware that certain fans wouldn't have seen things" he said. "We always make sure a story's being told that everyone will understand but yes it's challenging!" As visitors to Southside, we are happy to report that Ben's efforts have paid off and the company through its Facebook page, DVD's and booking on the night does a very good job indeed.
There is however, a limit. Asked if he plans to take Southside beyond Bedford, Nottingham and Sheffield, Ben is self-aware. "I think with the kind of product we put on, fans travel to us a lot. To be honest, if we over-exposed ourselves we could be getting in trouble". "We've got something like 18 dates planned for next year and I really think that's about as much as we could afford to do". Running such a successful promotion also takes its toll on Ben personally. "I don't sleep very much!" he said. "It's exhausting and I'm pretty much on the go the whole time". "Tonight I've been talking to talent for an hour, making up DVDs, doing ticket orders, sorting out a promo video for something and making match announcements". "I'm pretty busy most evenings. I try and spread it out so there's a few days I can have off here and there. This summer I'm taking it fairly likely but come September I'll be going hell for leather again".
It may be bad news for Ben's diary but its great news for fans. With sound, thoughtful booking, continual investment in the product, superb customer service, excellent graphic design, superlative social media interactivity and a friendly match environment, Southside is absolutely the best of British. This is a promotion that is delivering for fans and so the best advice we can give is for you to go and check it out for yourself. Moby didn't seem to regret visiting Southside - you certainly won't.