William Regal is a sports entertainment icon, a British and global wrestling legend and of course the current NXT General Manager. Royal Ramblings was blessed with the opportunity to talk to him on the even of the NXT UK tour.
For the first time, NXT superstars including Shinsuke Nakamura, Bayley and Finn Balor will be performing at the Download Festival in Donnington Park. There will be autograph signings and a special 'network zone' from Friday, June 10 through to Sunday, June 12. The NXT tour will then stop at the 3Arena in Dublin (June 13) before moving to Belfast (June 14), Liverpool (June 15), Bournemouth (June 16) and Plymouth (June 17). Tickets for Download can be sourced here and for the rest of the tour here.
Will you be at Download - we like the idea of you at a Rock Festival!
Actually there's been a change of plans and I'm not coming - I have got to go to China for the week. We've organised a try-out and I'm going to help with that because there's such a lot of crew on the UK tour. It's funny you should mention Download because I actually went when it was called the 'Monsters of Rock' festival in 1981. I would have loved to have gone - I was looking forward to it!
The superstars will be meeting fans at download, can you recall some memorable fan experiences for us?
I've had tons of them! Memorable ones? Well I can get into some horror stories but I don't think that's good reading. When I was in WCW I came out the back and found six fellas smashing my car up - that was a nice interaction, I had to run all them off. So far as good interactions, I've never have any bad interactions in the WWE at all. It's a weird thing. I was in WCW 20 odd years ago and people really didn't like the character I did at the time. It was a different time when you could really hammer that anti-American thing home and people hated it and hated me. Ever since I came to WWE I think people just sort of took me as a character and I've never had any bad experiences with anybody and I've not had a problem with it.
I really enjoy doing anything where we get to go out and meet people. Most of my act over the years has been built up or changed from fan interactions. People who run these autograph things hate having me around because I'll talk to every single person that comes up. I've got no time for that - just signing things - I always talk and I ask questions, whatever's on my mind or about something I'm working on like NXT. I'll start asking questions: "what do you like? What don't you like". I'll look at the t-shirt they're wearing and ask "why do you like that" or "why do you like that person, what is it about them?" So it gives me all kinds of ideas and I use it as a real learning tool I'll do as many sessions as people will offer me because I learn a lot about what works and what doesn't and what to keep in my act. I get great satisfaction nowadays when people come up and say "I used to hate you when I was little" or "you used to make me mad" - well that was the desired effect. People will ask me why I used to say 'Umanga', well it's because you just asked me about it, that's why. I would purposefully say things differently - and some people were Guinea pigs. If I had an idea I might have said a certain thing or phrase and looked in their eyes when they were talking to me and see them thinking "that's weird why has he just said that". I probably did that with certain words I used to say but I'd be thinking "OK well that works, so I'll keep that in" or they did or didn't like a certain style I'd do so I'd keep it in the act. Now I do it for the NXT talent. I'll ask why they like it, "What is it about him you don't like" and so on. So I have great times with the fans! I really enjoy the time I spend talking to people.
What does this tour mean for NXT?
Anything that we do in NXT is a joy to be a part of to be honest. To go over to the UK, the enthusiastic responses we get from the audience - it's incredible. Anything to do with the WWE is but this first time in December on the NXT tour was just, possibly the most special thing that I've done or ever been a part of. It's hard to explain the excitement and the buzz that NXT's got about it and to watch the audience reacting that way. Just looking at the places we're going, the Download festival is going to be something incredible for the talent there, Dublin -one of my two favourite places to go was Belfast and Dublin mostly years ago because they used to hate me more than anywhere else! Its probably the only entertainment form that you can say its great that they hate you but the hatred I had was great. At the end of my run as a wrestler, it was a favourite because people kind of got in on the act with me and liked me a lot - it was one of the few places that they did! Liverpool's a great place to go. Bournemouth, the last time I was there was with WCW I think in 1993? but I used to wrestle there a lot in the eighties it was a regular venue for us. All these places are great, you know the audiences are going to be great, the NXT talent are young, they're hungry, they appreciate what they're given and to perform in front of audiences like that it's just going to be something special.
If you were able to lock up with any current NXT superstar who would it be?
Without a doubt I'd have to say Nakamura. There's a lot of reasons. First of all he's just an incredible talent but I've got a lot of different styles I can do and I know me and him could do something really special. There's no chance of that ever happening. But there's so many people. Years ago there weren't the kind of style differences that you see today and not that many people that could do different styles - just one or two of us and we didn't get to wrestle each other that much. Now looking at the roster there are so many different people you could have great matches with.
How do you feel about the brand extension and potential raid on NXT talent?
Were up for anything. That's the whole point of NXT, is to get people ready to go onto Raw or Smackdown. Our job is to do the best shows that we can do at NXT but it's - and we feel like - its job well done if they come and raid all the talent. Great because that just means we have to go and find more talent. The one's we're developing we have to get ready and it gives more opportunities for those that aren't already in the WWE family to get the chance to come on board because there's only so many places. There's a lot of great talent around in the world and thats what I do, I scout people. If everybody gets raided from NXT it's sad but its job done for us because we've done a good enough job that Vince McMahon wants them - that's what we're here for. That's the whole point.
The NXT roster is stuffed full of talent ripe for picking, make sure you don't miss them this time around by getting your tour tickets here and tickets for Download here!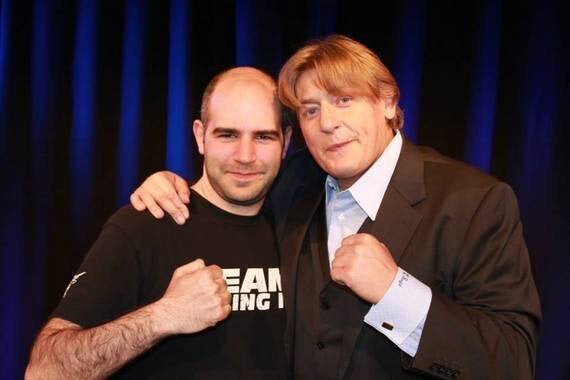 Above: Royal Ramblings with William Regal