The internet is a wonderful tool. It has brought people closer together, aided advancements in science and medicine and of course, brings you The Huffington Post! For sports entertainment fans, the web has enabled us to bridge the divide to our favourite superstars, facilitated regular discussions about Raw or Smackdown and has brought us the WWE Network so we can stream endless content right into our homes.
Despite the multiple benefits it brings, the internet also has a dark side. It can be used to inspire hate and to hurt. The web is not immune to the ills of the world and particularly, with so many young people joining online communities ever-earlier, cyber bullying has become a matter of significant concern.
With a vast audience but certainly very many young fans, WWE has for many years maintained a consistently family friendly and socially responsible approach. The WWE community pages on its website detail the numerous initiatives the company pro-actively engages with and that the superstars work hard to support. From efforts to encourage reading, to granting wishes and involvement with the special Olympics, WWE has a broad and impressive portfolio of charitable endeavours for the common good.
It is of little surprise then that for the month of March, WWE is again looking at its role in supporting and inspiring young people. This time the company is working in partnership with CYBERSMILE. The hope is that this joint venture will raise awareness of the assistance available to anyone affected by online negativity whilst promoting and celebrating a diverse and inclusive internet for everybody.
Cybersmile is itself home to a plethora of useful information and resources about what you or your family might do to avoid or counter cyberbullying and digital abuse. The charity hosts a help centre offering assistance or technical know-how, there are support advisors on hand 24/7 ready to help as part of a global service and a Twitter advice channel @askcybersmile is always ready to respond. Throughout March, cybersmile will also be publishing exclusive interviews, videos and giveaways each seeking both to highlight and celebrate the diversity of the internet and the support available to victims of abuse. WWE superstars have already contributed their own advice and offered exclusive interviews discussing cyberbullying, self-confidence, online safety and more. For example, you can read Smackdown's Becky Lynch talking about her experiences here.
One should not underestimate the importance of these efforts. For example, the campaign to tackle cyberbullying has royal backing. The Royal Foundation of the Duke and Duchess of Cambridge and Prince Harry has been working to find new ways to tackle this problem. Both at home and abroad, William and Kate's team have been seeking out new and innovative projects and approaches and are hoping that they can improve the co-operation between social platforms so that there will be a more cohesive industry approach to cyberbullying.
This is also a problem the British Government is grappling with. Studies have suggested that some 35% of 11-17 year olds will have experienced cyberbullying of some form during their lives. As the Digital Economy Bill makes its way through the House of Lords this month, this type of digital abuse is sure to be an issue around which politicians of all parties will find consensus. A hope for many is that for cyberbullying victims it will be easier to report abuse and that for social media companies, action against bullying will be incentivised.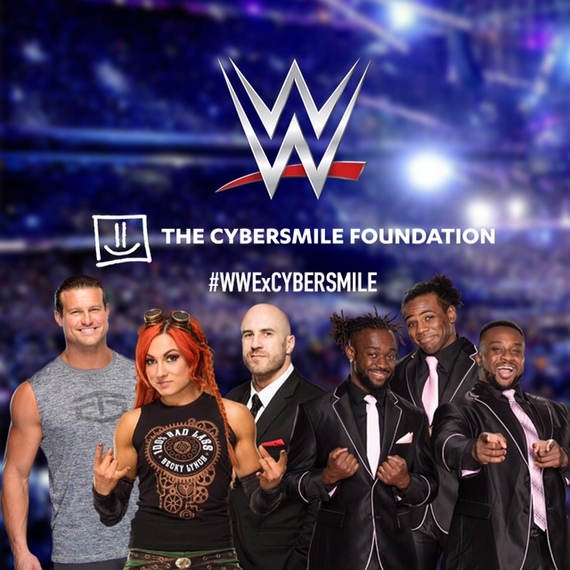 Going to a WWE live event is a tremendous experience that we can strongly recommend. Fans are in full voice (and some in fancy dress), there is excitement, drama and action. Best of all, the atmosphere is fun, the audience diverse and the faces smiling. The internet can and should be no different. We salute WWE and CYBERSMILE for celebrating all that is good online and working to highlight where people can get help when it is not.
To be a part of this amazing campaign, fans are encouraged join in the conversation on social media using the #WWExCYBERSMILE hashtag. Visit the total access support area or check out the cyberbullying and digital abuse help center. For further information about Cybersmile and the work they do see their website.
There will be a further WWE Superstar Q&A's coming throughout the month, so keep your eyes peeled to the partners respective sites and the WWE and Cybersmile Twitter feeds. There is also a competition which is running for the month so make sure to join in (see here).
WWE will be back in the UK this May. For a full list of dates and tickets, see here. In addition to the full tour, there will be a first time ever UK Championship Live event at Epic Studios Norwich on 6 May and UK Championship talent including Tyler Bate, Pete Dunne and Trent Seven will be appearing at the other live shows. As ever, social media will be the place to discuss what's happening using the hashtag #WWEUKLive.