Drama, action, comedy, passion, drive and energy, we had it all and more as the Royal Ramblings team was lucky enough to be at London's O2 arena for the taping of WWE's flagship show, Raw.
Of course and as previous attendees will know, there are two shows for the price of one at the Raw and Smackdown recordings. 'Superstars' is taped prior to the former and 'Main Event' before the latter. To whet our appetite, we were served two matches. First out the crowd-pleasing Zack Ryder who took on and overcame Heath Slater then we were treated to R-Truth against a remarkably popular Curtis Axel. Axelmania was certainly running wild in London and the forthcoming 'Axtreme Rules' Pay-Per-View gag had us most amused.
WWE knows how to gratify its audience and Raw kicked off with the phenomenon that is John Cena. Using his skill and experience to playfully tease the baying crowd, Cena once again stated his belief that the UK should play host to Wrestlemania. If Cena was hoping for an easy ride, the appearance of Wade Barrett to meet his 'open challenge' did him no favours. Whilst he lost, Barrett put in a very strong showing, including his kicking out of Cena's 'Attitude Adjustment'. Meanwhile, through Cena's continued possession of the 'United States Championship', the WWE is skilfully strengthening the importance of the title.
Despite Barrett's loss, it was in fact, a good night for British talent. Not only did Barrett receive and enjoy a homecoming par excellence, Paige (of Norwich, England) was also tremendously well received. In the week where WWE announced that another Englishman was part of the team of new recruits at their training school, this only goes to underline WWE's grasp of the international market and their global appeal. During the night, we were entertained by the Lucha Dragons, Emma (an Australian), Rusev (Russian/Bulgarian) and so many more.
The truth is that with any WWE TV taping, you feel you are a part of WWE history in the making and so it was the case in London. Not only did Lana and Rusev appear to set up a 'Russian chain match' against Cena for the forthcoming 'Extreme Rules' Pay-Per-View, we saw Paige win the 'Diva's Battle Royal' (only to be foiled by a devious Naomi), Big Show nearly put Roman Reigns through the roof of a taxi and most remarkably, we witnessed Kane lie down and allow Seth Rollins to cover him - a move which as referenced in the show, was a historic turning point in the fortunes of the WWE's late competitor, WCW. However, where that company failed and where WWE is succeeding par excellence is with its future-proofing.
It was remarkable just how many of the stars on show were graduates of the NXT training ground. Roman Reigns, Seth Rollins, Dean Ambrose, Bray Wyatt, Neville - the list is extensive. The value for money, therefore, felt so much greater. Across the evening we saw Ryback and Luke Harper, Dolph Ziggler, Sheamus, Adam Rose, Fandango, Stardust and more. It was a cornucopia of WWE talent.
It wasn't just grandeur and history though as there were just wonderful elements of fun. To see the Miz and his former acolyte Mizdow in the ring was great and outside of the ring, amongst the audience, there was plenty to admire. In our section, for example, an amazing Dolph Ziggler lookalike was garnering considerable attention!
Its not just the TV tapings of course, WWE had been touring Ireland, Scotland, Wales and England for a number of days. They have announced a return to the UK in November and that Raw and Smackdown will be taped on November 9th and 10th from the Manchester Arena with tickets on sale from April 25th.
If you haven't been to see WWE live, you must go. Simply put, it is wonderful. In the meantime, to feed your cravings, you can always watch Extreme Rules on April 26 by subscribing to the WWE Network.
Below, the Royal Ramblings team with WWE superstars Ryback, Renee Young and Goldust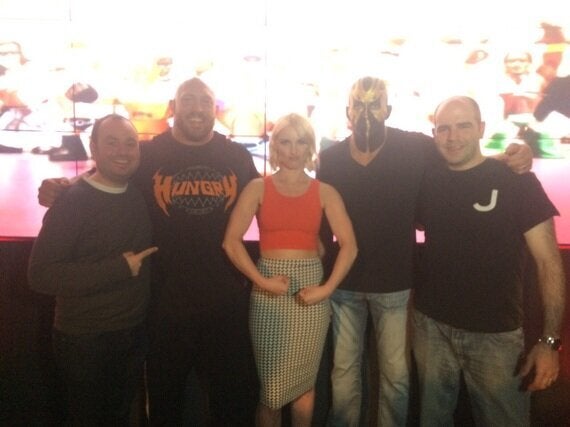 Popular in the Community