I love shoes. They offer endless style possibilities. Far from being just functional, I've always thought of my footwear as prime accessories capable of catching the senses. An array of tactile, material uppers. Soles that creep or stroll. Stitched together with often surprising levels of creativity.
My affection for footwear knows no limits - as you might have guessed by now. Unfortunately my bank balance does. So having amassed in excess of sixty pairs and having extended my wardrobe shoe space (twice!) I promised not to give in to any further acquisition urges. Until now that is.
I've got a brand-new suede obsession. The creative lovechild of Italian born, Miami-based shoemaker Matthew Chevallard of the Del Toro label and Grungy Gentleman blogger Jace Lipstein, this collaboration combines the classic shape of a brogue with the mojo of a vintage camouflage (below).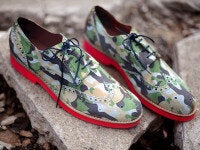 The devilish thing about this latest 'camo' incarnation is that although originally designed to conceal, these bad boys are guaranteed to do anything but. If you're looking for the stand-out-from-the-crowd shoe this season, then these camouflage creepers are just the ticket. Of course Chevallard and Lipstein's creations are sure to be in big demand. Hence the hefty price-tag ($325). If you do manage to break the bank, they come in two colour-ways: a delicious, darker print with a deep blue sole or the somewhat less bravado tone underpinned by pillar-box red. Would it be too much to want both styles?
Given the current trend for all things pastel and candy-like, this rebellious micro-trend should probably come as little surprise. A host of designers are reinterpreting military-issue print by tweaking patterns, scales and colour combos. Whether it's the main attraction or just an accent, 'camo' has certainly found a whole new lease of life away from the battlefield popping up on everything from biker jackets to dress shirts. Tokyo-based 'Beams Plus' works the military print into a perfectly pursued pair of tapered cotton trousers.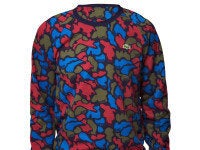 Meanwhile, over at Swatch, the hottest new wrist accessory is the cheeky 'Touch Camouflage', offering the subtlest of finishing touches. 'Lacoste Live!' are nailing the look with the strident use of camouflage in blue, red and khaki in their slim-fit, crewneck sweatshirt (pictured above). While it all might feel so refreshingly new we shouldn't forget where we saw it first time round. The great Andy Warhol's playful take on camouflage in 60s pop colours is often credited with making fashion first sit up and take note of just how versatile defense dress can be. Re-working camo in a wild palette of high-octane shades creates an amped up version of the style, fusing utilitarian with futuristic - the sartorial equivalent of the modern Smeg fridge freezer.
So think again if you think camouflage is about remaining hidden. In the urban jungle, where parrot plumes and neon throw-backs are the norm, you can step sharply back into focus this summer by adding a little camouflage to your daily style.