While bargain hunting is now ingrained among Britons, there's still a place for value-added marketing in our hearts. Great promotional marketing campaigns are loved by consumers and there have been hundreds over the years.
For me promotional marketing is the magic stuff and marketers should seriously consider putting it higher on the agenda. For those wondering what it looks like, I've selected seven of the best:
1. Walker's Crisps 'Do Us A Flavour'
The 'Do Us A Flavour' campaign from Walker's Crisps is an excellent example - first aired in 2008 and now reinvented in 2014. The popular snack brand challenged members of the public to invent unique flavours, yielding some interesting results - Cajun Squirrel, anyone? - and over a million munching participants.
2. Unigate 'Watch out, watch out - there's a Humphrey about!'
Great promotional marketing sticks in your memory. If you're old enough to remember the Humphreys, these sinister milk thieves made their first appearance on TV advertising in the 1970s and soon became a household name. A merchandising campaign promoted the ads and Humphrey-themed mugs, milk bottles and straws are now collector's items.
The Andrew puppy has to be one of the most iconic brand representatives ever created. Since 1972 the playful little scamp has made off with reams of toilet roll, cementing its place in hearts across the country. The loyal following created by the TV advertising carried over on-pack with an ongoing promotions scheme, Puppy Points. This clever adoption of the pup offers coupons that can be redeemed against days out with the family.
4. Innocent, 'The Big Knit'
Smoothie brand Innocent has a fantastic example of promotional marketing that creates conversation for a worthy cause. 'The Big Knit' has been running for over 10 years raising money for Age UK. Ordinary people can get involved by knitting little woolly hats that fit on top of the bottles during winter months. 25p from every 'hatted' bottle goes towards the charity. It's a great message and a fun way to get people involved.
5. Ribena, 'Win A Donkey'
In 2004 Ribena teamed up with the release of the box office hit sequel Shrek 2 to offer consumers the chance to win a donkey - based on the Eddie Murphy-voiced character. The winner got £1,000 to help with visits to The Donkey Sanctuary to meet their new friend, while runners-up could claim blow-up donkey toys with collected coupons and other Shrek 2 memorabilia was up for grabs. The campaign also ran across TV and included limited edition squash flavours.
6. Nescafé Gold Blend 'Hug this jar'
A tie-up with hit film Love Actually involved an instant win promotion through a run of four million limited edition jars of Gold Blend. Consumers were invited to 'hug their jar' to reveal a win or lose message printed with thermochromic inks.
7. 'Eurostar Quest', Eurostar
And finally, one that I worked on in 2006 with Eurostar. The railway operator was looking for a campaign to boost tourist interest in travelling between London and Paris. We took timely inspiration from the movie blockbuster The Da Vinci Code and the result was the 'Eurostar Quest', in partnership with Sony Pictures. We launched an online treasure hunt to intrigue would-be visitors to both cities, turning scenes from the film into online clues that could be solved over time to win cash and luxury travel prizes.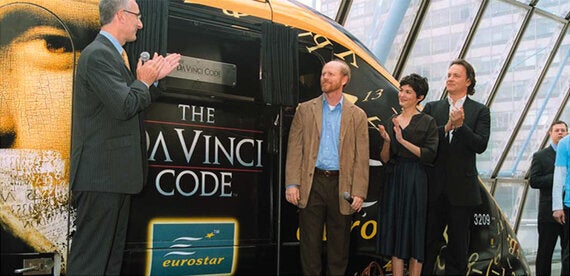 The press launch was a world first, with the full cast of the movie joining 300 of the world's leading entertainment press on a special branded train to Cannes. London and Paris were restored as the top European city destinations.