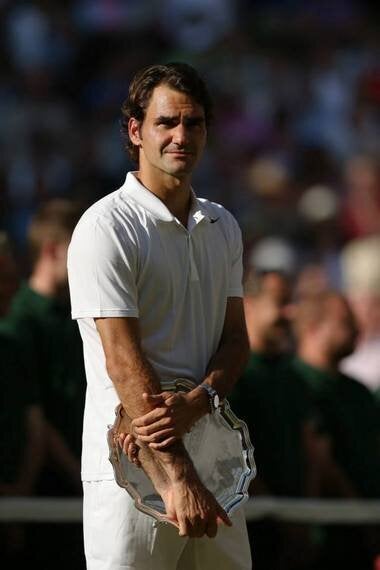 Credit: Scott Heavey/AELTC (Wimbledon.com)
One image haunts me from this year's Wimbledon. It is that of Roger Federer, the greatest tennis player of his generation, and probably of all time. He cuts a forlorn figure as he stands clutching his silver salver. A finalist, not a champion. This isn't the Roger Federer who blubbed his way through his speech after defeat to Rafa Nadal in the 2009 Australian Open Final. On that occasion he was trying to match Pete Sampras' record of 14 career grand slams, and the emotion was raw and untamed. This was different. Federer's emotion seemed all the greater for being contained. He wiped away a single tear which rolled down his right cheek, though the sadness in his face could not be swept away so easily. He was still chasing records, an unprecedented eight title at the All England Club.
As Novak Djokovic lifted the trophy it was to Federer that my eyes were drawn. Even the sight of his two beautiful daughters failed to lift the deep sadness etched upon his face. He spared us the platitudes so often echoed by sportsmen who have become fathers and say there are more important things in life than winning at sports. That's not to say I doubt for a moment that Roger's love for his children is unrivalled, but I don't doubt either that he is a champion and champions win. Here was perhaps the greatest of all champions, a player still at the height of his powers, and he'd just been beaten. Some, wrongly in my opinion, saw Roger's defeat as a sign that his greatest was on the wain. I saw the five-set match as a vindication that Roger is still at his peak. Still able to compete with best of the younger players.
I admit I've not always favoured Federer. I could be won over by the swashbuckling style of Nadal, or the rubber legged antics of Djokovic, and there is always a thrill in seeing a Champion defeated and new talent emerge. Yet as time has gone on I've found myself won over. Time waits for no man, and Federer won't be around forever. Whilst his style of play may see him outlast the younger Nadal, there will come a time when we'll see Roger say farewell to Centre Court. When that sad day comes, my heart - which has been in love with this game since Becker and Edberg were duelling on court and not in the coaching box - will feel very heavy indeed.
Perhaps it was the sight of Becker, now coaching Djokovic, which brought about this feeling of premature melancholia. I still remember the day in 1997 when Boris had lost to Pete Sampras and realised his time was up. As the two met at the net Boris could be heard telling Pete that he'd just played his last game at SW19. Even though he actually returned two years later and made it to the fourth round.
Jimmy Connors asked an interesting question during the commentary,
"Do they realise what they are watching here?"
Often we don't. Nadal's 2008 victory is regarded as one of the greatest finals of all time, but it was only made great because in Federer he faced a grass court giant. It was McEnroe and Borg. One needed the other.
Tennis without Federer would be a poorer place. He is still the benchmark to which all players should aspire. His results in the majors may show that Roger's dominance in the men's game has slipped, but it's less that Federer has fallen back and more that the pack have caught up. However, like all greats we are still seeing Roger's game evolve. The addition of Stefan Edberg to his coaching set up has seen the birth of a new aspect to Roger's game. At coming forwards he is unrivalled. I consider myself highly fortunate to be born in the same generation as Federer. I've seen him win 17 grand slam titles, and be in the top ten for 12 straight years, and yet there were moments during this Wimbledon when I was left without words from the sheer beauty of his game. John McEnroe likened his movement to that of the great ballet dancer Mikhail Baryshnikov, and I can understand why. Whilst others bring a raw power, Federer seems to dance with grace and elegance. At times he elevates the sport to an art form.
People like to say players win because they want it more. It's a nice thought, often repeated, but it is an untruth. Djokovic did not beat Federer because he wanted it more, and to say so is to do a great disservice to two Champions. These were two players who gave all they had, and at the end of the day it was Nole who won more of the important points than Roger. If they were to play on another day perhaps the result would have gone Roger's way, but that is not how sport works. You can't win by want, you can only win by ability. I might want to beat McEnroe more than he wants to beat me, but at the end of the day his skills would leave me lucky to even get a game off him.
Federer turns 33 next month, it's hardly time to be writing of retirement. The Fed Express will still be running and calling at its usual stops for years to come. It is poignant that on Sunday, just like in 2009 after that Australian Open defeat Federer signed off by saying,
When he returned to Melbourne in 2010 he reclaimed the title. I have no doubt that Federer is more than capable of doing the same at SW19 in 2015. He is not done winning grand slams. And those who write him off are more than just premature, they risk looking like idiots.