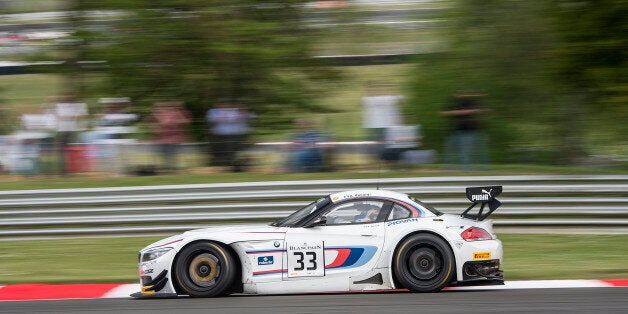 Alex Zarnadi is perched atop a quad bike, downing yet another can of coke as one of his team applies a cold wet towel to the back of his neck to help cool him down. He's just completed his second race in the heat of a gloriously sunny day at Brands Hatch and he's clearly exhausted - "Man, it was tough" - but the famous smile is still there as he greets and chats to wellwishers and fans who have made a beeline for a real racing hero.
He looks no different to any other driver who's been stuck in a baking racing car for an hour or more but as I introduce him to my son, Zanardi asks if he'd like a photo and he hoists one of his legs over and across the bike. In that single awkward movement, you're reminded that here is a man who lost both his legs and nearly died after an horrific racing accident 13 years ago. What on earth is he doing still racing?
If you don't know Zanardi, he's a double Champ Car champion and former F1 driver, who is an inspiration to many for the way he determinedly came back to racing after his accident. He then forged a new career as a Paralympic athlete, turning his hand (literally) to paracycling. His determination to succeed led to two handbike gold medals and a silver at the London 2012 Games, all three won at Brands Hatch.
Zanardi was back at Brands last weekend for the second round of the Blancpain Sprint Series, a championship for GT cars that he entered this year after an approach by long-term employers, BMW. Each race meeting consists of two one-hour races with two drivers sharing a car. Zanardi has special dispensation to race alone though because of the modifications that had to be made to his BMW Z4. The clutch and accelerator are operated by hand but he has to brake with his prosthetic legs, using his hip to apply pressure.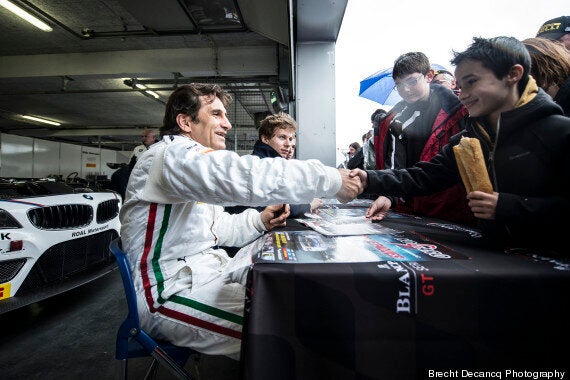 Alex Zanardi meets fans before his races at Brands Hatch
We watched from the cool of the tree-covered shade at Clearways as Zanardi started from 17th after a mishap in Sunday morning's race left him in last place on the grid for the second race. It was difficult to see how he could make up places such is the quality of the field, so to watch him force his way through the crowd of McLarens, Audis and Mercedes was a sight to behold, a master class in racecraft. He finished fifth, 24.5 seconds behind the winning duo of Hari Proczyk and Jeroen Bleekemolen in their Lamborghini FLII, reward for a determined recovery drive in difficult conditions as he tried to keep cool, something made more difficult because of his prosthetic legs.
"Man it was tough. At least with the handbike I could breath. It was literally like a pan fire... It was one of the toughest things I have done on wheels, either three or four."
Motorsport is sometimes seen as a rich man's sport and it's true that the Blancpain grid at Brands boasted a few million quid's worth of machinery, but there still has to be passion, desire and a determination to do better and Zanardi has that in spades. At the age of 47 most professional athletes have already hung up their boots and enjoying a well-earned rest but not Zanardi. As he recovered on Sunday afternoon, he was already thinking how to make up time through better cooling.
"At the beginning of the race it wasn't that bad because I had my cooling stuff, which was working, but then 25 minutes into the race it was arrivederci, so I just had to fight in the car. But we can make it better because there is a bigger bag available for cooling. Even if the car goes up five kilos that will turn into bigger tenths for us if I can cool my body down."
Like a true racer, Zanardi is always searching for those extra tenths, possibly hundredths, to give him that edge. We left Brands inspired and hoping he finds them for a long time to come.