We've all been to Los Angeles, either in reality or fantasies of the mind. The city has a promise of adventure, whether you're glued to the sunshine coast or taking the tourist-trail inland along Hollywood Boulevard and the Sunset Strip. There's an international sparkle, a heightened sense of celebrity and fame about the place, perhaps more than anywhere else in the world. Infinitesimal lives become exaggerated in the dynamism of one of the greatest cities on earth, and as a bulging metropolis it boasts creatives from the full range of artistic industries. According to the USC Stevens Institute for Innovation (University of Southern California), L.A. has more artists, writers, filmmakers, actors, dancers and musicians living and working in the city than any other in the history of civilization.
From restaurants and bars to pavement stars, the Lakers, the Galaxy and the Clippers; Walt Disney, the Oscars, Venice, Santa Monica and Long Beach; tattoos, cocktails, lifeguards, Tower Records and Capital, highways, coastal paths and canyons; L.A. is rolled-out and open to the world.
Here are my five recommendations of places to eat, drink and stay when in the City of Angels.
1014 Wilshire Boulevard, Santa Monica, CA 90404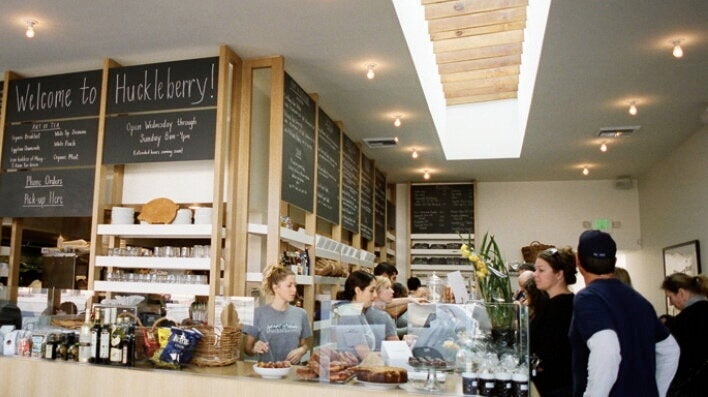 Husband and wife team, Josh and Zoe Loeb, have created a breakfast institution at Huckleberry Bakery & Cafe. While croissants, cookies, scones and doughnuts dipped in Valrhona chocolate (yum!) are all available alongside a cup of good coffee, you really want to be looking at the Green Eggs & Ham - with Quercia prosciutto, pesto and arugula on an English muffin ($12.25). The softly poached egg oozes a sunshine centre across the plate and amalgamates gloriously with the vibrant green pesto and salty prosciutto. It's fresh, clean, healthy, and the perfect start to your day. Add an espresso ($2.75) and freshly squeezed Market Juice ($4.75) to complete your breakfast. If you're naughty and not watching the carb-intake, sneak in a Kouign Amann Tart ($4.50), or better still, an all-American sounding Niman Ranch Maple-Bacon Biscuit ($3.75). Fill ya belly for the day ahead.
800W. Olympic Boulevard, Los Angeles, CA 90015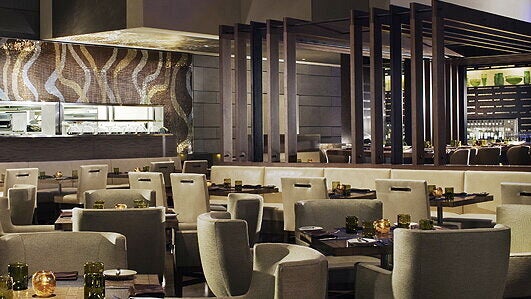 Located inside the Marriott Hotel in downtown L.A., Kerry Simon's 'rock and roll' approach to modern cuisine is channeled across American, Asian and European plates with some good old-fashioned Southern flavour. The restaurant's interior is smart and reflective of the entertainment district (next door to The Staples Center) it's housed in; with sleek, exposed wooden beams and cream seating. The presentation of plates are all carefully crafted and the whirlwind of a working kitchen can be witnessed and complemented through open viewing. Appetiser highlights include Tuna Dynamite (sushi rice, lump crap, tuna, red chilli aioli) ($16), while an impressive burger repertoire includes, Short Rib & Taleggio Melt ($18), Turkey BLT ($15) and the LA Market Burger ($17), using artisan bread and angus chuck. It's no surprise the burgers hit the spot, Kerry's "ultimate hamburger" with cheese and tomato on a brioche bun, was victorious in the chef-challenge television show, Iron Chef in 2005. Kerry's signature dishes are highlighted on the menu with a red "KS" and include the excellent, Asian-inspired Sushi Pizza (Wasabi rice, tuna, crab, avocado) ($17).
9200 Sunset Boulevard, West Hollywood, CA 90069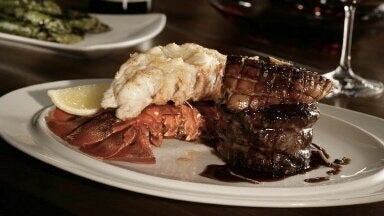 Boasting a fine selection of restaurants covering almost every cuisine, it's still tough to pass on a good steak in L.A.. With two restaurant locations, one in West Hollywood and the other in Santa Monica, BOA Steakhouse is a trailblazer in the restaurant scene, combining expertly prepared steak and chops in a newfangled setting. Prime Omaha beef such as the "40 Day" Dry Aged New York Strip ($44) and the "Bone-In" Kansas City Filet Mignon ($42) sit on the menu alongside "Certified Organic Beef" ($44) and Kobe Beef Ribeye (Market £), all served with a choice of "rubs" and house-made sauces, including BOA's own J-1 sauce. The dynamic interior of the restaurant, with its cream curvature-seating booths and pensive Asian ambiance, offers diners a scene of modernistic merriment; not to mention the juicy bovine menu and "Wine Spectator award-winning" wine list, entirely fit for research and consumption.
225 Santa Monica Boulevard, Santa Monica, CA 90401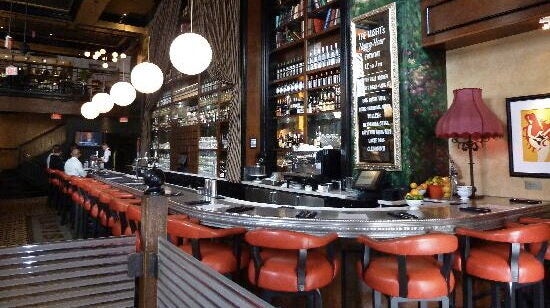 The Misfit harks back to a time when bars were bars, with a long, sweeping drinks counter serving crafted cocktails. The barmen are smart in black and white attire and the building interior gives of a gentlemanly vibe with mahogany panelling, moody lighting and tall bookshelves. There's a generous Happy Hour(s) (4pm-7pm) so you can dip in-and-out at your leisure at half the cost those after-work office financiers are going to pay. Sitting at the bar you'll encounter the spectrum of Santa Monica populace, from unemployed actors and actresses to after-work drinkers, Directors in meetings and what feels like the L.A. cast of Cheers. The Whisky Sour ($10) is very fine indeed - made with care and accuracy - as is the Clocktower Manhattan (Jim Bean Rye with House drunken Cherry), but you can venture further still with a 'Speciality Cocktail' such as a French Sailor (Hum Botanical Spirit, Citrus and Ginger Beer) ($10) or - with a nod to the UK through the use of Martin Miller's gin - try the Aviation ($10) (Miller's Gin, Maraschino Liqueur and Lemon).
8221 West Sunset Boulevard, Los Angeles, CA 90046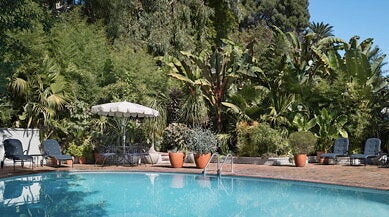 L.A. has a-gazillion hotels, hostels, B&Bs and over-night hangouts, but if you're travelling here to experience the real deal, then you've got to do it properly. You've got to do it in style. You've got to stay at Chateau Marmont. Yes, The Standard is hip and you've got the traditional Beverley Hills Four Seasons, the glistening, contemporary W at the foothills of Bel Air and the glamorous retreat, Hotel Roosevelt, on Hollywood Boulevard, but the Chateau is the idiosyncratic jewel; it's where John Belushi died, where the script for Rebel Without a Cause was penned - James Dean climbed through a living room window to audition with co-star Natalie Wood. It's where Hunter S. Thompson, Dorothy Parker and F. Scott Fitzgerald all produced work from, and members of Led Zeppelin rode their hogs (Harley-Davidson) through the lobby to cheering guests. It's steeped in history, both in the productive sense as well as hard-edged-living, brimming with gung-ho, rock 'n' roll tales of excess and debauchery. Buy the ticket, take the ride. Book the Chateau and add your own memories to this celebrated staple of L.A. history.
Standard bedrooms with Queen size bed and garden views start from $435 per night, while Garden Cottages begin around $570 per night.