Daniel Greaves' third throw in the F44 category of the men's discus final at the 2012 Paralympic Games landed further than he'd thrown all season. From my view, up in Row 49, Block 232 and seat 49, one pair of eyes out of 80,000, the 1.5kg plate looked like a smooth skimming-stone as it left his hand and travelled the 59.01 metres, hitting the plush green infield just shy of the 60m marker.
The new Paralympic Record hoisted Dan into first place, above Slovakian Adrian Matusik, Iranian Farzad Sepahvand and his long-standing rival, the American, Jeremy Campbell. Dan's name alongside "GBR" appeared in orange, digital lights before the entire stadium. I cheered and applauded with friends and members of Dan's family, including his mother and father and his girlfriend, Amanda. The stadium roar was immense, too booming and spine-tingling for me to do justice to in words.
It's strenuous trying to find enough adjectives to fully describe the atmosphere and support in the Olympic Stadium on Thursday 6th September 2012, and indeed, every night through the Games. Hands clapped together in rapturous applause and proud mouths bellowed multifaroius anthems, all spectators rising to their feet as a matter of respect for the winning athletes. It was as if a stream of people, thunderous and electrified, had been let loose into the stands. Waves of Union Jacks blurred in a panoramic view of blue, white and red. There were t-shirts, scarves and face-paints, homemade banners supporting athletes and national flags flying in a frenzy of support and hysteria.
As David Weir claimed his third gold medal on the track in the men's T54 800m and Jonnie Peacock, at only 19 years old, destroyed the T44 100m field, including Paralympic poster boy Oscar Pistorius, Dan - known to his friends more commonly as "Discus Dan" - maintained his position on top of the leaders board. A triumphant Peacock jogged across to embrace him with a man-hug; an aggressive, adrenaline-charged bond, as sporting men do.
Seeing my friend compete in the arena, in the enviable colours of a Great Britain vest, I felt privileged to experience such an historic moment. Wrapped in national pride and gushing patriotism, I bellowed at every pistol start; every run, jump, throw and lap of honour. Few occasions in my life have left me feeling so British, so proud.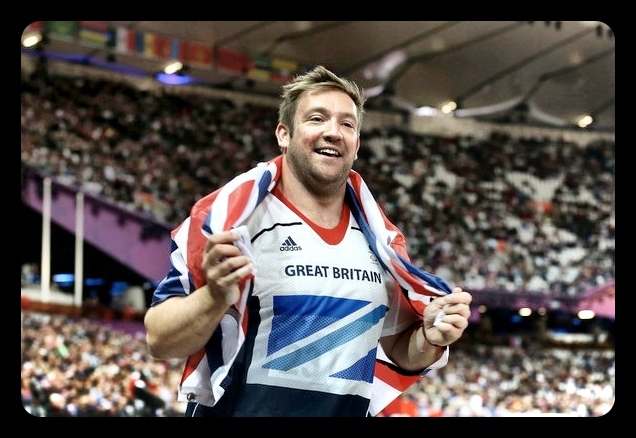 Without question the Olympic and Paralympic Games have unified the nation. It's made household names of athletes, the majority of whom we'd never heard of before: Joanna Rowsell, Ed Clancy, Laura Trott, Jason Kenny, Katherine Grainger, Helen Glover and Heather Stanning, Sarah Storey, Greg Rutherford, Mo Farah, to name only a few; while the likes of Tom Daley, Ellie Simmonds, Ben Ainslie, Bradley Wiggins, David Weir, Victoria Pendleton, Jess Ennis and Sir Chris Hoy reaffirmed their status as global sporting stars and the very best athletes in the word, some even, in the history of their sport.
We're now doing the 'Mobot' as well as the 'lightning bolt' and more of us feel moved to put on our running shoes, jump into a pool, climb into a boat. They ran, threw and jumped; cycled, swam and dived, shot, kicked, hopped and skipped their way into our hearts and into the record books. They put the "Great" into Great Britain.
I used to be an athlete, of sorts. A relatively successful sprinter at junior level competing for county and country and accepting a scholarship to study in America and run for the college Track & Field team. Upon my return from the US I studied for a Master's degree at Loughborough University (the best sports university in the world, boasting such illustrious alumni as Games orchestrator and supremo ex-athlete, Lord Seb Coe; Steve Backley, Tanni Grey-Thompson and Paula Radcliffe), and it was in the weights room at the HIPAC where I met Dan Greaves for the first time, already holder of three Paralympic medals from Sydney, Athens and Beijing. Together in a tight-knit group we lifted, pushed and squatted gritty iron weights and plates. There were tears, nosebleeds and vomiting... but mostly from me.
I trained with Dan and witnessed first-hand the dedication, physical exertion and sacrifice that goes into being a professional athlete. I know the time and tears and channelled testosterone that goes with the territory. I've seen the diet, those things he can and can't eat, the protein bars, glucose drinks and bottles and bottles of water. I know the desire that burns within him and the expectation he carries on those broad, throwing shoulders. These are the reasons, perhaps, that when Campbell threw an almighty 60.05m to take the competition lead, I cried.
My emotional tears, my "tear-sodden juddering climax," as Boris Johnson said in his address at the Olympic and Paralympic athletes' parade. It was the release of excitement, of adrenaline and the grand spectacle I was witnessing. I cried because Dan was now in second place and I cried because he had thrown further than he'd thrown all year, raising his game and accepting the challenge; steadying his nerves, blocking out the cheers and shouts from the most bombastic crowd in the entire world. Dan had done something that he'd never done before in front of a crowd he'd never witnessed before and will never likely again. He did not throw short, tally a list of no throws or under-perform, but threw on the thrust of the crowd adding a fourth Paralympic medal from four games.
Outside the stadium, once all throws were complete and the circle netting had been taken down, and the crowds exited for home, people stopped Dan and asked for photographs and his signature. Children with autograph books ran up to him in order to add his name to their 2012 collection. Leavers waved and cheered and games volunteers applauded, shouting "Discus Dan! Discus Dan!" A swell of fans grew around him making the big man appear small.
From a close distance I watched my friend in the glow of Paralympic light and in the forefront of the Olympic Stadium, the most wonderful of backdrops. I can't imagine how his parents must have felt. Or his girlfriend. Or Dan himself. I felt lucky to be there; sad because it wasn't gold and happy it wasn't bronze. I cried because of the noise and entire experience, but mainly because with Dan and friends, and 80,000 people, we let it all pour out.
That's the best I can sum it up. It's over now. "Our revels now are ended," announced Prospero. What loomed for so long has now tailed off, gleaming but inspiring us in its wake.