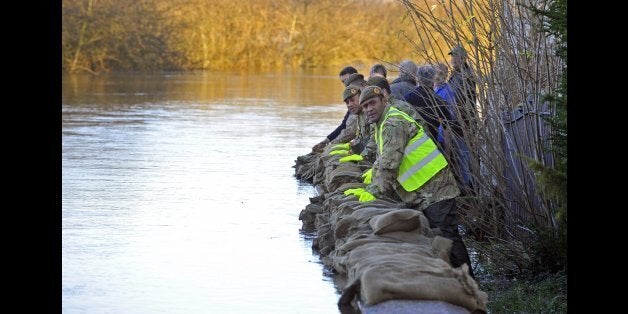 Last Christmas the Yorkshire village where I live was under threat of flooding. I am a volunteer flood warden for the village of Cawood for the Environment Agency - it's an historic village situated on the banks downstream of where two major rivers, the Wharfe and Ouse, converge. The village used to flood before defences were added in 1982, after the last time the village flooded, but homes could still be at risk during severe weather.
I've been involved as a warden for around 10 years, but even before this I've always been ready to help whenever heavy rainfall meant flooding was a risk. Flood wardens are vital if there is a risk of flooding as we help monitor the flood risk at a local level and provide this information to the Environment Agency. We also work with the Environment Agency, local authorities, and emergency services to prepare local residents if there is a risk of homes flooding.
In 2015, in the run up to Christmas, substantial rainfall was forecast for the Dales area of Yorkshire. On Christmas Day the river started to rise rapidly. I was contacted by Environment Agency teams in York and headed out to get a full assessment of what was happening or might be going to happen to our village. A huge amount of water was in the river system and heading towards York and Cawood.
From checking rises in river levels online, and with more rain forecast to land on Boxing Day, I knew it could be a very difficult Christmas for my village and other parts of Yorkshire.
I alerted the other two wardens for the village, and flood officers from the Environment Agency attended as the river rose. Rather than spending all of our Christmas Day at home relaxing with others, instead we ventured out into the rain to check river levels from the banks and make sure the defences were secure in case of the worst.
By Boxing Day morning the river was pretty full and still rising. We met with Environment Agency officers in Cawood to discuss risks and went out to check all the gates in the flood wall, to make sure they were closed and locked. We continued to make regular checks of the river - both visually by heading out on foot and by contacting the Environment Agency's flood incident unit in York.
In the early hours we made a decision with the Environment Agency to raise a flood plate that is set in the road near the bridge. An Environment Agency flood operations team was sent to move the plate. It makes sure that water cannot get into the village, but it closes the road to traffic.
Within a couple of hours of the gate being raised that the river had risen so much that it was over topping the banks on the opposite side of the river to the village and beginning to fill the Ings. These are flat areas of land that are left undeveloped so they can store water after heavy rain to help prevent flooding.
By 7am the river was in full flood and flowing over the bridge deck. The flooding stretched for over a mile. I have seen water on the bridge before but never as much as that night. The river had risen over 3 feet in a few hours and we had an anxious wait as river levels continued to rise. Only a couple of hours sleep were snatched that night!
We spent the day checking the defences and getting sandbags to put in vulnerable positions to protect building at risk and speaking regularly with the Environment Agency flood incident room. Their flood support officers oversaw work with soldiers from the Duke of Lancaster regiment who came in to help with sandbagging in case river levels rose further. Another function of our role as flood wardens was to inform and help reassure residents. Some residents had recently moved to the village and had never seen the river in flood. We reassured them we were keeping a close eye on the situation.
The river remained very high into the New Year, so more hours, and days with little sleep, were spent down at the river keeping an eye on the defences and contacting flood control for updates.
Since last Christmas I have been working with people in the village to show how they can prepare for flooding and working with the Environment Agency to help set up and inform new community groups in the York area. The Environment Agency has a world class flood warning system which can help keep people safer in the event of a flood. As 1 in 6 properties in England is at risk of flooding I'd encourage everyone to check their postcode, find out their risk, and sign up for free flood warnings. It will give you time to prepare if flooding is expected.
It is hoped that we do not experience the same conditions this Christmas, but, if we do, myself, other flood wardens and Environment Agency teams and emergency services will be out again.
HuffPost UK is running a fortnight-long focus around helping others this Christmas. Giving Back will shine a light on the organisations and individuals making a difference in their community, tackling issues such as loneliness, homelessness, food waste and financial struggle. We'd also love to hear your stories.
To blog for Giving Back, email ukblogteam@huffingtonpost.com. To keep up to date with our features and find tips on how you can make a difference this Christmas, follow the hashtag #GivingBack.
Popular in the Community