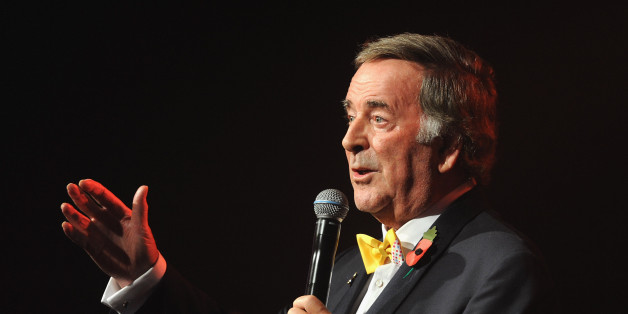 Dave J Hogan via Getty Images
"They'll probably have to drag me away from the microphone when they decide to elbow me. I shall cling to it. There'll be a lot of tears and screaming".
It was a crackly performance on the Light Programme, 'down the line' from Ireland, which saw the voice of Michael Terence Wogan appear on the BBC for the first time this week fifty years ago.
He had applied beforehand, only to be turned down by BBC 2 Controller, David Attenborough, who advised they already had one bloke from Dublin, thank you very much. Of course, Attenborough assured Terry limply that he'd pass the letter on to the relevant department head:
"If a suitable vacancy should occur, he will get in touch with you directly".
His voice deepened and lilted a little less in the ensuing decades at the Corporation, but he was to emerge as one of the radio industry's favourite performers.
After serving loyally on major BBC shows, Terry ascended the Radio 2 breakfast throne in the decimal days of 1972, entertaining the Nation with his ramblings, interrupted only by jolly jingles and pan-pipe music. Although television was to wag its beckoning finger for a brief brown-suited spell in the mid eighties, he returned home in 1993.