It seems strange for a country that possesses a recent history of such anguish and despair that Cambodian people can remain so friendly and welcoming to anyone who visits the country. Between 1975-1979, around a third of the total population of Cambodia were massacred by the Khmer Rouge under the Pol Pot regime. Since then the Cambodian people have shown significant resolve in maintaining and upholding their ancient history and cultural practices. I arrived in Cambodia knowing very little about a country which has seen and come through it all.
What you need to get used to in Cambodia is the heat. In March, the weather in Cambodia hovered around what felt like a scorching 40 degrees celsius, causing me to sweat profusely. It was tough doing physical activity on these days and I was often exhausted, not so much from the exercises themselves but from the heat and the resulting lack of sleep. There were very few clear pavements which made walking to and from a destination a bit of test trying to avoid the countless tuk tuks and mopeds. It seemed that in Cambodia the primary and only form of transport was to take a tuk tuk for a small fee of $2-3 dollars as Cambodians exchange in both USD and Cambodian Riel.
Phnom Penh was a bustling city with tuk tuks at every corner, the streets choc a bloc with traffic. On my first night I fell in love with Cambodia watching a traditional dance show, amazingly performed by young artists all dressed in traditional clothing and depicting a variety of folk dances accompanied by music, imitating Cambodian cultural history and way of life.
I was brought back down to earth however when I visited the Killing Fields of Choeung Ek just outside of Phnom Penh. What happened here was absolutely shocking. The land betrayed deep craters that had once been filled with thousands of mutilated bodies, mass graves containing the sickening work of the Khmer Rouge. For me it represented a haunting of the past, something terrifying that had happened, which could never be forgotten and a story that would have to be passed on from generation to generation. It was chilling to see the bones and clothes of those who had perished still scattered around the paths where I was walking, and of course the killing tree where the Khmer Rouge slaughtered babies.
The Tuol Sleng museum in the city centre served up a grim reminder of the atrocities initiated by the Pol Pot regime, with many tortured in a variety of horrible ways. Images of people being chained to steel beds, water torture and women's nipples being clipped off, all added to the gruesome reality of what had happened. The prison had once been a school and you could see where once might have been children running around the courtyard area and the classrooms themselves that had now been transformed into isolated cells and torture chambers. What struck me was how medieval these killing techniques were, when it had only happened as recently as the late 70s. The black and white mugshots of the women and men who had come here were chilling in themselves.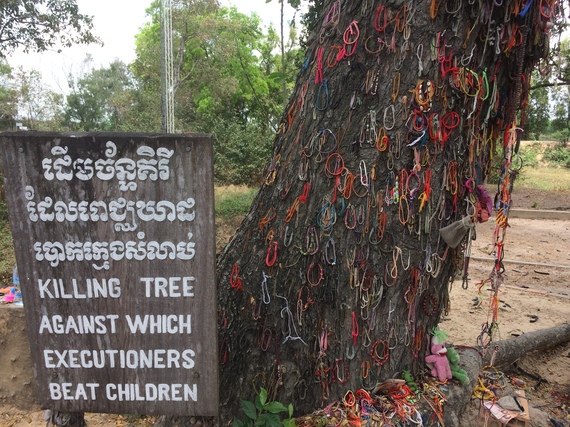 Author's own
Driving through Cambodia I passed many villages and a bamboo bridge that seemingly held motorcyclists as they crossed the Mekong. Farming houses littered the flat landscape with many people situated alongside the road, providing easy access routes to the major cities. I also passed an astonishing insect market where you could eat bugs including crickets, worms, beetles and even fried spiders. Angkor beer was also everywhere. The taste of the Cambodian lager was good but the advertising such as the opportunity to win a car made it notoriously addictive. It was also markedly cheap averaging $1 for a draft, increasing its accessibility alongside cigarettes with both not being taxed.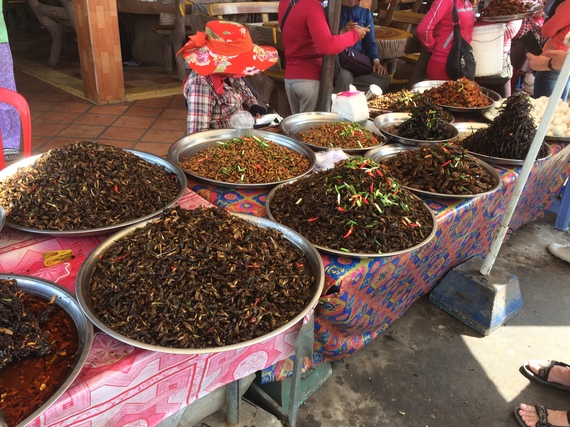 Author's own
In the Northeastern region of Steung Treng along the Mekong was the border to Laos, displaying an archipelago of islands, forestry and beautiful, hilly and somewhat different to the flat rice field landscape of mainland Cambodia. I passed through the sunken forest of Tonle Sap and the magical Somphamit waterfall with the small figure of a brave fisherman who could be seen in amongst the rapids below, wading around looking for his next catch.
If Phnom Penh inhabited the brutal turbulent past of Cambodia, Siem Reap marked a gateway to their glorious ancient history running tandem with the profits of tourism, the centrepiece of Cambodia and an area where all should visit, Angkor.
The old Cambodian empire of the 12th Century situated just north of Siem Reap is where I explored the wonders of Angkor Wat. The significance of this site marked a period in which Cambodia possessed perhaps the most glamorous and powerful kingdom in the world. Angkor Wat displayed an array of temples that were created over just 40 years under the reign of King Suryavarman II between the years 1113-1150 AD. The temples themselves were originally Buddhist but as years passed and new kings came in, the temples also came to symbolise Hinduism with The Bayon in Angkor Thom built under the reign of King Jayarvarman VII, displaying wondrous carvings of smiling faces on its surface. A few miles Northeast of the main temple was Banteay Srei 'Lady Temple', the last to be discovered, displaying fine red sandstone carving of such detail.
The magic of Cambodia finally reached its peak as I wandered through the stretches of night markets and food stalls in Siem Reap. I must have walked the streets for 3 hours, trying to relish my last night in Cambodia and at the same time feeling at home amongst the locals who once again smiled and greeted me everywhere. I knew I would very much miss Cambodia and one day hope to return.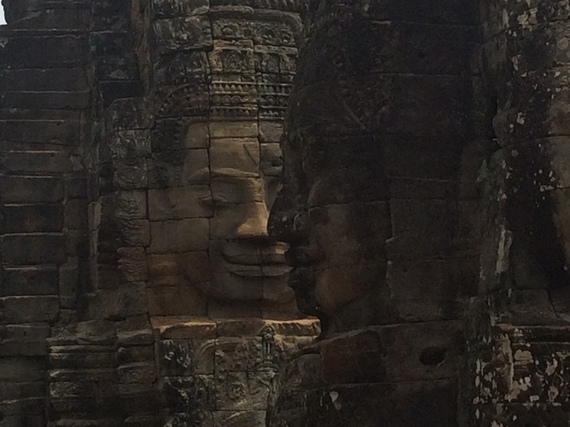 Author's own