On Saturday 12 March at Twickenham stadium, two of arguably the best number 8s in world rugby will come together. One representing the red rose of England, the other representing the three feathers of Wales. A bona fide clash of the titans, yet two number 8s from the very same family.
Billy Vunipola of England will play opposite his cousin Taulupe Faletau of Wales, as both Tongan born players seek to lead their teams one step further towards the coveted RBS 6 Nations championship. Billy is hoping to give England the chance of a first grand slam in 13 years, whilst Taulupe is hoping to lead Wales to a fifth Six Nations championship win in 11 years.
Growing up in the small yet proud industrial Welsh town of Pontypool, the two players would regularly play rugby together alongside Billy's brother Mako in the family's back garden. Fights were frequent as the boys' competitive edge was formed, and this, combined with a natural talent and hunger for rugby, allowed them to grow into remarkable warriors on the field for their countries.
Both are different types of player. Vunipola has progressed amidst stiff competition from the likes of Ben Morgan to make the number 8 jersey his own. Vunipola describes his style of play like a "fourth front rower" and indeed his sheer strength and power is as close to a human train as can be, in his ability to break through defences and get over the gain line, even from a standing start. On many occasions during the England v Ireland match, it took 5 players to stop him in one run, and this was a glaring factor that contributed towards England's win, signified most notably early in the first half as he trundled forward, lomu-esque, towards the try line, almost scoring a remarkable solo try using his brute strength.
Faletau in contrast is an incredible athlete, not so much the human train that Vunipola is, but a player who is able to snatch opposition ball in a matter of seconds. He is lauded for his work rate in being a nuisance at the breakdown and his natural athleticism in his quick footwork and power off the back on scrums, causing defences from nations across the world of rugby problems. Another key factor is that he rarely gets injured, an attribute which is crucial in the nature of today's very physical game. His tackling is also second to none and he is regularly willing to put his body on the line for his country. Like Vunipola he has matured into an exciting player on the big occasion, with plenty to offer in game when it is close.
Although there is a breadth of match-ups across both teams, including the possible clash between Manu Tuilagi and Jamie Roberts at centre, another mouth watering prospect, it is the focus on these two number 8's, the heartbeat and engine of both teams that provides the most intrigue. Both players are crucial to each side and you feel that one without the other would be put at a significant disadvantage for the match.
What makes this year's Six Nations so exciting is match-ups like these, match-ups that will potentially go down in rugby folklore, and I personally cannot wait for the theatre, the action to begin. A world of pain lies in wait for the defences of both teams and when these two titans have the ball, prepare for the ground to shake.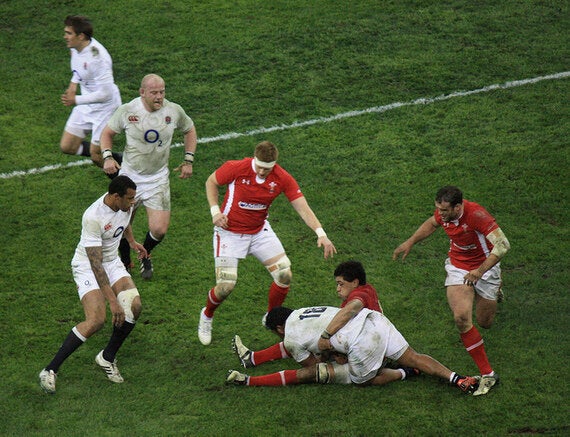 Image credit: Marc via Creative Commons