For a while now, it has become fashionable for restaurants to pare down a menu and offer only one or two ingredients (with beef somewhat monopolising the movement) and bars are beginning to behave the same way (though not so much with the beef). Over the next few weeks, I'll be patronising single-spirit speakeasys, seeing if it's a trend for the better. Tweet me @dvh_ellis with suggestions.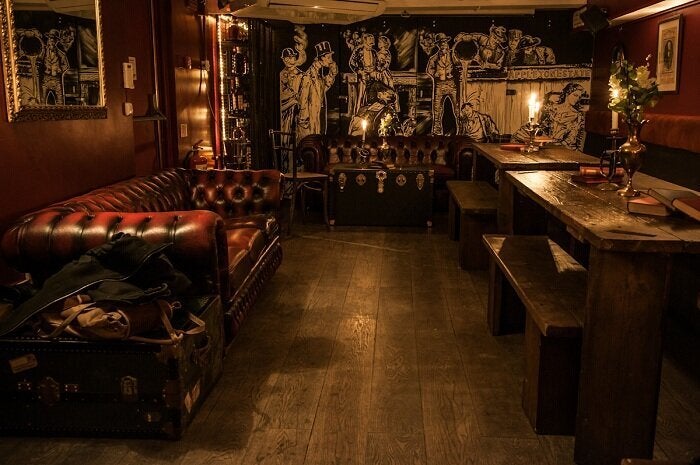 It is wet for the first time in a few days and my shoes, out of shape, begin to complain of the rain. My girlfriend is admirably much more resilient. We're finding rum house 'Portside Parlour' and though it's a long chat from Bethnal Green tube, a bar with a lavatory for an entrance is intriguing enough to stay us on course.
Downstairs from popular bar 'Off Broadway' (a long way 'off', it's Mexican), we reach a Victorian cistern, pull the chain and are greeted by a flushed, smiling face opening a wall till it becomes a door. Portside Parlour is a pop-up rum bar, a Captain's Quarters of the East-End, docking in its present home until April Fools' Day. The smiling face raises her voice above the rock n' roll slithering from the speakers and shows us to a communal bench, hands us two books and tells us she'll be back to take our order.
Neither book turns out to be classic - no points lost; it's a bar, not a bibliothèque - and the menus stuck inside the front cover are brief but comprehensive. As we choose, a bottle of water arrives with two glasses, a subtle display for rum giant Appleton Estate, who back this project.
We exchange our plastic for a tab; in this instance, an old cigarette card (detailing the rise of light-heavyweight John Henry Lewis, since you ask). It's a nice touch -something we find ourselves repeating: Portside is a parlour of particulars; oil burning gas lights, a cartoonish party of revellers on the walls, the cut-glass cocktail bowls. My favourite is a lamp; the body is a ships throttle -set to 'Full Steam Ahead.' I point it out, we nod. Nice touch.
And the drinks? Sean on the bar recommends the Old Fashioned, a reasonable £10. 'In an old fashioned, the drink really leans on the spirit', he says, stirring the sugars into one, 'The [Appleton] 12 year old is great for it. It's just fantastic rum.' We save that for next time and decide on a Sweet Palmetto and the popular Pearl Diver's Punch which comes with a half-lime flaming- from the smell, I'd guess Wray and Nephew's. £9 buys a pleasingly strong cocktail here, though our Punch required a vigorous stir before drinking. The Palmetto had the novelty of being barrel-aged on the premises; there's no new born to compare with so I can't draw conclusions on the effects of the woodwork, but it was a rich, soft drink and it went rather too quickly. Someone had keenly run an orange peel on the rim of the frosted glass too, another mark of excellent 'tending.
But were there a checklist for bars that are pleased with themselves, Portside Parlour would have ticked most; a pop up, single spirit, 'quirky' décor, low ceilings, music at a volume to kill conversation. But it isn't pleased with itself. And not just because there's a thankful absence of 'ironic', arsehair moustaches. And not just because the whole gang working seem to actually enjoy the place. And not just because the music is good and the drinks don't pretend. It's to do with those communal benches: Portside is having a party. You're in with mates, whether you've known them for years or just a drink ago. People smile, pass mixtures for communal sips, brave jokes and break that cardinal rule of London (never, ever talk to strangers.)
Next to us, two lads banter about their travels and receive two ice-lolly orange Senor Papas (perhaps the only let down - too sweet and summery), both with a huge hunk of ice in them. "Hey," I say, "I guess that's what the cocktails looked like when the Titanic went down." We all smile, and chat as best we can over the music. Then, times up, we have to leave early, and a couple come into to take our place and make these friends on the communal bench. Nice touch, that.
Open: Wednesday-Sunday, from 5 until late into the night
Prices: cocktails from £8, shots from £6. Wine £6- £7 a glass, from £25 a bottle.
There's also the option to buy a bottle of rum, from £60 up to £200 and keep it behind the bar, in "Davey Jones'" locker, where it gets its own name tag and can be drunk from with no extra charge - unless you fancy a cocktail with it, where it'll cost £3 a pop.
Any specials?: The bar offers desserts too, around £7-8 and hosts special 'Rum Clubs' on Wednesdays with a £10 entrance fee. A brand ambassador for a rum will come in, give a run through of their product and all will taste, and drink, and try new cocktails and be merry. The first is Feb 20th, and features Sean Duprey of Angostura Rum & Bitters.
The scoop: The team may be headed for water and setting up their own Tiki bar on a barge. London's coolest bar could happen... you heard it here etc.
From co-founder Charlie Otth, "A cocktail bar without the usual wank that comes associated with them..."
From me? 4/5. Will revisit.