TEDxTeen brings Remarkable Disruptors to London
The inaugural TEDxTeen London on October 11th brought together a collection of young people to share their ideas at the indigO2. The conference highlighted the stories of those who dare to be innovative and who strive to make a change.
I was fortunate to be one of those speakers and my message addressed the disruptive potential of climate change. I have worked to shape the way we communicate climate change since 2005. Over this time I have shaped UK government policy by getting climate change on the national curriculum, fronted a media campaign that reached over 3 million people and set up my own environmental enterprise.
Since being personally affected by severe flooding in North Yorkshire, in the summer of 2005, I made it my mission to raise awareness and education around climate change. This was a time before climate change was big news; most people hadn't heard about it yet alone understood it.
I promoted scientific education of climate change; how it happens, why it happens, the greenhouse effect, atmospheric chemistry, glaciers, sea level and so on.
I was certain that education was the solution to the problem. I believed that if people understood the issue they would understand the importance of it and do something about it.
Very recently I had a realisation that I had been wrong this entire time.
As one comes to the end of a chapter in your life you often look back and reflect. This experience came to me as I finished my university geography degree earlier this year. My reflection on the past few years also involved reassessing my work on climate change and thinking 'why haven't we done more as a society to tackle this problem'.
I feel that now, after years of climate change stories in the media and on the curriculum, we perceive climate change to be a distant and abstract phenomenon, far removed from everyday life. The model of climate change communication has very much followed an information-deficit system, where knowledge and understanding flows one way- from the experts to the public.
This top-down production of knowledge has not had the desired effects. I believed that if people understood the science of climate change they would understand the importance of the issue and take action. Due to an increased awareness of climate change we have made simple changes to make our everyday lives more environmentally friendly, but we have not yet made significant changes to our lives or way of business. The overbearing role of science in public communications has a part to play in this.
The story that I wanted to tell at TEDxTeen was that we need to change the way we look at the problem. Climate change is not a remote scientific concept it is real and it is personal.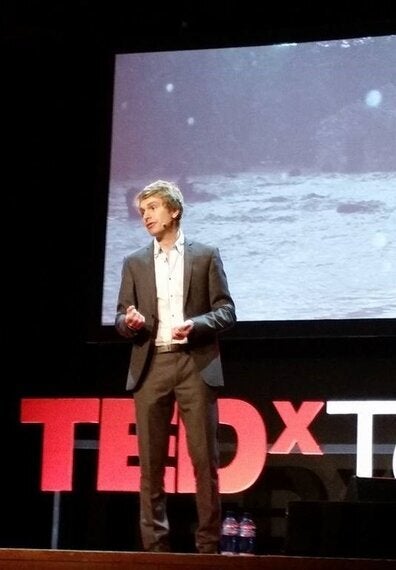 A 2014 Pwc report stated that the indirect impact of climate change in the UK will significantly outweigh the direct. It is these subtle changes which we should be highlighting.
Climate change is not all about melting ice, sea levels and floods it is more importantly about rising food prices, home insurance and international security. These are the conversations that we should be having when it comes to climate change.
Climate change can act as an amplifier in many situations. This means that it can exert extra stress and pressure onto situations. It cannot be labelled as the sole cause of problems but its influence is certainty there. This is true from current water related conflict in the Middle East to increases in food prices in the UK.
Climate change threatens the international supply chain of food from production to distribution. It threatens access to food by undermining livelihoods and destabilising prices.
Slow onset changes, such as the gradual changes in temperature and rainfall put downward pressure on yields. Research indicates that global yields of wheat over the past three decades may be up to 5.5% lower because of climate change.
We live in a globalised world and climatic changes which affect crop yields on the other side of the planet can now have an impact on the everyday finances of people on the other side of the globe.
Discussing how climate change will affect your everyday decisions is much more important than testing peoples knowledge of the greenhouse effect.
TEDxTeen was an it an inspiring day and it was awe inspiring to hear the stories from the other Remarkable Disruptors. However climate change is the biggest and most remarkable disruptor of them all and we must first change the way we perceive this problem in order to tackle it.
TEDxTeen Talks will be available online shortly.