Britain's home care sector is facing a funding crisis which not only threatens crucial frontline services, but which will also have wider implications for an already overburdened National Health Service. With over 800,000 of society's most vulnerable individuals reliant upon these services for their daily needs, a swift and drastic re-evaluation of home care funding is needed to tackle this worrying trajectory.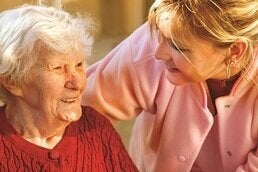 Recent statistics on Local Authority funded home care services paint a stark picture of the problem. An investigation by ITV last week revealed that home care agencies are no longer bidding for Local Authority contracts, amid fears that they are unable to deliver sufficient care for the price being offered. With 93% of care providers facing a decrease in the price paid for their services in the last year, 69% have now said they plan to reduce the amount of state-funded home care they deliver next year. Many providers are already turning away from Local Authorities, with 50% of those providers given the opportunity to bid for council contracts, opting not to do so. These decisions are motivated almost solely by concerns that the fees being offered are dangerously low, and not adequate for providing sufficient care.
These revelations are all the more worrying given Health and Social Care Information Centre figures, which showed that councils were only able to answer a third of requests for care last year. Nearly two million requests for support were made, whilst only just over 650,000 people received help.
This situation will also be compounded by the introduction of the National Living Wage (NLW), which will be financially crippling for many providers. A recent survey by the United Kingdom Homecare Association (UKHCA) found that over 1 in 10 home care agencies say they will be forced to close within the next 12 months, owing to the introduction of the Living Wage. Whilst home care agencies have been struggling to deliver care on the existing low fees from Local Authorities, 71% of providers have now said they will be unable to meet the extra costs of the NLW. Crucially, 74% of providers have warned that the quality of care and the delivery of frontline services will be affected.
It is these frontline services that we must keep at the forefront of our minds when discussing funding. Over 800,000 of the most vulnerable members of our society rely upon these home care services to support their daily needs. In recent years we have seen a distressing decline in the quality of care that dedicated home care workers are able to deliver. Time and budget constraints led to the shocking practice of flying 15 minute visits, which threatened the dignity of thousands of older people. Moreover, the onus upon home care workers to pay for travel time between visits means that hundreds of thousands of home care workers are currently earning under the minimum wage. One way of improving the level of care will be to inspire and motivate the next generation of home care workers, yet this is proving extremely challenging, when the financial reward is so low.
This crisis in home care funding also has wider implications for an already overburdened NHS. Home care aids people with their daily needs, but can also act as an effective preventative care measure, ensuring older people do not end up in hospital unnecessarily. Moreover, hospitals rely on care workers to support patients once they have been discharged. Often, hospital wards find themselves overburdened by elderly patients, ready for discharge, who are stuck in the care system. Home care workers provide a vital support system to hospitals, both before and after admission. As such, we must understand home care and its funding in the wider care context. Funding Local Authorities to provide sufficient home care services will not only ensure good quality front line services, but will also help relieve pressure on the NHS.
Related