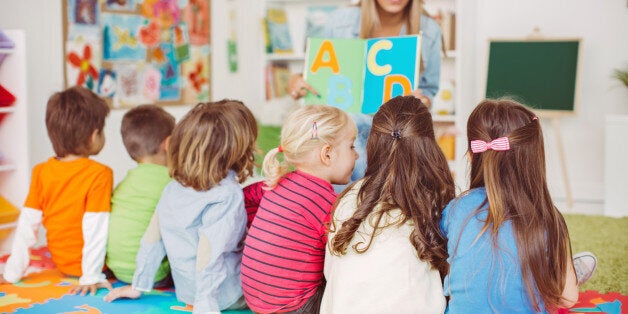 So, I've purchased a (rather bright pink) Peppa Pig rucksack and filled it with spare clothes, wipes, a sunhat, some suncream, a coat, a teddy bear called Bjorn, two dummies and some Calpol (ok, a large bottle of Calpol). I've purchased an enormous bag of nappies, and I've stuck baby M's name on everything. Twice. I have bought a book called 'going to nursery', for baby M's bed time read and her clothes for tomorrow are laid out ready. All this can mean only one thing. It's time for my beautiful baby girl M's nursery induction.
Not gonna lie. I'm dreading it! And when I say dreading it, I really mean heart-pounding, nauseous, stomach in knots feeling, every time I think of it. Baby M only has to go for two hours tomorrow but I think it's the biggie isn't it?! It's the two hours that will answer all the questions in my head and most of all, it's the visit where I'll actually get to see baby M in her new surroundings with her new carers (gulp) and be able to picture what she'll be doing all those days I'm at work.
I had a few tears (again) at the thought of it this morning. I know she'll be well looked after. I have read and re-read the ofsted report (I'm a headteacher; I can't help it), I have spoken to mummies whose children attend, I have visited twice, but it's not really the care side of things that tugs at my heartstrings the most. It is knowing that she'll make so much progress there without mine and Mr MBAW's input that weighs heavily on my mind and my heart. People talk about their children spreading their wings, developing their independence, flying the nest and so on, but when you bring your newborn home from hospital, you have no idea that the process will start so soon. M is only 11 months old. She seems so little, still a baby. It seems too soon for her to be leaving my side, but as of tomorrow my baby girl will start the next stage of her development, and it will be independent of me and her daddy. And it hurts me, a lot, to think about it.
From tomorrow, she'll meet new people that will play a massive part in her life. People that will contribute massively to her development and the progress she makes. And she'll make new friends. Friends that she'll spend every day with in the coming years. Possibly friends that will last a life time.
She will no doubt enjoy it. She will thrive, grow and flourish I'm sure. But she will be doing it independently of me, her mommy.
Like I said, she's only got to go for two hours tomorrow, but it's a kind of biggie isn't it...
Love to all the working mummy role models. It's hard but we are doing it x
Follow me on Facebook @mummysbackatwork16 or twitter #deeoflichvegas