Those with long memories may recall Raphael Doyle from a lifetime in and around the alt-folk-rock scene. From a residency at The Troubadour coffee house in London's Earls Court, as the "Cafe Society" trio with Tom Robinson and Hereward Kaye, Raphael and the band were discovered by blues legend Alexis Korner and had their first album produced by Ray Davies, who signed them to his label "Konk Records".
Melding Irish music with jazz, blues and R&B, Raphael's contribution marks a period in music history with little regard for boundaries, and a period in Irish social history when escape from boundaries put many young talents to flight. The London R&B scene must have seemed a million miles from County Antrim, where, as a boy, Raphael pressed his ear to the plate glass window of a beachside club whenever Belfast bands came to play.
Raphael's journey to London came via a spell in the creative community of Finchden Manor in Kent where, at the age of 15, he was already crafting copious song lyrics and setting them to ferociously intense blues and folk. When Café Society went their separate ways, Raphael embarked on a life of touring and playing, including a spell in Europe with Ignatz, recording gospel rock with Giant Killer and countless electric blues gigs with guitarist Paul Davey.
Although he describes these years as "tempestous" and marked by an increasing dependence on alcohol, family life with Rose - who Raphael met and married at 19 - provided an anchor and a home blessed with four much-loved children.
Raphael's powerful poem "I Come From Ireland" captures the turmoil and turbulence, Autobiographical and brutally honest, it draws listeners into his story of success, loss, love and pain, with undeniable strength and lyrical beauty, To listen once is to be compelled to listen again.
Those with a love of musical theatre will hear this poem and immediately begin to stage it in their minds. Rhythmically mirrored with Gerry Diver's hauntingly engaging arrangements, if ever a story were made to be told through theatre, this must be it. The good news is that "I Come From Ireland" is just a taster of music to come.
Knowing when life is coming to an end is a privilege denied to most of us. It takes too much courage to look directly at our own mortality. Not so for Raphael. Diagnosed with Motor Neurone Disease earlier this year, Raphael focused his passion and, joining with his son Louis (Slides, The Spare Room), set about creating "Never Closer", an album of his self-confessed messy life. In Summer 2016, Louis and Raphael completed the most urgent task, capturing 18 master vocal tracks with Gerry Diver at his South London studio in just four days. The pair then went to Miloco studios with engineer Daniel Moyler to work up band arrangements for many of the songs - including contributions from Tom and Hereward.
Like Raphael's track "We'll All Get Together Again", in which he offers the brave and uplifting testament that life will go on - "We'll sing to the sun, and the sun will come again" - Never Closer is a reflection that there is darkness and there is recovery, there is pain and there is love. And at end of the record Raphael powerfully, quietly and gladly concludes that it is all - definitely - worth it.
There is an undeniable race against Raphael's declining health to get the remaining tracks for "Never Closer" finished in time for his 64th birthday on January 6th. You can help, especially if you want to hear this remarkable musical journey in all its glory. Head over to Pledge Music and - for the price of a posh latte - help make it happen. You'll get a download of "I Come From Ireland" there too.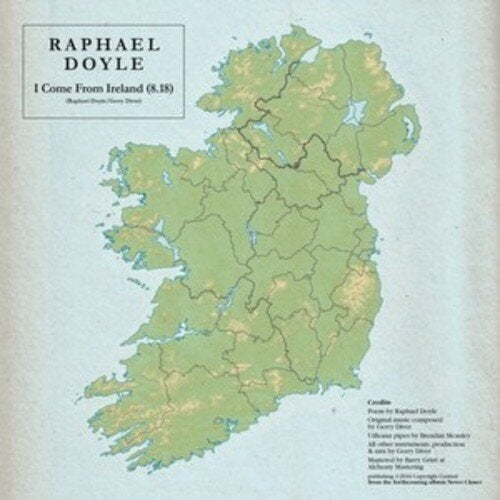 Image by Guy Sexty, courtesy of Raphael Doyle