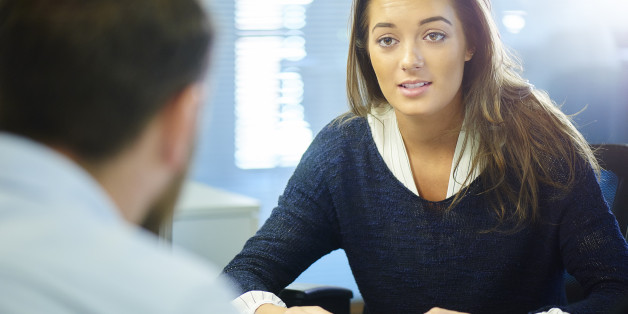 sturti via Getty Images
Enter the careers advisor. "This is a very exciting time. Now you've completed your GCSEs, you've got to make a choice between college or Sixth Form."
"My friend was actually telling me about an apprenticeship she's enrolled on with a local provider that sounds very enjoyable," the young adult replies.
Pessimistically the advisor replies, "Oh, you're interested in an apprenticeship? Well, we don't usually advise going down that route. Besides, you're far too capable to consider that."
Far from an embellishment, this represents but one of the many conversations that was taking place nationwide between school leavers and their career advisor prior to the Summer holidays. Whilst public opinion is changing on the value of apprenticeships and pre-employment programmes such as traineeships, more needs to be done to eradicate the negative view some institutions have. What part can each of us play in encouraging this?
It's a bit of a no-brainer but schools must begin to engage more readily with providers offering apprenticeships, and vice versa. There are currently a few Government funded projects such as Apprenticeship, Knowledge and Support (ASK) for Schools that invites providers to deliver information, advice and guidance sessions to both teachers and students of education institutions, but the impact of these projects will not be measurable until they're complete. In the meantime, schools must recognise the need to invest in this as a priority of their own, by training staff and creating links with the many providers out there who offer their services for free, which often includes free careers guidance, matching students to local traineeship and apprenticeship opportunities and hosting informational sessions on-site at school premises.
There is also a historic view held by some that apprenticeships are for those who are less academically able or that traineeships are for the nation's greatest underachievers. Not true. As part of the apprenticeship reforms, the sector has now seen the introduction of degree level apprenticeships, at levels six and seven which are equivalent to a Master's Degree; Qube Learning Ltd has developed a comprehensive programme that allows individuals to move from pre-employment schemes such as traineeships, through levels to and three and ultimately progress to degree level apprenticeships. To realise this objective, we've partnered with the Business School at the University of Surrey to collaborate on the creation and delivery of Degree Level Apprenticeships. This places students firmly in the driving seat of making their own decisions regarding their education and career prospects.
And let's not forget the pivotal role parents play in the sculpting of our children's decisions. They need to ensure they are fully informed of the options available to children - they can do this by keeping up-to-date with the guidance surrounding traineeships and apprenticeships published to the Gov website and by taking the opportunity to participate in the careers guidance sessions the children are receiving. Yet, the most important thing we can do is to listen to children and work with them to identify the mode of study best suited to their unique set of skills, personality and needs.
If everybody plays their part children will benefit from the full breadth of FE opportunities available to them.