When I was growing up I always insisted that I didn't want to get married. I told people it was because I was shy and didn't want a day where I was centre of attention - which quite frankly is an outright lie. Actually what I dreaded was shopping for a wedding dress. The truth was that shops did not stock wedding dresses for chubby waists as standard and I did not want to have to hunt for a dress for my special day. It was easier to say I didn't want to get married than try to hunt for a dress so that is what I did.
As a grow-up, I am still a spinster with no wedding on the horizon but the thought no longer fills me with dread. Now I know that should Prince Charming come and sweep me off my feet shopping for a wedding dress could be as joyful as searching for a wedding venue and deciding on the menu; which is exactly how it should be and I know that many people feel the same.
One of the nicest trends I have seen when it comes to plus size wedding dresses is that more high street type places have started to offer wedding dresses up to a size 32. Even though they are available online both Lady Voluptuous and Scarlett & Jo offer a wedding dress range at high street prices and that really makes me happy. One of the things with plus size fashion is that it often comes with a plus size price tag. It seems that clothing companies realise that larger clothes are rarer so tend to realise that they can charge more for items - but thankfully it seems that there are companies bucking the trend.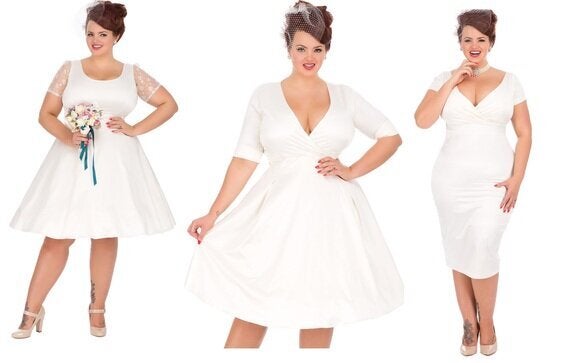 I know lots of people who find the thought of their wedding day a worry - especially when you consider photos and videos are going to be around forever. You only have to do a quick Google search to find hundreds of methods for dropping a few lbs before your big day. I have nothing against this if it is going to make you happy but remember that your family, friends and your fiancée love you now, exactly as you are. If you want to feel your best on your wedding day that is fine but remember that a smaller waist isn't the only way to do that.
Now that we have more choices when it comes to wedding dresses for plus size bodies you have more chance of being able to wear your perfect dress. Remember you only get married once so get the dress of your dreams and don't worry about anything else! No matter your size you are entitled to the perfect dress to top off your perfect day so make sure that you shop with brands who help you embrace this and remind yourself that wedding dress choices are not limited.