Finding high quality hair extensions is a bit like the looking for the love of your life. You know your perfect match is out there somewhere but sometimes you just don't know where to look for your silicone-free suitor. Sometimes you may even think you've found it, the holy grail, the sword in the stone, the fountain of youth! Only to find the honeymoon period is over a lot sooner than promised.
The country origin of the finest human hair extensions is debatable, I'll give you that. It depends on who you speak to, what end of the industry they're in and whatever preconceived ideas they might have about other sources. I have personally worked with hair from many different parts of the world, with many different hair manufacturers, with many different practices and I'm still learning new things about the product all the time.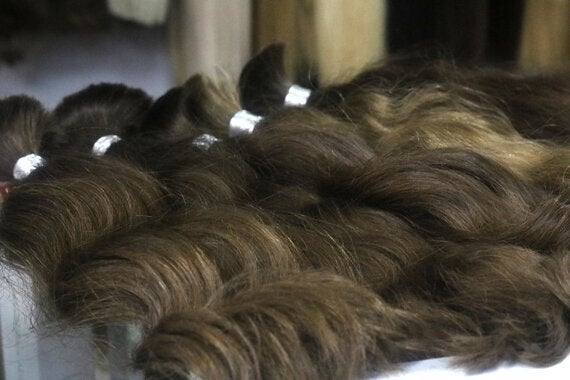 Photo Credit: Studio Seven50
The most important thing I've discovered about hair production however, is that you simply cannot cut corners. This is a very ambiguous term and will mean different things to different people but broadly speaking, in most mass-produced hair production (even those who adhere to being cuticle correct) they will accept mixed hair donations. Quite simply this means your end product will contain hair from quite a few different people, meaning your hair extensions are often of a denser quality, even if they are tangle free. And I'm not even including the cheaper brands who also further mix the hair with synthetic fibres.
On a recent trip to Ukraine to source the much sought-after Slavic Hair, I witnessed the pain-staking double drawn process in which they remove most of the short hairs so the hair appears thick from the roots right to the ends. Then instead of machine-made wefts, the hair is attached onto a handmade weft that takes one worker a full day to complete just 100 grams of hair - no mass production here! Capsule keratin bonds and tape extensions are much faster to produce and do require machines but it does give you an idea into the detail of process Ukraine puts into their hair production. Not only do they preserve the raw material with strict standards and processes so you receive the hair as it was on the head; they take out any imperfections to ensure it actually looks even better.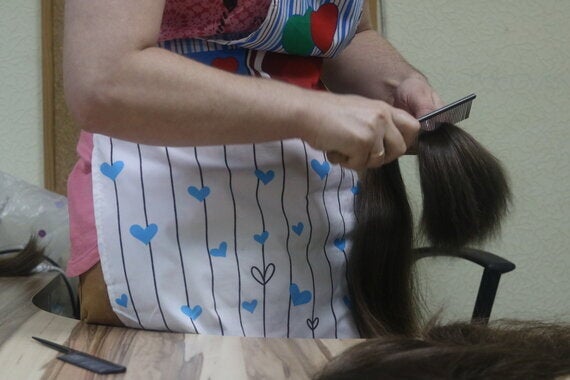 Photo Credit: Studio Seven50
Eastern Europe understand they will never match Asia for low-cost and mass production so they are playing in a different league altogether. The region is awash a range of colours from the very dark to ash blonde; often untainted by colour or heat styling that we rely so heavily on in the UK and America.
They can offer both wavy and straight in the hair which comes as long as you can imagine. And I may be wrong but I have never come across handmade wefts in Asia; probably because of the labour inefficiency, but boy is it worth it. You could have the best hair extensions in the world, but if they shed consistently over time then you'll have to replace them just as soon as something less superior.
As we become ever more saturated with fast-fashion hair extensions, the demand for better quality will become more and more prevalent. Even celebrities fall foul of quality that doesn't quite cut it; from brands who place themselves as leaders in the field. I do believe you need a perfect balance of quality and process and I see those things coming together in Eastern Europe more than anywhere else.
As I look towards the future of that, I look to Ukraine; perhaps the unlikely pioneers of the finest quality hair movement but none-the-less a region not to be ignored in the evolution of our hair extensions.