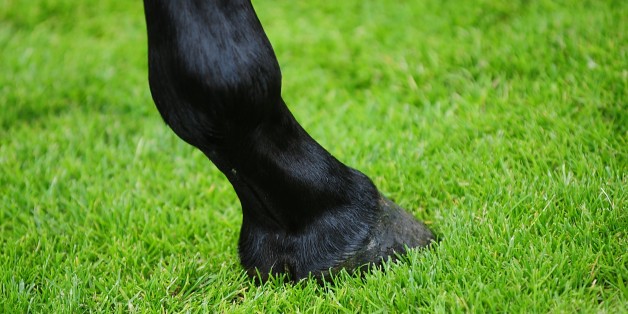 Daniel Hambury/EMPICS Sport
As the annual Cheltenham Racing Festival gets underway this month, it is estimated that around £400m will be wagered on the outcome of the 28 races, staged over four days. Between the masses of British and Irish punters, unimaginable amounts of money will be won and lost in a frenzy of blood, sweat and tears.
But whose blood, sweat and tears will be shed the most: the British punters? The Irish punters? The jockeys, the trainers, the owners, all of whom stand to win part of the biggest purse in the Festival's history, some £4.3m? Or will it be that of the horses?
Eleven years ago, deep into a Thursday night in mid-March, whilst the Festival's boozed-up punters snoozed in their hotel beds, not far away at an equine hospital, eight-year-old race horse Sh Boom was fighting for his life. He'd been gouged whilst jumping a hurdle in the 3.15 race that afternoon. His injuries were so severe that the veterinary profession was helpless to relieve his pain. The young Sh Boom's life ebbed away that night.
Sh Boom had lost his life; he'd shed his blood and sweated from every pore in his body - but were there any tears from those who had trusted their money on him reaching the finishing post first? Unlikely. Most of the approx. 50,000 on-course punters, British and Irish alike, had lost just a few quid - money-grubbing in the hope of a cheap thrill before the next race.
It's been over ten years and Sh Boom's death has left a lasting impression upon me; it is the image of a suffering animal so badly injured from, simply, a horse race. Was his suffering worth it?
Ten more horses were to die as a result of racing at that Festival. They met their fates in various ways. Bayard broke his neck; No Where To Hide broke a leg; Holy Orders broke a leg; Basilea Star was killed in a fall; Mr Babbage broke a shoulder; Olaso broke a leg; Buck Whaley broke his neck; Alfred The Great severed a tendon; Kalmini was destroyed due to his injuries; and Millenaire broke his back.
A year on (March 2007) from this horrific equine carnage, animal campaign group Animal Aid launched an online database http://www.horsedeathwatch.com
The aim of Horse Deathwatch was simple: to expose the extent of race horse suffering across Britain. Animal Aid's Deathwatch not only names the dead horses but also shames the racecourses where the fatalities occur. The online statistics include trainers and jockeys who are accountable by association.
A decade on, the death toll of horses killed on British racecourses has reached a magnitude far beyond what could ever be feared. A staggering one thousand five hundred horses have lost their lives racing - an exploitative activity dependent on gambling and prize-money, in the name of entertainment.
This number includes only the horses whom Animal Aid has been able to name. There are, however, hundreds more who have been killed but not identified because their names will not be released by the industry.
Where is the self-appointed welfare regulator - The British Horseracing Authority - in all of this? Are they silent, unapproachable, deceitful?
The horse racing authorities have in the past, and still are, determined to keep the names of dead horses and the racecourses on which they die out of the public domain.
Race horses, it would seem, are merely anonymous victims to the regulator who express deaths in the minimal terms of 'percentage of runners'. The regulator has not referred any industry body to prosecutors for breaches of the 2006 Animal Welfare Act. This is extraordinary in an industry where such significant numbers of horses have died, many in such painful and distressing circumstances. Questions should be asked about the role of the equine welfare charities advising the regulator, and the cosy relationship between the regulator and the National Police Chiefs Council.
Alarmingly, it is this unabashed distancing of racing itself from horse deaths that is so astounding. For example, the recent high profile death of Many Clouds at Cheltenham in January, seen live on national TV, was dismissed on national BBC Radio 2 in the most audacious manner by the BBC's Racing Correspondent, Cornelius Lysaght, as 'a freak accident' and 'a rare event' - words echoed after a post mortem on Many Clouds by the BHA's acting Chief Veterinary Officer Tony Welsh. This is despite the horse having a medical history that oozed physical problems with visible symptoms after his races.
A pulmonary haemorrhage was the cause given for his death - whether or not this had any links to his past medical history. And by no means is this a 'rare event' in race horses. Recent research has shown that in a scientific study where horses were scoped after racing almost 90% of horses suffered exercise-induced pulmonary haemorrhaging. I have in my care an ex-racehorse named Devils Bite, who suffered just that, and so much so that he choked on blood from his lungs when he raced. But Many Clouds went beyond a choking spasm, his haemorrhage was fatal and in my view a result of being raced to death by an industry focused on pushing animals to their physical and mental limits.
And when that limit breaks, it comes in many forms, whether it is a leg bone, a neck or a back vertebra, a smashed sacrum or pelvis, a shoulder, a severed tendon or a haemorrhage, pulmonary or otherwise.
Many Clouds broke under the pressure of racing. As did a dozen others the same month, and a dozen more the next.
Horses can also break when they come into contact with the apparatus of a racecourse - whether a fence, a hurdle or in the starting stalls.
In September 2016 I saw a horse named Mukaynis get his near foreleg caught in a starting stall gate at Doncaster racecourse - he was trapped. As a consequence, he naturally pulled back in a panic to be free, his cannon bone snapped, ripping his lower leg into two - hanging by skin alone. He was shot dead a few feet away from me. No detailed enquiry was held into this incident. The BHA didn't even have the decency to say that the horse had died; they gave short shrift on their website, stating twice that the horse was 'Unruly in stalls' and 'Withdrawn by the Starter at 2.40 - Unruly in the stalls'. The current trend of 'fake news' couldn't be more appropriate than in this BHA statement. That aside, a simple design and manufacture amendment to starting stalls could prevent this from happening again, but no such evidence of change is anywhere near forthcoming.
And so we come to this year's Cheltenham Festival. Under the guidance of an autonomous regulator, it will be business as usual. The question therefore is begged: 'how many horses will not return to their stables?'
The 1,500 horse death figure will race on...