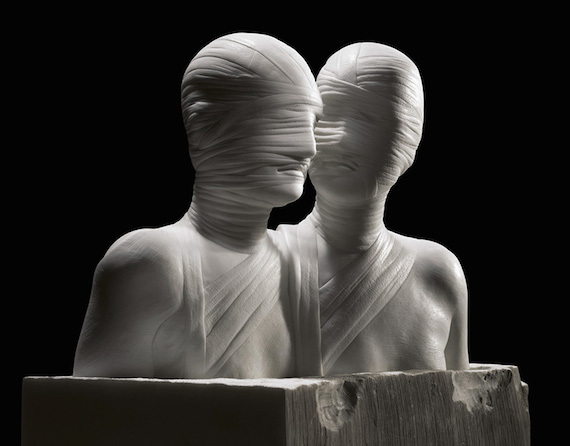 Città Perduta II, 2005, marble, one of a kind, 65x71x42cm
Traces of Time is the celebrated Pietrasanta-based master sculptor's first major solo exhibition in London.
Traces of Time is a definitive selection of Mitoraj sculptures in bronze, marble and cast iron. At first glance the sculptures may seem like archeological artifacts, evoking nostalgia for the golden age of antiquity and the poetry of ruin. Mitoraj wants us to avoid this comparison by simultaneously embracing the very nature of time; past, present and future. His sculptures consist of striking bodily fragments - decapitated heads, headless torsos with missing limbs, distressed surfaces. This use of the fragment relates to the paradox of the human condition, a quest for perfection that carries with it the inevitability of imperfection.
"The idea of beauty is ambiguous, a double-edged sword that can easily hurt you, causing pain and torture", comments Mitoraj. "My art is an example of this dichotomy: mesmerizing perfection attached to corrupted imperfection."
Mitoraj is an honorary citizen of Pietrasanta, working with the famous artigiani, regarded as the best in the world, excelling in decorative and technical skill. His work can be viewed as part of a great Italian bronze-casting heritage beginning with the Etruscans and Romans and reaching its zenith during the Italian Renaissance.
The heroic head, so often a recurrent motif in Mitoraj's work, may seem fragmented and slightly surreal, even possessing a strong sense of the theatrical. This dramatic influence can be attributed to the artist's early years studying painting at the Kraków Academy of Art under director Tadeusz Kantor, noted for experimental theatre. Mitoraj's early years included work on set designs and costumes for operas Manon Lescaut, Tosca and latterly Aida, held in the Boboli Gardens, Florence. Much of this theatricality is evident in his monumental works. "My work is not concerned with recreating what has already been done but it is simply an attempt to shape into familiar forms the drama of life."
Mitoraj is perhaps best known for his monumental public sculptures, which have been displayed in prominent locations including the foreground of London's British Museum, Canary Wharf, Yorkshire Sculpture Park, as well as the world famous ruins of Agrigento, Sicily. Other important public works have been shown in Italy, Spain, France, Japan and Germany. In addition to his public sculptures, Mitoraj's work has been exhibited in prestigious galleries in Europe, North America and around the world.
Notable collectors of the Polish born sculptor's work include TRH Prince and Princess Michael of Kent, H. R. H. Princess Ira Von Furstemberg, Sir and Lady George Iacubescu and Mr and Mrs Wafic Rida Said.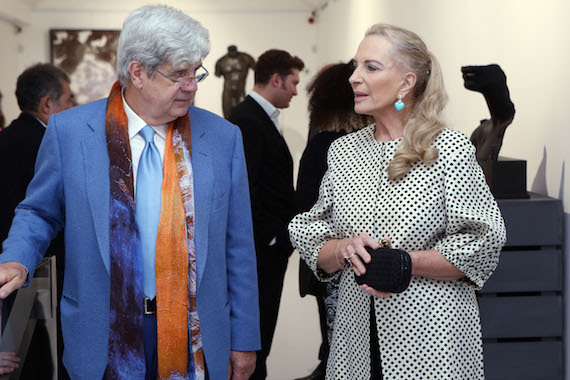 HRH Princess Michael of Kent with Mr Jean-Paul Sabatié at the inaugural opening of Traces of Time by Igor Mitoraj at ContiniArtUk
The exhibition is supported by James Putnam, Independent Curator and Senior Research Fellow, University of the Arts, London. In 1994 Putnam invited Mitoraj to install his bronze colossusTsuki-No-Hikari (Moonlight) in front of the British Museum. This was part of the Time Machineexhibition, which featured contemporary art juxtaposed with ancient Egyptian sculpture, the start of an ongoing collaborative relationship between artist and curator.
IGOR MITORAJ
Igor Mitoraj is a Polish artist born in 1944 in Oederan, Germany. He studied painting at the Kraków School of Art and at the Kraków Academy of Art under Tadeusz Kantor. After graduating, he had several joint exhibitions, and held is first solo exhibition in 1967 at the Krzysztofory Gallery in Poland. In 1968, he moved to Paris to continue his studies at the National School of Art. Shortly afterwards, he became fascinated by Latin American art and culture, spending a year painting and traveling around Mexico. The experience led him to take up sculpture.
He returned to Paris in 1974 and two years later he held another major solo exhibition at the Gallery La Hune, including some sculptural work. The success of the show persuaded him that he was first and foremost a sculptor. Having previously worked with terracotta and bronze, a trip to Carrara, Italy, in 1979 turned him to using marble as his primary medium and in 1983 he set up a studio in Pietrasanta. In 2006, he created the new bronze doors and a statue of John the Baptist for the basilica of Santa Maria degli Angeli in Rome.
Among his major exhibitions, are The Valley of the Temples, Agrigento (2011), the Trajan Markets, Rome (2004), the Tuillerie Gardens, Paris (2004), Boboli Gardens, Florence (1999), La Défense, Paris (1997), Yorkshire Sculpture Park, Wakefield, UK (1992) and Venice Biennale, Venice (1986).
Exhibition Information:
ContiniArtUK
105 New Bond Street
London W1S 1DN