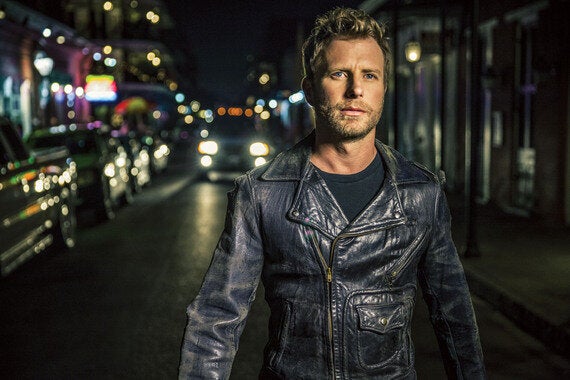 When it comes to writing songs about heartbreak love and everything in between, in my opinion it's important for songwriters to draw from their own personal story, even if it shows a little vulnerability.
I tried to take the same approach with this latest record, BLACK. It's the most personal record I've ever recorded. I wanted to shine a light on the things that aren't typically captured in a love song after the sun goes down. The journey goes through the high points and low points - but at the end it's all about a person's self-realization in a relationship. The same guy who sings 'Somewhere On A Beach' winds up growing and having enough perspective to sing something introspective like 'Different for Girls.' By the last song, he's taking a look back on love and life.
I'm equally happy creating a song that shows the lighter side of love and, for me, I can easily draw from the relationship I have with my wife. Take Thomas Rhett's song, Die a Happy Man. A majority of Country music draws from the influence of our spouse - you've got these young guys in their early 20s and they're married and really committed. I think those are the things that really connect with people. I've been married over 10 years and I have three kids and that definitely influences my song writing.
Love is the most complex subject any songwriter could write about and there's endless material. You think you understand it, or that you know it, but it is a constant shift. The main ingredient you need to write the perfect love song, or break-up song, or any song about love is experience. You have to have your heart broken because that's one subject you can't fake. Whether it's thinking back on that one moment that made the world stop in high school or remembering the first time you met your significant other - there are so many different angles to draw from.
When you're trying to condense something so massive into 3 minutes and 30 seconds, every line matters and no one's going to really feel it if it's not honest and real. I also find it equally important for a songwriter to surround themselves with writers that share the same deep connection. Don't get me wrong - I love writing with people I've never met, but over the years, I have found that core group of songwriters that can pull those emotions out of me even when I don't realize they are there.
In another sense, what makes a love song great is its honesty. You're not trying to write a song to win over a girl, overtly at least. Ed Sheeran's "Thinking Out Loud," is a perfect example of that - the song is just to the point and raw. It describes every facet of a relationship while keeping it simple and describing a story not just an emotion.
Whether it's a love song or the next party-anthem, lesson 101 is to always create the right transition between your verses and chorus. It seems the chorus is typically the most powerful point of any song that shares more of a higher vocal range with emotions really holding their own. Like a puzzle, it starts to slowly piece together when you have found exactly what you want to say.
Dierks Bentley's eighth studio album 'BLACK' is out now.