I love a good cocktail. Unfortunately, I'm not very good at ordering them and nine times out of ten, what looks great on the menu turns out to be florescent pink and arrives topped with the entire contents of a can of spray cream. And glitter. Not exactly the sophisticated look I would like to project, but one I can't seem to escape.
So when my friend recommended we try a new place she'd discovered in The City called Merchant House, I was a little dubious. But as usual, she sold me on the idea and off we trudged in search of cocktail therapy. If only she could remember where it was...
Eventually, after wandering down many undiscovered alleyways we found it. I'm not entirely sure how, as there was no sign outside and the shop upstairs was still being built. But we stepped over the power tools and cables and headed down to the basement to be greeted by the most elegant and laid back gin and rum joint in all of London town. Simply decorated with soft lighting and a bar that's literally stacked to the rafters with obscure bottles of every shape and size. This was definitely the right place.
Sitting at the bar, we were greeted and immediately made to feel at home. I confess, I'm often uncomfortable and feel out of place in these kinds of establishments. I'm just not cool enough. But there was none of that here, and despite being one of the best bars in town, it was welcoming, friendly and fun.
At £12.50 a go, the cocktails aren't exactly cheap, but we more than got our money's worth. Not only were our drinks expertly prepared, but we were treated a first class education in gin. If there were an exam with a qualification at the end of the evening, I felt sure I could have passed with flying colours. Had I been sober.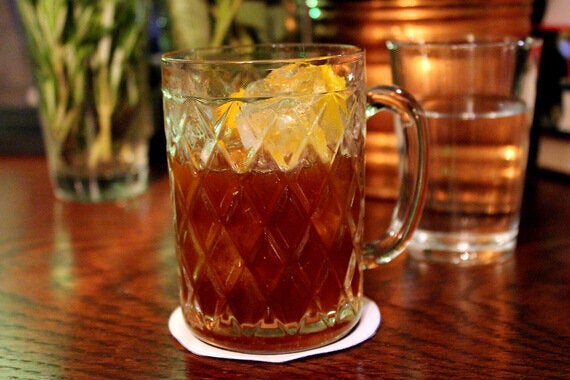 My first choice from the menu was a cocktail with molasses, tea and overproof rum that went by the name of Widow's Kiss. It was clear from the first sip where it got the name but by the third gulp, I was too happy to care. As we drank our 'tails and took the obligatory Instagram photos, the friendly barkeep fed us a constant supply of rare gins and rums, each proceeded by the phrase "Have you tried this?"
"Oh that's good! And what's that one over there...?"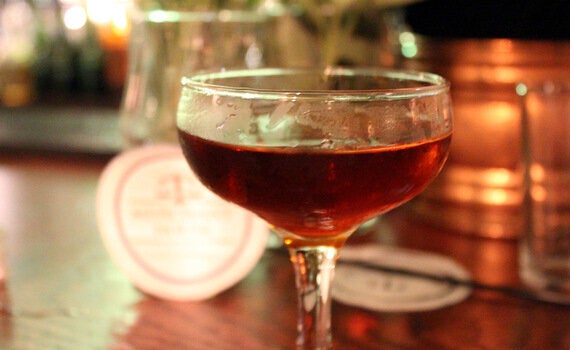 Next off the menu was the Red Dragon. Another rum cocktail, this time with chocolate, orange and smoke. After all, any cocktail made with both chocolate and fire must be good, right? Of course it was. I'd love to be able to describe it in more detail, but for some reason my memory of the evening is a little less clear after that point. I'm not entirely sure why, but I think there may have been something in the smoke...
Of course, I can't promise that you will get the same spiritual education we received at Merchant House, but for the ambience and friendly service alone, it's well worth an evening of your time. It's fun, relaxed and laid back with friendly and knowledgable staff.
And most importantly at all, there's no spray cream. Or glitter.