Being short on time but big on presentation, I have to squeeze in as many beauty quick fixes as possible to keep me looking well put together and groomed, but within about 10 minutes a day.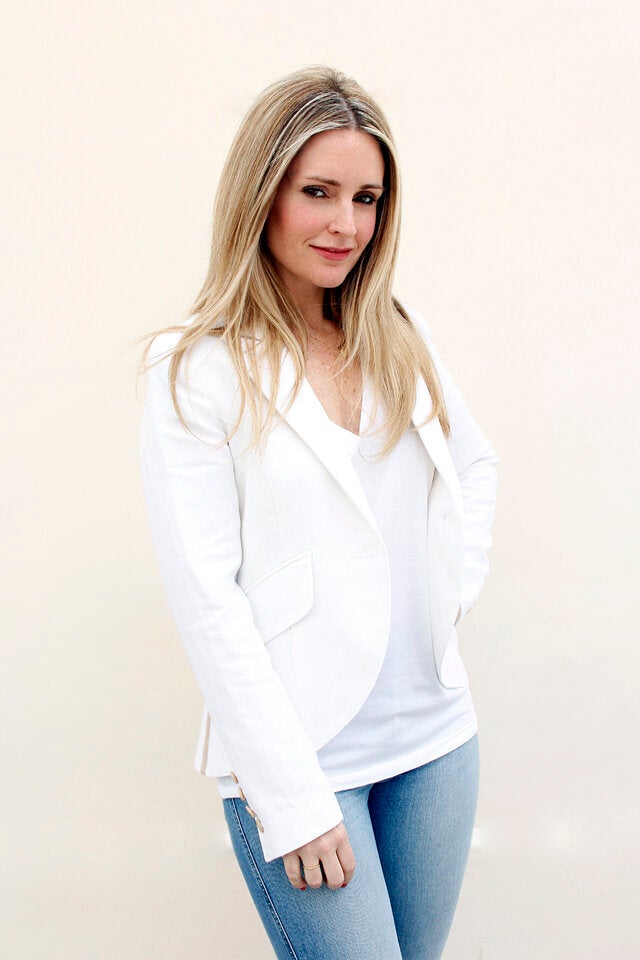 Photo supplied by Donna Ida Thornton
1) Hair - this is a big one. I have long thick hair, something which I hated when I was growing up (I actually wanted thin hair and was jealous that my best friend's hair was so thin you could see her scalp - thank god I grew up eventually and found my brain) but now see as an asset, albeit a relatively high maintenance one. Washing my own hair is high on my list of loathsome tasks - given the choice between that and cleaning the loo I'd probably choose the loo.
So to keep my locks nice and swishy I take advantage of two of London's best blow dry bars, Hersheson's Blow Bar in Westfield London and Blo by Real Hair on Chelsea Green (conveniently round the corner from Donna Ida on Draycott Avenue). They both do deals whereby you buy 5 or 6 blow dries and get the final one free and you can either pay up front for a course or pay each time you go. On average it works out at about £22 per blow dry and they last between 3-4 days. The big advantage is it takes 40 minutes and I can keep working on my iPhone the whole time - even with my head pitched back in the wash basin - as opposed to being under the shower and struggling with the brushes myself at home for 2 hours and getting no work done at all. That's just the ticking over though, every 6-8 weeks I need my highlights done and a light trim of the ends. My hairdresser Herman Ho is a man with an Oyster pass so he comes to my office and does my highlights for me at while I peck away at my laptop. I love this multitasking gig, because I literally can't move from my desk while he's working his magic I manage to plow through a huge backlog of work every time he visits.
2) Nails - I do my own nails, largely because I don't have the time or inclination to sit having a manicure for a minimum of 30 minutes once a week and additionally - how would I text/tweet/email/instagram/blog during this time?? So about every third night as I get into bed I prop myself up on one elbow and with my hand splayed on the sheets (yes) I apply 1 x Essie base coat, 2 x Essie Really Red nail varnish and 1 x Essie top coat, then with my hands on top of the sheets go to sleep immediately. I always use Essie because it dries super fast and you can literally start on one hand and by the time you get back to the first hand the coat has dried and you can crack on with the next one. The colours all dry differently though (must be a pigment thing) and Really Red is my favourite because it stays nice and shiny and doesn't go gloopy.
3) A pedicure is another thing entirely though - I'd never attempt this myself. I go to Bliss Spa or Hand and Foot Spa and tap away on my iPhone whist trying not to be ticklish.
4) Skincare. My friend Maria Hatzistefanis who owns the amazing Rodial Skincare introduced me to one of my favourite products of all time when it was popped into the goody bag at the Rodial Awards this year. From her Dragon's Blood Range it's the Dragon's Blood Cleaning Water. This stuff will literally eat all the old makeup and dirt from your face in seconds and it is SO gentle! I love it. I now buy it up in bulk and am so glad I found it. No more separate cleansers and eye makeup removers for me - this does everything!
5) Laura Mercier Eye Base. I found this years ago and haven't looked back since. It's like a foundation for your eyes! You pop it on the lids under your eye shadow and I promise you, your makeup doesn't dare move an inch. Plus it lasts for an eternity, I have to replace it only every 6-8 months. Even if you don't have time to put on eye makeup if you just add this to you lids it looks like a great buff coloured eye makeup and people will still think you've made an effort.
6) Paul & Joe Lip Pencil Duo in 01. I know lip pencils are talked about in hushed tones but I'm a fan - just don't choose one darker than your own lips! This is my favourite and I use it every day, even with just a bit of lip balm. I outline my lips AND colour them in with it as it really sticks and adds a hint of colour even if I don't have time for proper lipstick.
7) Sarah Chapman's Overnight Facial. This is a facial oil that a) smells great b) does what it says on the tin. You'll wake up fully moisturized and feeling lighter and brighter than ever before. It's a sure fire quick fix and I love it.
8) Bleach your teeth! Anyone who smiles a lot is instantly more attractive and if you're going to smile, you need good teeth. I bleach mine semi-regularly and it really makes a difference. Recently I needed new trays and bleach and my friend Sarveen Mann who owns the Fulham Dentist made them for me. She's very gentle and kind and utters soothing words even when all she's doing is taking impressions of your gnashers for your vanity. The Fulham Dentist, 9 Salisbury Pavement, Dawes Road, SW6 7HT 02073858366.
9) Sleep. I don't get nearly enough of it and as time marches on I feel the effects more and more. Once a week on a Sunday I try to get 8-10 hours. I tell myself I'm catching up and that it's making a big difference. Sleep really is one of the biggest beauty tips there is.
10) Water. Drink at least 2 litres a day. It's the biggest and best beauty tip I have and one I got from Elle MacPherson years ago. I read it in an interview she gave and was literally shocked that water could be a beauty tip. But The Body was right and I do as she says religiously.