Like any good fashion girl, September and February are firmly marked in my calendar to herald the start of a new season. Ironically, while we're digging out our Winter coats in September, we're simultaneously being immersed into the world of Spring/Summer with Fashion Week. I'm always in buying mode for Donna Ida (working one season ahead) when New York starts and by the time Paris has passed I am wishing away the months so I can start afresh with a new look. For SS15 I clocked that denim is continuing the momentum of its high fashion moment. It was seen on the catwalks, on the front row, on everyone from fashion editors and bloggers to models to IT girls, fashion bloggers and designers. As the Jean Queen, here's my guide to denim on the SS15 Catwalks - expect 70s boho styles and sports inspired shapes worn low and slouchy: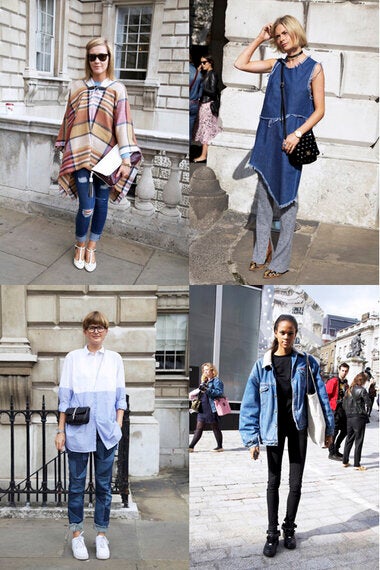 Rodarte showed their jeans super skinny and high rise, worn almost jodhpur style with a horse shoe style belt and long lace up over the knee boots for added high fashion value. The key to wearing a high waist, as I find with my IDA Ivy Skinny Jeans, is to tuck your blouses in to accentuate your waist and add curves and make the most of your legs.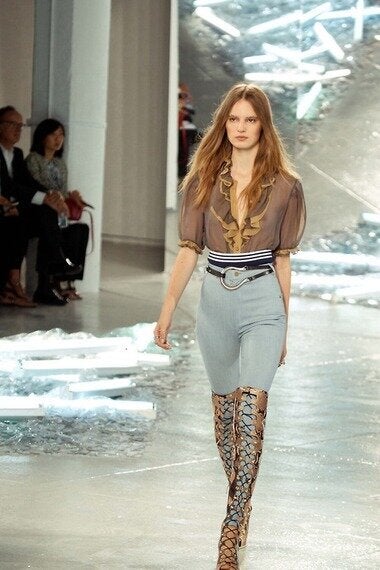 OfficialRodarte.Tumblr.com
Rag & Bone in New York focused on slouchy, tailored looks and new fabrications with chambray fabrics and zips adding to an oversized sporty look. Note to self - sliders are still cool, relaxed is key.
The key with denim is to keep mixing it up and reinventing. Take Anna Sui - retro 70s high-waisted flares in a dark indigo but mixed up with futuristic shades and space age motifs. Double denim also featured with shorts and jackets and hippy, boho style tops with prints and knotted scarves at the neck.
In London, denim jackets added a tougher edge to Burberry's collection of ice cream pastels and downtown sporty looks. Fitted shapes, patches of colour and feather trims added a delicate touch to the hard wearing fabric. All designed to add a touch of luxe for every day - check out the cross body bags and flats for easy-to-wear chic.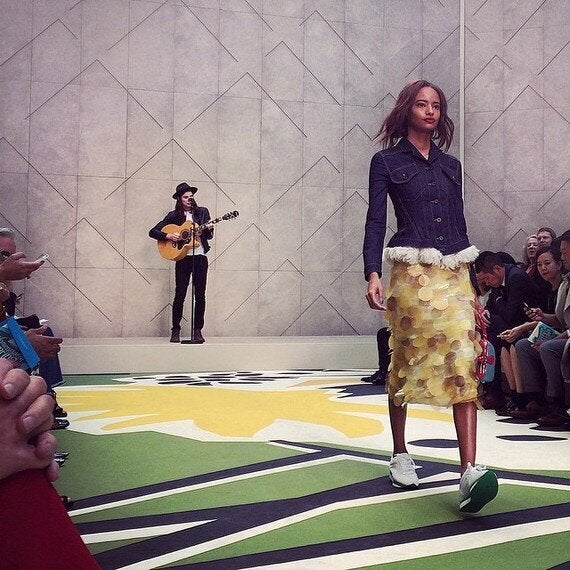 Gucci impressed on the SS15 catwalk in Milan with a touch of Western meets military feel with high-waisted straight leg jeans worn lower and slouchy with brown leather belts, finished off with fitted denim jackets with military inspired buttons.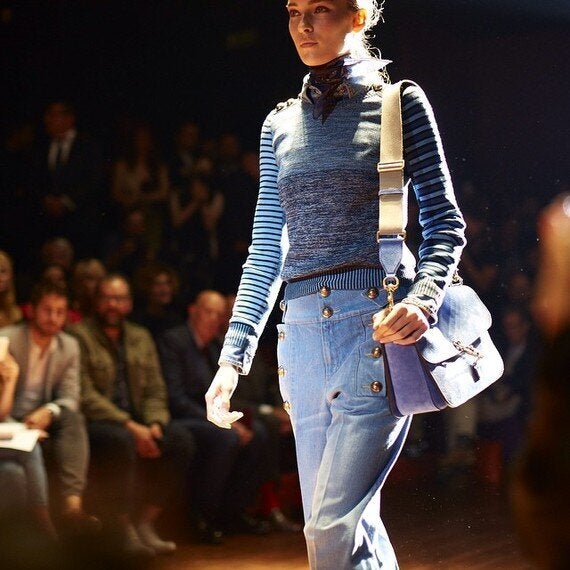 To sum up the denim in this collection in one word, I'd say destroyed. The washes were worn out, almost bleached out with a more obvious treatment that we're used to seeing. Following on from the trends this season SS15 is to be worn low slung with huge turn ups and plenty of holes and distressing.
Light denim - I love light denim. So much so that I've added a wash to my new IDA range called Goldie's Dream - named after Goldie Hawn's love of that pale blue denim. it would seem Roberto Cavalli, is also a fan, check out the icy hues on the SS15 catwalk with stacks of rips and embroidery teamed with lace and silk in contrast to the raw edge denim.
Championing an entirely new direction for denim, Fendi featured harem style jeans on the catwalk worn tapered to the ankle. This directional look picks up on the trend for more sports led designs with the rise in athletic bodies and confident looks. Check out the draw string waist, the zips at the ankles and the super slouchy feel.
The denim dress was a catwalk favourite as also seen at Chloe worn short but balanced with long sleeves, a button up design and a gathered waist to add shape. The devil is in the detail with contrast stitching plus two oversize pockets. Accessorise with suede boot and lace up sandals. Oversize pockets also featured on denim shirts worn with double denim for a utilitarian, tomboy look.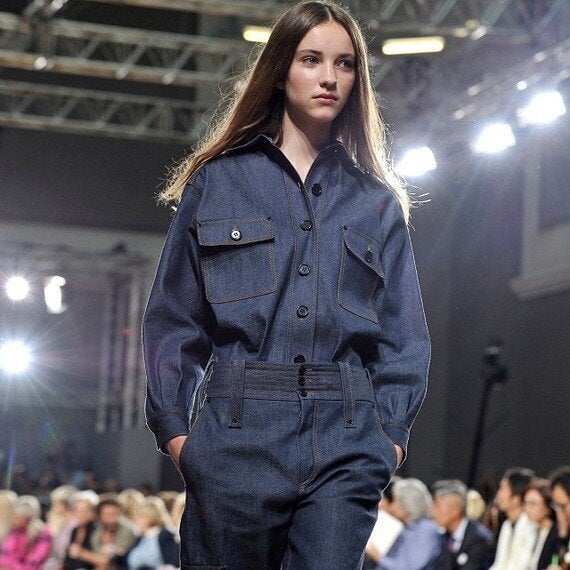 In contrast to a sea of blue denim, Isabel Marant went for colour and print with red and white graphic cropped jeans. Team with texture so think leather tops and faux fur coats worn with flat strappy sandals.
Stella McCartney served up laid-back denim with a strong 70s feel. This oversize long sleeve midi-dress is the perfect boho-inspired piece for SS14 - work a relaxed look with wavy hair and wedges for the perfect Summer vibe.
For my own IDA California Dreaming denim collection for SS15 I've been influenced by a carefree boho vibe and kept my traditional high-waisted styles but also added in new heights for the season with low to mid rise jeans. Look out for a 7 inch low rise super Skinny called Honor (just high enough to protect your honour!), a mid rise Relaxed Classic style called Gypsy which is designed to be worn LA style frayed at the bottom from wearing with flip flops and Kitty is a mid rise Ankle Swinger which is designed to be worn cropped and kicks out with a 15½ inch leg opening at the bottom.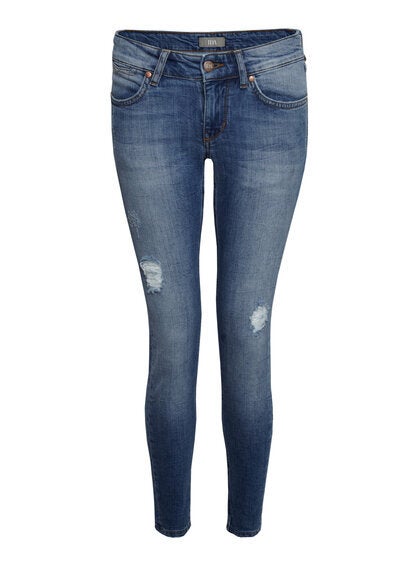 IDA Honor the Low Rise Skinny in Coachella
So denim has arrived. From humble beginnings of simple functional work wear, it has been transformed into a catwalk favourite. And why not? It is a hardwearing, multitasking item and it is always effortlessly cool. The key is to mix it up with fashion forward accessories to make it your own. We have a few months to dream about it until the start of SS15, I can't wait.