Packing. Right up there with putting petrol in the car and reading contracts, it's one of the things I hate (I'm a top line not detail person). As much as I love travelling, I much prefer to get dressed at home with absolutely everything to hand so I have a full range of outfit options, 90% of which just lays around being admired and gathering dust, but like most fashionistas....it's just nice to know it's there. Now that Summer is upon us though so are a multitude of trips to the sun (it always strikes me as crazy that the minute the sun shines on London we're all desperado to leave) and a well packed bag is essential.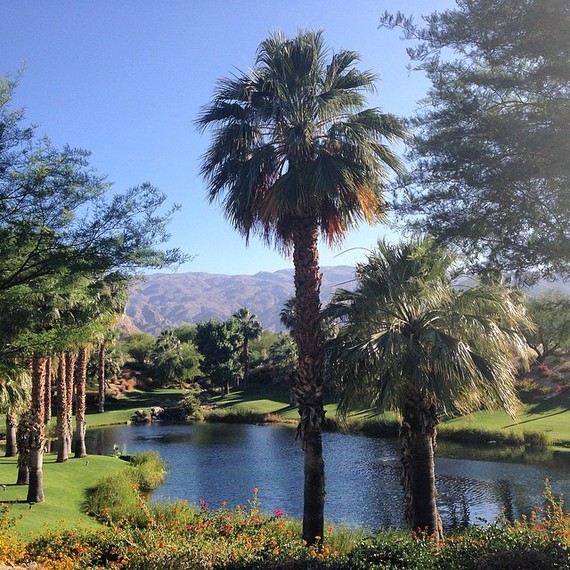 Time to escape - from my recent trip to LA
I am a last minute packer, I can't pack until I am showered, dressed and fully made up and ready to go to the airport, otherwise I'm sure I'll forget something by interfering with my routine. I have learnt this through trial and error. I once sat on a plane to New York and suddenly realised I'd forgotten my hair dryer, and after five minutes of panic calmed down, telling myself that if that was the only omission for a week in the Big Apple then it was no hardship, only to open my suitcase at the hotel in Manhattan to discover it chock full of photographs not clothes - on the way out the door I had picked up the wrong suitcase and ended up with the one that I use for excess photograph storage. And just recently, on a flight to LA, I looked down at my jumper and noticed it was on inside out. Quelle horreur! And while I sat there wondering if anyone had noticed it suddenly struck me that I hadn't packed any underwear.
But aside from packing underwear, which is of course absolutely essential (for me), let's focus on the fun stuff. Here are the pieces I pick for my ultimate sunshine getaway:
Handbags:
I would never take a handbag that I use in the city to the sun. You'll never use it and I think it feels weird to have something relatively formal near the beach. I travel with a shopper into which I cram the essentials and things I wouldn't trust checking in with my luggage
My current shopper is by Saint Laurent. Bobby Dazzler bought it for me last birthday and presented it to me before a trip to Barbados. The grey is perfect and goes with anything, plus it's reversible! Since I almost immediately spilt something in it, it stays permanently leather side out. Into which I pack:
- Apple MacBook Pro
- Apple iPad
- Kindle (I am an obsessive reader, I always have to have something on the go)
- Smythson travel jewellery box
- Personalised Smythson travel wallet
- Minnie Rose Ruffle Shawl. I don't get on a plane without one, even when I'm flying into the sun. Snuggle up to it on the flight and it's also a great emergency cover up for chilly evenings.
I also pack at least two clutch bags for the day or evening - all I really need on holiday is a credit card, room key, iPhone, and lipgloss so a clutch is perfect.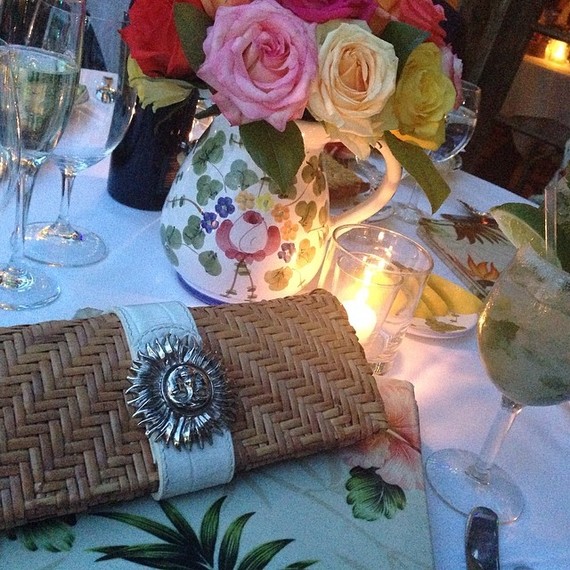 The perfect holiday clutch
Shoes:
This is where flats come into my life! I prefer sky high or flat as a pancake, for me there is no in-between in the shoe world. I always pack a pair of ballet flats, a pair or two of flat sandals for the beach and a pair or two of wedges for lunches or casual evenings out. And then I take one much dressier pair of heels that will save any outfit, like Manolo Blahnik's Chaos Sandal. And of course, a fresh pair of Havaiianas has to be thrown into the mix.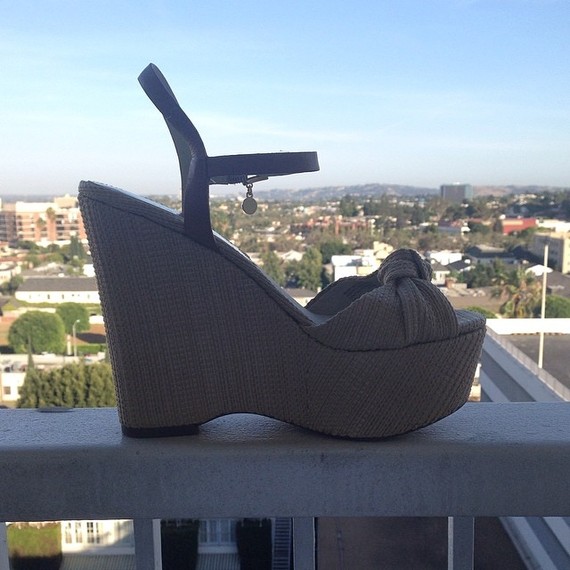 The higher the better
Swimwear:
At this time of year there has to be a little swimming wherever you go so I throw in at least two bikinis. I love Melissa Odabash, she is a friend of mine but she is also THE best bikini designer on the market! I like simple triangle bikinis but I also pack a bandeau bikini too so I don't develop deep tan lines around the strap marks. A couple of Melissa's cover ups are also essential and take up hardly any room at all.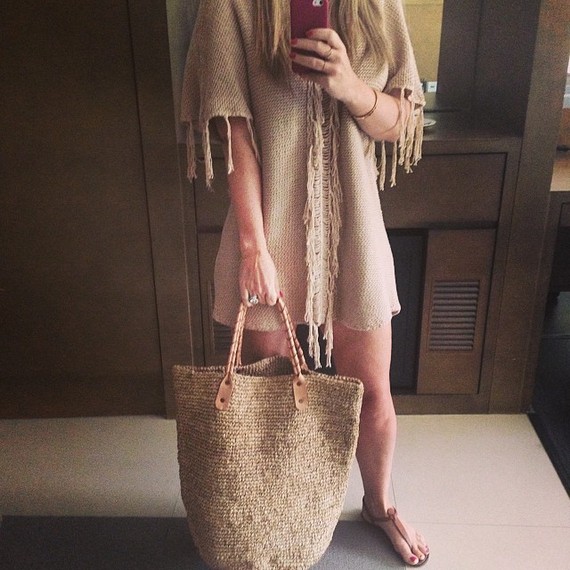 The best cover up
Day Time Basics:
As I often don't know what life will throw at me while travelling I like to put a few things in that can be dressed up or down and get me through a few occasions.
- Jeans are a must, I always take a skinny and a boyfriend pair with me.
- A good jacket that is casual enough for day but can also be dressed up by throwing over the shoulders at night in case you have an unexpected dressier dinner to go to.
- Two or three t-shirts with a cool graphic print on the front that will take you to any party, or a bar or even dinner.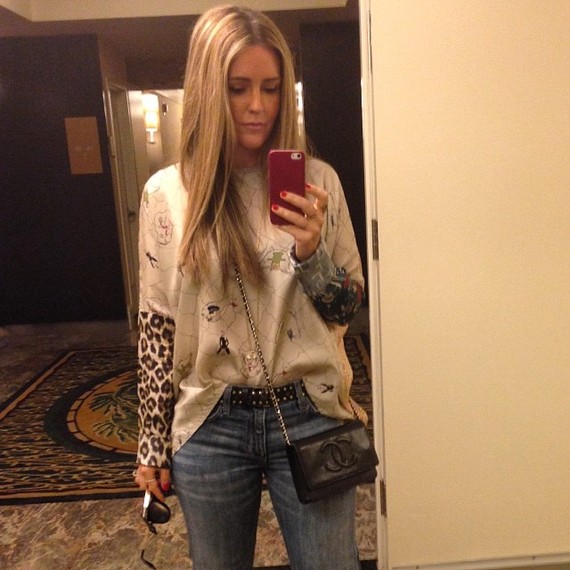 Boyfriend jeans and top from La Prestic Ouiston
Jewellery:
Jewellery is key for travelling but over the years I have learned not to take too much as a) it gets stressful keeping track of it all and b) when I am out of my normal routine I fear that I will lose things. So I go light on the jewels! Gold is essential for me and I love laying on a lot of great heavy pieces. For travelling though just pack two to three statement pieces which will finish off any outfit. My current crush is my YSL cuff and my Rosa De La Cruz smily face pendant. Throw in two or three pairs of earrings, ones that can make a statement in the evening or a simpler style to make your look that little bit more special during the day.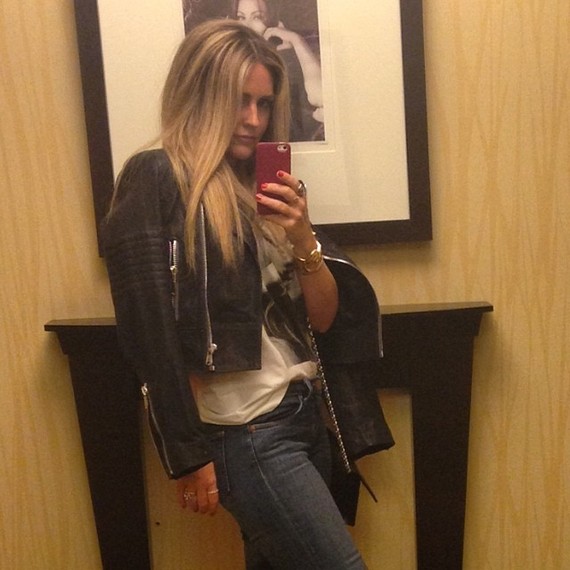 YSL cuff and Rosa De La Cruz rings