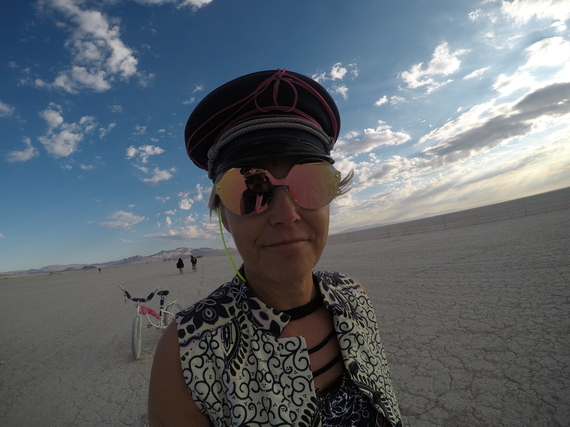 Owned by Amanda Foo-Ryland
Dusty and windy, cold and hot, radical and weird, loving and hostile, mind blowing and tear jerking. These are just some of the words I use to describe Burning Man. A once a year festival in the Nevada desert where 70,000+ people come together and no money changes hands. Where people create a community that pops up and disappears in one day, to celebrate life and all that this brings.
A good friend whom I met there said to me, "trying to describe Burning Man to someone is like trying to describe a rainbow to a blind person."
On the 25th of August I travelled there and became part of this community that gifts, dances, creates beauty, feeds, shares and nurtures strangers. Boy, did we learn a lot about ourselves. The desert is a hostile environment, in a heartbeat you can be swamped by a sand storm unable to see your hand, where breathing is hard and being clean is impossible.
For someone who loves tidy, clean, everything has its place living, this alone was a challenge. Bass vibrates your diaphragm 24/7 and loud, very loud.
This is being out of your comfort zone.
In an environment like no other on earth, it feels like you are on another planet or the set for Star Wars and sometimes both! I had to be flexible, go with the flow, say yes to things I would normally avoid, lose my routines and grasp every ounce of life in this city that never sleeps. 
You may be thinking, 'Well I don't need to go to the desert to be in a hostile environment Amanda, I have it right here in my life, daily.' You may feel out of your comfort zone every day and perhaps not have the sense of how this can help you.
Trying to escape it is easier and much less painful. I remember when I was diagnosed with kidney cancer I was completely in shock. I had just cycled from Lands' End to John O'Groats and climbed the National three peaks en-route. I was as fit as the proverbial butcher's dog, so what the hell was this guy doing telling me I had cancer and needed surgery? That was just plain wrong, did he not know how fit I was? Healthy people don't get life threatening stuff. I was way out of the zone of any comfort, this was hell.
Yet what could I do?
I couldn't run, I couldn't wish it away.
I had to change my thinking. I needed to learn some stuff from this fast, from this hard curve ball that had been thrown at me.
I had only ever been in hospital to visit others, I'd never had surgery, and when I was asked who my doctor was I would say, "I don't have one, not a place I visit." So, this news that I had to get my kidney out ASAP situation was not my thing at all.
I had a choice though and this is where the magic is. Instead of feeling powerless, helpless, like this was being done to me, I realized I had choices. I could either go with the, "Bloody hell, I have cancer", Google everything, read every book on it, freak myself out before the long hard recovery to health after big surgery OR I could choose to see it as an adventure.
I chose the latter. I would say to people that I was on an adventure I did not choose but was going to enjoy the ride anyway. I decided to approach the whole thing with a childlike curiosity, eyes wide open with wonder. I booked myself in to run a mountain marathon three months after the surgery, I got fit for the op (like it was a sporting event itself), I asked the team if I could see the theatre as I had only ever seen it in the movies, I joked with them about their funky hats and choice of music whilst working, I made it fun for myself. It is amazing what laughter can do to your soul.
If you are out of the zone where you feel comfy and cozy, ask yourself, "what do I need to change in my thinking?"
Maybe bring some child-like wonder to the show and see what happens to your perspective. It will change for sure, bringing positivity and curiosity does that. I have lived my life helping others to make changes so I used some of the tools I share with clients, one of which I would like to gift to you today.
Embrace the feeling of not knowing what the hell is going to happen next, and know that by choosing your thought processes you are gaining power and therefore meaning. Once you get meaning it's a game changer. This is when we learn and our neurology goes, "yippee, there we go, that was worth it."
"Was having cancer worth it Amanda, really?", I hear you ask?
What cancer? It was an adventure where I got to survive and learn some very cool things about myself and others. I adjusted and live more richly. Money cannot buy you that, only discomfort zone can. So, embrace it, whether it's going to a crazy event like Burning Man, or an unexpected life event that's been thrown your way. In the end, it is your friend, mostly in disguise.
If you want to change your thinking then download my gift here. Just select three and say them out loud every day for a week and notice what you notice.