After much deliberation we decided to change the route and make for Mount Robson. We were meant to skirt the edge of the park but owing to conditions of the upcoming trail (and our bodies!) we decided to cut a few days off and rest in Jasper.
Day 8: 18km
From previous blog posts we expected this section to be horrendous and so we set off early to tackle this section with new found gusto after our day off. We followed an animal trail downriver but the route quickly led to a forest with a lot of deadfall. This meant bushwhacking to get back towards the course of the river. The saving grace of this section is that the route followed the river so there was not much navigation involved. Along the river bank we passed an enormous skeleton, which had been crushed by a falling tree - perhaps an elk - but unlucky whatever it was! We followed fresh bear footprints all day but did not catch sight of it. Stan saw a moose some 400m away, which clearly heard him coming so we thought the bears would also be able to hear us. We entered a large and very wet bog, which was difficult to cross. I attempted to walk across a log spanning a large stretch of water and promptly fell in up to my chest!
After lunch, we saw a cairn on the river bank, which seemed to denote a crossing point and found a relatively clear path on the eastern bank. There continued to be cairns until the camp spot which helped our morale greatly. I also saw another bread role lookalike but this time it was a mushroom - perhaps I am going mad?
Progress was slow so we decided to stop 6km short of our planned distance to have ample time to set up camp and enjoy the evening. Much better approach than chasing those final few kilometres.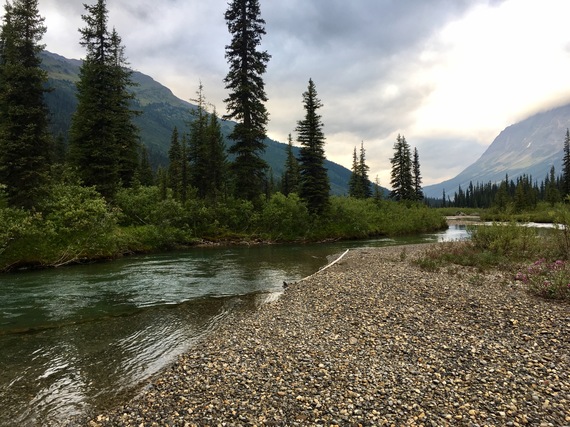 Riverside camp beneath three successive glaciers (photo author's own)
Day 9: 25km
Immediate river crossing to start the day and we followed a path up a steep incline for the next 3km. Stopped at the top of Jackpine mountain for breakfast and after descending found the rivers to be a bright white from all the minerals in the glacial water. Found an amazingly clear path, which we followed but this turned out to be a horse trail, which meant turning round and instead of walking on the flat, climbing a very long and extremely steep mountainside. Previous to the turnaround, we had had beautiful sunshine and a stunning view. Almost as soon as we turned around the weather closed in, we couldn't see 500m and it poured with rain. My mental state also took a turn for the worse as it seemed everything was against us. However, half way up the hill the weather subsided and by the time we were at the top of the ridge the view had returned and it was stunning. After this we lost the trail for the rest of the day and so decided to make our own way. However at 1800 we were still at 2400m and I was getting concerned about losing the light at such high altitude. We decided that despite our already tough day that we were going to need to march the next section quickly in order to avoid walking in the dark again. We made some serious ground but it began to take its toll on our bodies with my feet and ankle in considerable pain. I got upset as it seemed like we were working flat out but making limited progress towards our campground. Then out of nowhere a horse camp materialised- Stan had actually navigated us there but didn't tell me we were so close, and we arrived to an easy tent pitch and easy access stream. We had dinner under the tarp and went to bed exhausted but happy to arrive.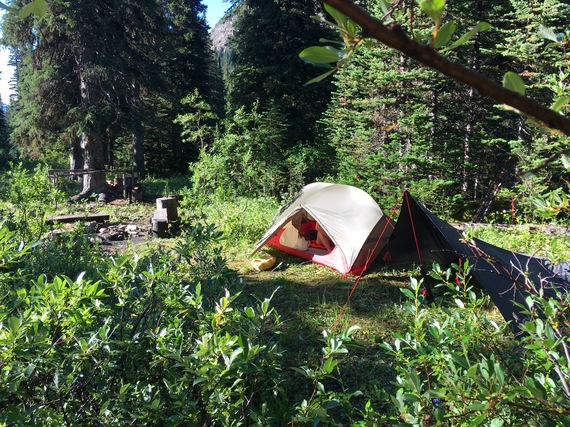 Camp at last, at the bottom of Jackpine pass and mountain (photo author's own)
Day 10- 8km
After our ordeal the day before we had a long sleep and left at 11am. Blue sky and bright sunshine - what a treat! We had a chocolate brownie for breakfast (what else?!?) and set off. The sun led to massive glacial melt and the rivers were running very high. We climbed Mount Bess- very difficult in the now blazing sunshine and wore just a t-shirt for the second time on the trip! We could see the Mt Robson range from the top, which was a great motivator for continuing on such a hot day. After descending and making multiple river crossings we decided to camp early and tackle the river delta the next day early on when there would be less flow in the river. We camped beneath Mount Bess watching the glaciers melt into rivers cascading down the sheer rock. We were greeted by some friendly jays and a hummingbird at the camp to add to the magic.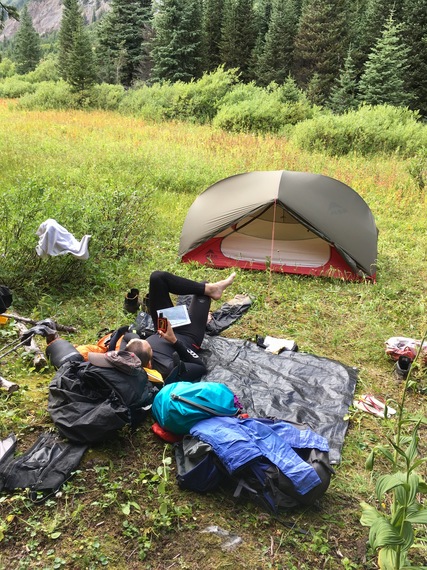 Chilling beneath Mount Bess (photo author's own)
Day 11: 19.2km
We left very early to ensure the rivers were at their lowest for the crossing as we were about to cross a massive flood plane at Chown Creek. We set off down a muddy path but made quick progress along the alpine sections to the flood meadow. Stan crossed the river first but decided it was too strong for me and so we spent the next hour searching for an area where the river wasn't as strong. When I crossed, it was still waist deep glacial water with a very strong current. Once across we walked towards Chown creek, which involved some more river crossings and some scrambling along the river banks with some landslide sections to negotiate. We crossed the now wide river on a BRIDGE! The first sign of human input to the trail so far. The track after that was good quality but was overgrown in places and the rain slowed us down. We saw two derelict cabins with a makeshift helipad, which used to be an old medical emergency landing area. As we approached the campground we saw a man in the distance - the first person we had seen on the trail. Him and his wife were camping too (on day two) and they shared whiskey, chocolate and hot pasta with us - incredibly kind of them and exactly what we needed.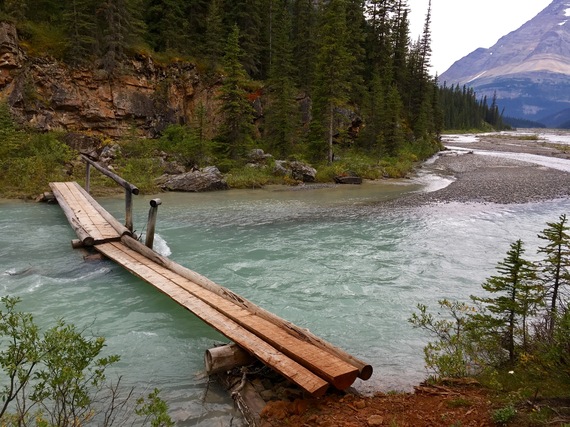 Bridge at Chown Creek (photo author's own)
Day 12: 31km
Left late at 11am after another guy arrived in the camp and we chatted a while about the trail. He had done the sections we were planning to go on to do and so his advice was welcome. Stan was not feeling well so I decided to set a quick pace to get us to camp quicker so he could be in the tent sooner. The trail was incredible and we could even walk side by side at times! We made our original end point just 2 1/2 h into the day and so decided to press on. We entered the incredible valley leading up to Mt Robson and were very pleased to be doing easy waking with such rewarding scenery: The Berg Glacier and lake were a particular highlight!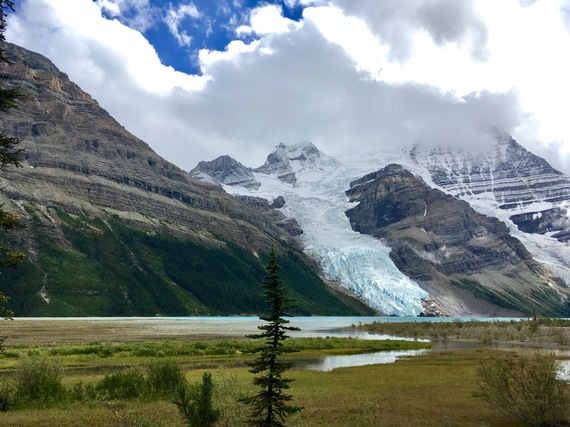 Berg glacier merging into Berg lake (photo author's own)
We searched at all campgrounds for a warden to let him know we had entered the park as you are supposed to but we couldn't find one. Stan had said earlier in the trip that on the postcards it's always sunny in Mt Robson so "that's what I'm expecting", and sure enough, as soon as we turned the corner on the path, the rain/snow stopped, the clouds cleared and we were bathed in glorious sunshine for the rest of the day. We decided to press on as far as our bodies would let us as we were so close to the end of the trail. We finally arrived at Kinney lake and set up camp there exhausted after an unexpectedly long day - 30km in 6 hours on already tired feet!
I have to say the view of sunny Kinney lake from our tent was such a treat after the past week of rain and bogs. Now we were only 9km from the end and I could smell the tea!!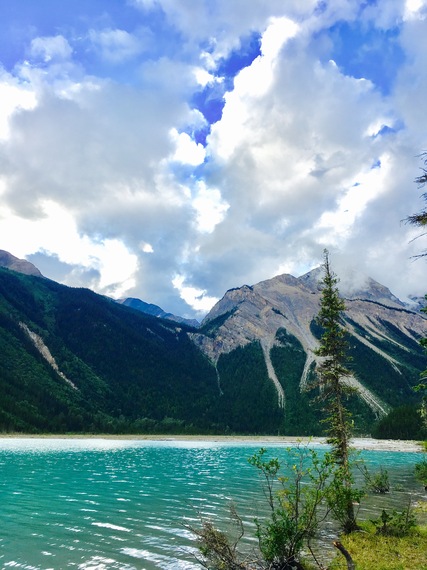 Our view from the tent at Kinney Lake (photo author's own)
Day 13: 9km
We woke early and left excited to complete the first section of our trail. However keen my mind may have been was limited by our exertion the day before as my feet were very sore. However, the path was ridiculously simple to follow - and about 10ft wide and so we slowly meandered our way to the trail head. Seeing so many people and cars and campers was surreal after so many days alone in the wilderness.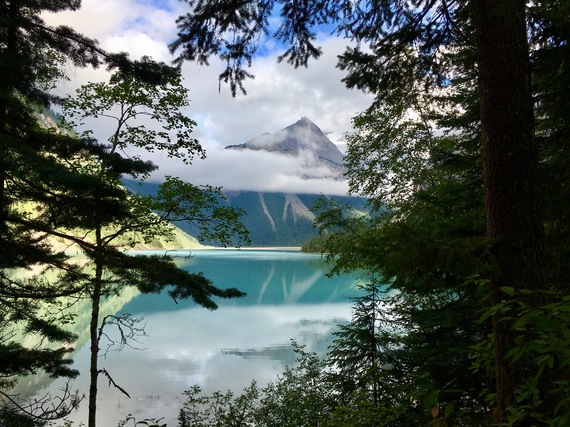 One of our last views of serene mountains before the hustle and bustle of the visitor centre (photo author's own)
However the cafe was calling and so we had breakfast, tea and cakes in the warmth of the visitor centre. I got quite emotional as we arrived as this had been by far the hardest I had had to push myself physically in my life. It's like the final stages of a marathon but just over and over again and it was both mentally and physically wearing. However, all that seemed forgotten after a cup of tea and I found it amazing how quickly you can just slot back into normal life- something to remember for future difficult days ahead. We hitched a lift with a lovely couple who drove us to the centre of Jasper where we found a small apartment to rent for the next few days. I cannot tell you how wonderful simple home comforts are after such a time away. Feeling clean was definitely top of my hit list swiftly followed by baked goods and some R&R.
These last two weeks have been some of the toughest of my life. We knew they were going to test us but not to such a degree. After some time to reflect and get back to normality I'm sure we will be raring to go for the next stage of our adventure.
Three things we have learnt this week:
1- Stan can sing for eight hours straight to keep bears away with the Flintstones theme tune weirdly becoming a hot favourite
2- Early mornings for lazy afternoons = WIN
3- It really is always sunny in Mount Robson park like the postcards!