Day 18:
After a lovely relaxing few days in Jasper and a solid afternoon spent in the craft Brewery there, we set off again on the second leg of our journey.
The weather was now presenting a different challenge as temperatures were up to 26 degrees and climbing. It made walking with heavy packs laden with food for the next 2 weeks quite a challenge.
We walked the mainly flat route through the forest (and the Fairmont golf course!) and stopped at a small lake en route. We arrived at Maligne Canyon hostel with time to spare so went off the explore the canyon itself. At perhaps 40m deep in places with stunning aqua coloured water at the bottom it was quite impressive. We had one final sweet indulgence in the cafe and then headed back to the hostel. After a game of scrabble (with Stan winning with 2 ridiculously late high scores) we went to bed early ahead of big day of 40km with 1500m of ascent.
Day 19:
We were up at first light and on the trail by 7am when it was just light enough to see. The first 9km consisted of a single slow burning hill which we managed in just under 3 hours, and we were upbeat about the progress we were making. However, next came 3 consecutive and significant climbs which really drained us.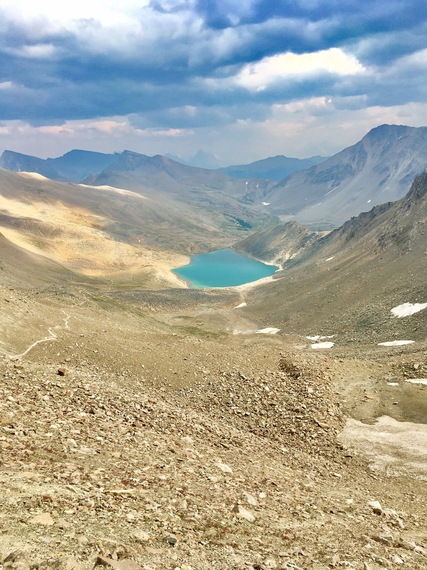 The winding path in the distance- Image Author's own
Fitness wise we were strong, but old injuries and blisters started to rear their heads and slowed our pace. As did the heat, and we were in t-shirts and shorts until the second summit where there was snow. Views from the top were outstanding and a new high was achieved at 2480m at 'The Notch' of Curator Mountain.
The sharp descent in elevation matched our moods; everything hurt, our packs were heavy, it was mid afternoon and we weren't even halfway despite our best efforts. We realised we were doing exactly what we had a tried to avoid- rushing past scenery just to get kilometres under our belts.
We decided to camp 15km short of our original plan as we had pushed ourselves to our absolute limit. We sat and shared a hot chocolate- yes Stan really was that desperate! It was lovely to have a hot dinner while the sun set; something we had sorely missed during the previous stage. We went to bed despondent and sore.
Day 20:
Up and out with again an overly ambitious plan to complete the final 25km of the skyline trail. Needless to say, on broken bodies from the day before we only made it 15km. However, the path for the most part was in good condition and we made good progress in the morning. In the afternoon the trail deteriorated, as did our pace, and we felt like we were rushing past the views and both were not enjoying it. Signage disagreeing with our maps about distances also did little for our motivation. Once at camp, we decided to have a serious re-think about our plans for the coming days' distances. We made 2 lists of things we were enjoying about the trip and things we were not, and it became obvious that the common factor was time.
Our bodies hurt because we were asking to many kilometres of them, we were missing the views because we were rushing along the route, and our stressed state of mind was because we felt like we were continually falling behind and not meeting targets.
Just as we did this, a message came through on the Garmin that the route was closed south of Banff due to wildfires. This made our choice incredibly clear; we would simply lengthen this stage- enjoy the vistas, allow our bodies to heal, and hope the wildfires died down.
The new plan was not to exceed 8 hours of walking per day, meaning we would have time at each camp to set up properly, dry things out if needed, cook and enjoy our meals and to just sit and appreciate where we were and the enormity of what we were doing.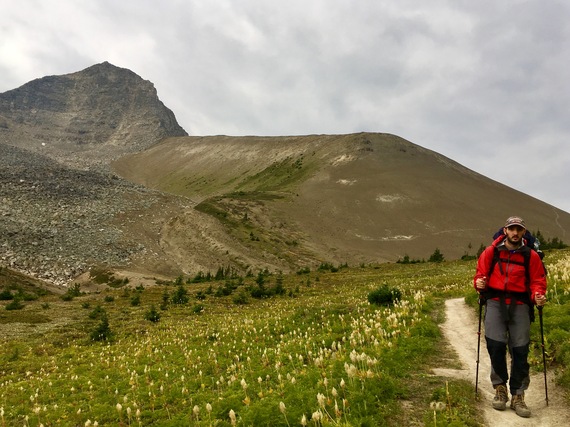 A difficult day on the trail- Image author's own
Day 21:
With the above in mind we quickly set off for Maligne Lake to complete the skyline trail and get a cup of tea. However, en route Stan was finding it increasingly difficult to motivate himself. He re-named the Skyline the 'Painline' and was frustrated that we had rushed what was a beautiful section and now our bodies were paying the price- it was hard to see the upside.
As partners in this venture, I tried to remind him of all the positive aspects of our trip, but it turns out that persisting with a facade of positivity that you don't fully believe yourself 1. Doesn't work, and 2. Takes a lot of emotional energy and ultimately leads to a nosedive in your own mood. After a lengthy discussion we worked out the main stressor was the concept of relying on hitchhiking at the end of the stage. Complete reliance on others is not something Stan thrives on, and once a bus was booked from the Saskatchewan river crossing, his anxiety was visibly lifted.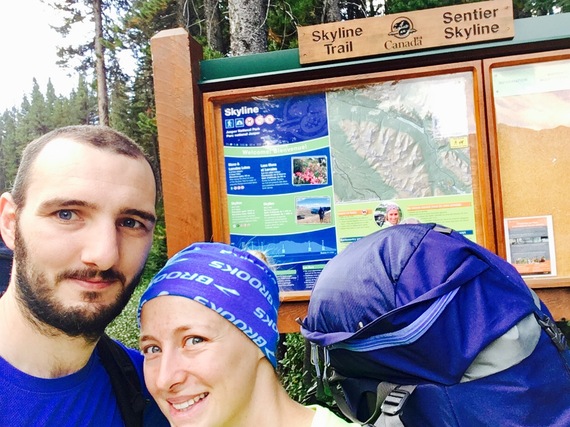 Skyline Trail completed! Image author's own
When people say that you go on trips like this to 'find yourself' it's a cliche for a reason. When you are pushing yourself to your absolute limits, you discover things about your very nature that you would never encounter in your ordinarily comfortable life. Things you would never expect, and that you would never think to be true.
As many of your will know, I am an extremely loquacious and friendly person- I love meeting new people and this is really one of the main reasons I love to travel. However, when on the trail, whenever I encountered people unexpectedly, I found my mood was immediately negatively affected. Was it the concept of being judged for looking unclean and untidy? Perhaps, because I found myself feeling the need to explain why I looked as I did to everyone we met. Was it the threat of a forced interaction I wasn't comfortable with? Or was it simply the interruption to my solitude? I'm still not sure which played the primary role but a combination of these left me feeling anxious whenever strangers approached- an interesting reaction I think no one, least of all myself, would have expected.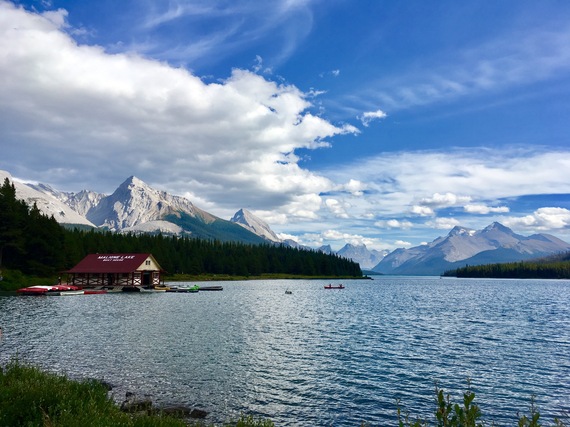 The stunning Maligne Lake- image author's own
The rest of this day was spent making progress towards camp 2 hours away. Maligne lake is a true gem and as we walked along to moose lake, we found a moose washing in said lake! Turning the corner the GDT path resumed its normal messy overgrown path, and it honestly felt like we had come 'home'. Overgrown used to mean difficult walking but now it meant no people, and we instantly felt contented. Before long we were at our camp, on our own, eating supper with time to spare.
It felt like we had gone full cycle emotionally today but we were finally in a place where we wanted to continue our adventure.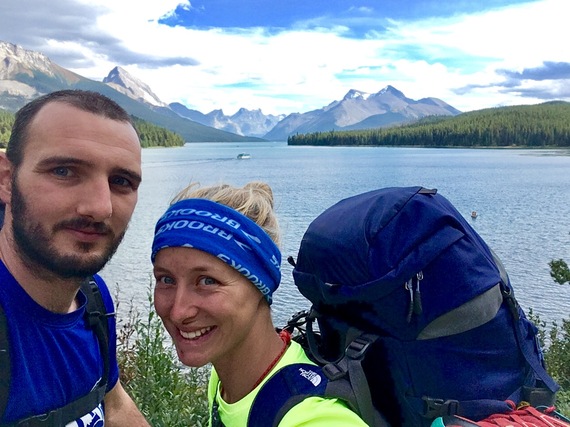 Happy to be back on the GDT! Image author's own
Day 22:
It rained all night which is always the forecast when we have a day of pushing through heavy brush ahead! We donned our waterproofs and got going with yellow blazes keeping us on track where the trail deteriorated. Pushing through the brush brought back memories of Jackpine but moods remained bright and we followed the river until we met the camp at Mary Schaffer- a magnificent female explorer well worth a google. Her achievements put our troubles into serious perspective when you think of the adversity she must have faced not only as a woman exploring the wilderness, but also the gear she must have had to carry and the gear she had to do without; quite humbling.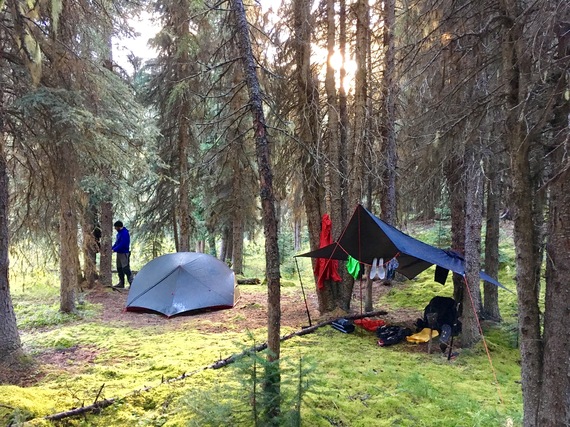 Camp at Mary Schaffer- image author's own
Day 23:
An extremely cold night and we woke to a strong frost and get this- frozen boots and socks! Let me tell you that putting on gear which is frozen because it was soaking wet when you went to bed, is just about the worst start to the day you can get! Consequentially we delayed leaving just so we could stand in the sun for an hour to thaw out. When we did set off, the path was reasonable, if wet, from the melting frost.
The sun became surprisingly strong which was pleasant on the flat but a challenge uphill. Arriving at camp mid afternoon, we made the most of the sunshine having a wash in the glacial river and relaxing on the banks for a few hours. The sun was so strong it dried our clothes before we even left the riverside. A day of extremes with a difficult start and an easy going finish, but at last we were really enjoying the trail.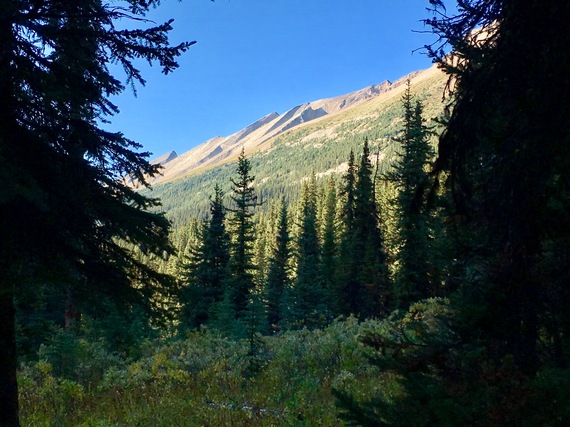 Camp beneath the ridge- image author's own
Day 24:
Another cold night but the path was good leading up Maligne Pass with stunning views of the glaciers down the valley and an ice blue lake at the very top.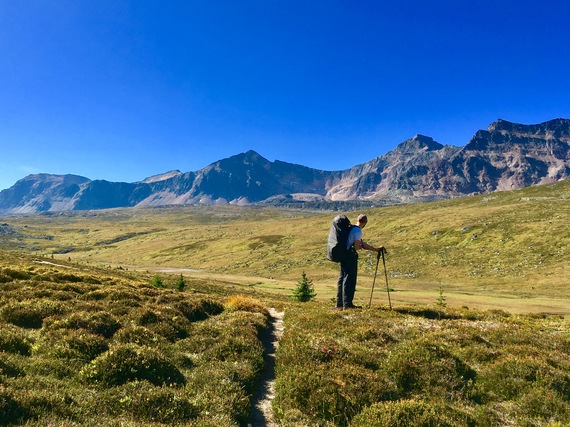 The view along Maligne Pass- image author's own
At this height the sun was strong and we stripped down the layers. As the route dropped down to Avalanche campground, we stood for lunch. Several river crossings later (complete with bridges- how civilised!) and after a surprising incline, we found the camp after Pobokton Creek. Another lazy afternoon by the riverside and today the sun was so strong we needed the tarp for shade.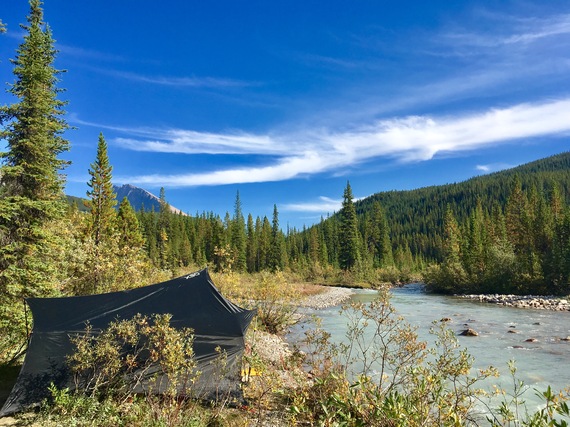 Tarp up, feet up! Image author's own
This week has been difficult but now we have re-planned, we are feeling a lot better about making progress. Ultimately this has been a lesson for life- if it's not working, reappraise and work out why, instead of struggle on. Your body and mind will thank you for it.
Three things we have learnt this week:
1. Mixing the solitude of the trail and the popular nature of some sections is conflicting for me.
2. Entire reliance on others for help when you are in need is difficult to plan for and thus stressful.
3. Using your energy to motivate someone else is demanding on your own emotional state and is ultimately futile if you don't believe it yourself. You have to have faith in your own motivational style in order for it to work.