Week 4: Day 28-30
We continue towards Saskatchewan
Day 28:
We had an interrupted night's sleep due to heavy rain and numerous falling boulders down the mountain side. It's surprisingly hard to sleep when you hear rocks start to fall and just have to lie there wondering if they are rolling towards your camp! However, we woke to encouraging messages from back home which really buoyed us up. We had breakfast courtesy of the ladies we had met earlier and we were on the trial by 0830 with quick pace (after paracetamol!).
A large amount of deadfall made progress slow with trees to climb over, under and around every 20m: we renamed the route 'Aintree'.
However, the monotony of deadfall was interrupted momentarily by an enormous boulder covered with First Nations' drawings of stick men, arrows and stars! An astonishing sight and a real piece of history right by the river side. (The First Nations are Canada's indigenous people and many tribes still exist today).
After 10km, and a river crossing made making us unavoidably wet, we lost the path. Multiple small rivers and bogs had us pretty much soaked. One river crossing had to be made across a log and while Stan managed it with relative ease, I obviously fell off and into fast flowing river up to my hips.
Arriving at Pinto Lake was a godsend as it was both stunningly beautiful (even on an overcast day the water was still a searing blue) and meant the return of the path! I had not looked at the map in a while and hence was unprepared for the upcoming 5km steep uphill, which I thought was a 2km flat stretch. I really struggled on the hill, and be it calories or route expectations, I found it very demanding.
Stopping for a snack at the top, we pressed on to Waterfalls campground- a further 5km uphill. Once out of the forest, the climb became worth it with a view of glaciers to one side and an enormous sheer rock face ahead. After rain all day, the overcast skies gave way to a stunning blue vista and some serious sunshine along Pinto Pass.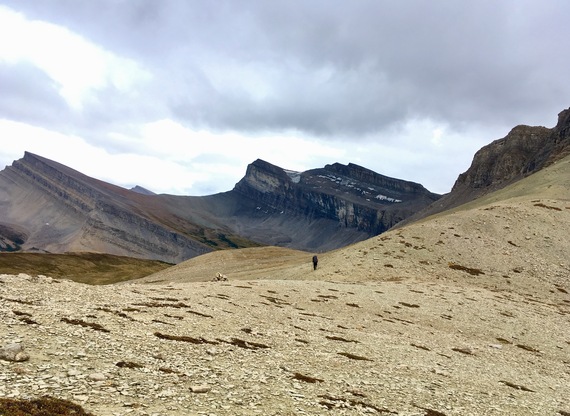 The view along Pinto Pass- image author's own
We descended, again without a path, and decided to make camp in the only place with shelter in the valley. Up went the tarp alongside the tent, and we had 'curry night' with an incredible view down the valley. A big day ahead, I taped my feet in preparation for an early start.
Day 29:
Heavy rain and exceptionally strong winds down the valley had kept me awake most of the night so I overslept- my lie in was apparently my birthday present from Stan as he normally wakes me on time most mornings! We put on wet boots again on a very cold morning and set about deconstructing camp. As we were doing so, a pack of wolves which can only have been 200m away began howling. A phenomenal sound if a little disconcerting, but a magical memory now in hindsight. New snow had fallen overnight and had dusted the surrounding hills.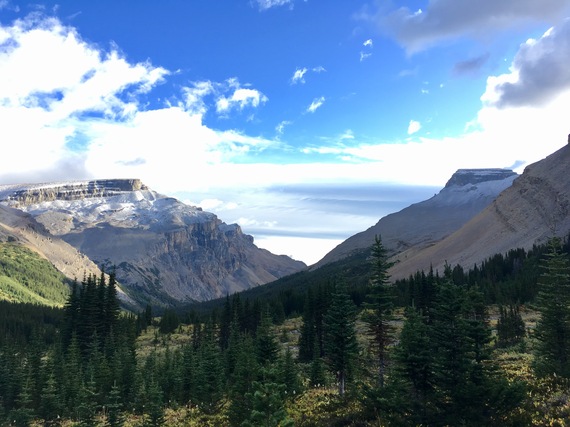 Fresh snowfall and frozen rivers- image author's own
It was so cold we decided to eat breakfast walking and get water en route from the frozen river. I set off leading the way as I had previously noted the path the night before. However, we quickly lost the path and made our own way up the mountain. This meant a near vertical shale bank but luckily the frost and snow made it more solid underfoot. We headed for a cairn in the far distance which had the silhouette of a church against the azure sky- fitting on a Sunday morning.
The view on the way up was sensational and this quickly spurred us onto the summit and the highest point on our route through the Rockies. It was exceptionally cold and windy at the top but with the bright blue sky and the winds having cleared the smoke, you couldn't help but stand to drink in the views.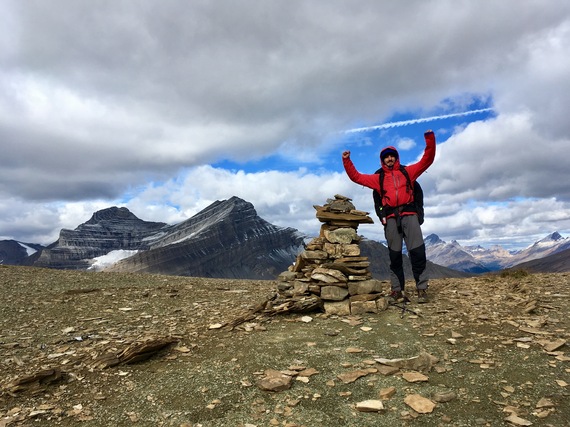 Feeling in top of the world at the highest point of our 400km route- image author's own
After a swift but short descent we were rewarded with another sensational view- this time of Michelle lake. We made our own route up Owen's pass on the other side to the summit where there was a stashed bottle of rum and whiskey! We had both felt very strong coming up both summits and to celebrate we had a birthday toast at the top.

The view as we made our own way along Owen's Pass- image author's own.
Descending however was another matter, and involved a large amount of scrambling down a rocky stream. This soon disintegrated to a steep soil-sided gorge with fresh landslides evident everywhere. Honestly, this was an exceptionally dangerous route and a few slips could have spelled the end of the trail for both of us, beyond simple injury.
However, we just about made it in one piece to our camp alongside the river after the gorge retreated. We set up the tent under the gaze of a glacier and Stan set about preparing my birthday feast! We had soup to start, Thai curry for main and then sticky toffee pudding complete with tea and birthday cake followed by chocolate. It was a lovely way to spend our last night on the trail before we made our exit at Saskatchewan river crossing.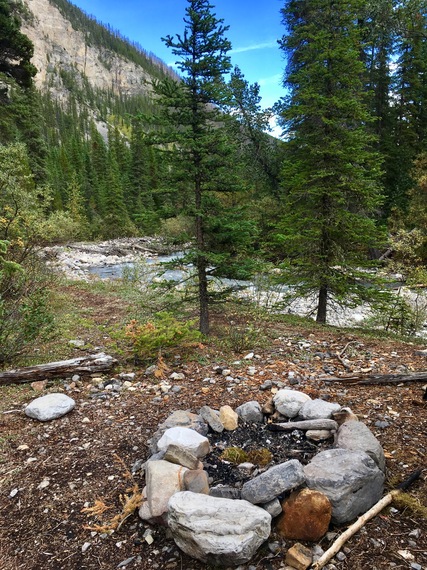 Birthday camp! Image author's own
Day 30:
We left the campsite on relatively good terrain with a well established path but soon, an area of burnout meant some considerable deadfall to negotiate. With that behind us, the river had eroded into a canyon perhaps 40m deep but only a few meters wide and we followed this until it petered out and met the highway.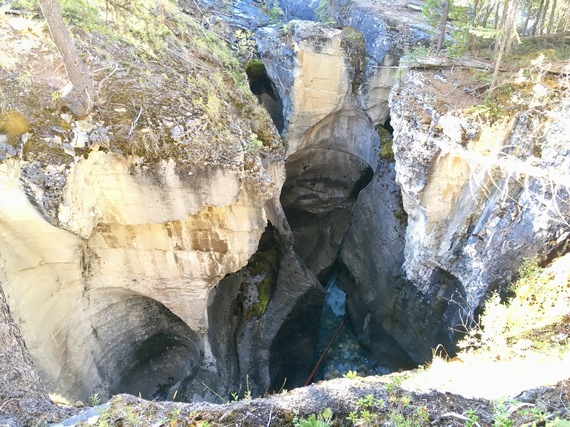 Owen's creek canyon- image author's own
We crossed and followed a de facto path on the right with stunning views of the Saskatchewan river. The path then met the road which meant we followed a never ending straight highway for the next few kilometres.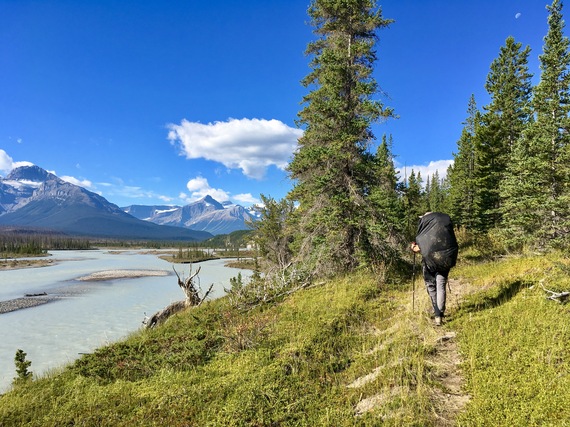 The beautiful flood planes of the Saskatchewan river- image author's own
We soon reached the Crossing resort- our final destination and headed straight for the pub! The sun was beating down and we sat outside admiring the mountains with a cold beer and a well deserved burger. We booked a hotel in Banff, and managed to persuade a tour company to let us hitch a ride into town (which included a cheeky peek at Lake Louise for free!). The Icefields Parkway route into Banff was a lovely way to relax, looking at the scenery, the likes of which we once had been traipsing across. With the route still closed south of Banff due to the wildfires, there were many decisions to be made, but for now they were for another day. After checking into our hotel, and checking out Banff downtown, (and of course the obligatory pizza), we snuggled into our fresh fragranced, duvet dense, pillow plentiful, beds and slept.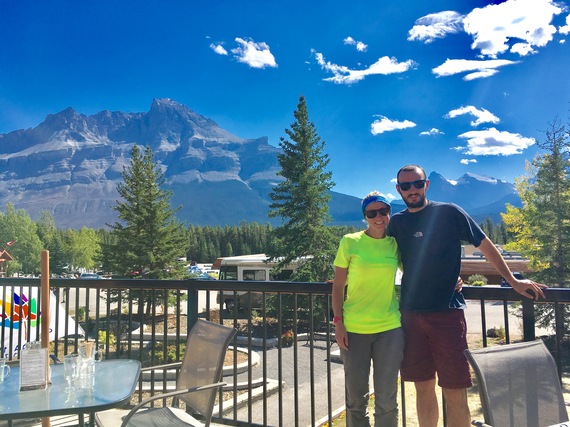 427km of mountain terrain completed in total and very happy to have gotten through it together- image author's own