Nintendo stock soared last week as the mobile phone game "Pokemon Go" became a smash hit. Nintendo holds stakes in Pokemon Co. and the game's developer Niantic Inc. saw its share price almost double.
The developers of pokemon rather serendipitously worked in the same building as Google and voila, hordes of people burning calories roaming the world looking for 250 monsters.
A PG version of "The Walking Dead" meets smartphone if you will...
But you would be mistaken for thinking that it was just simply this game that has led to the share price increasing.
In the same week Nintendo revealed to fans of retro gaming everywhere that they would be
re-releasing the original Nintendo Entertainment System (NES) which first launched in 1983. They call it the mini NES.
This is a modern update so it will improve the graphics of the original games and be playable on modern HDMI televisions and come pre-loaded with 30 classic games.
I for one can't wait to get some Donkey Kong action going with my nephews who will be experiencing it for the first time, ironic though that they may not be as interested in it as my 30 year old friends and colleagues..
So what exactly is going on with this feverous nostalgia? Young and old in a diaphoretic state of excitement to get their hands on Super Mario games 1 through 3 and launching Pokemon balls at little creatures to be found in their local parks.
One might suggest that for the youngsters in all of us, memories of our favourite games are a panacea to modern day stressful lives, memories of Saturday evenings spent playing hours of Bubble Bobble with our only care in the world being will Mum leave us some money to get pizza when our friends come join in for a game of co-op Double Dragon?
Patients come into The Blue Tree Clinic and ask me, "have you heard of this pokemon game?" "I have lost weight just by increasing my walking collecting the little monsters!"
I laugh in approval and partial disbelief.
I am supposing that my clients and friends think being a psychiatrist gives me some particular insight into why the generation gap has not only closed but seems to have permanently given up any ambitions of reopening.
5 year olds to 50 year olds are collecting Pokemons like its 1999!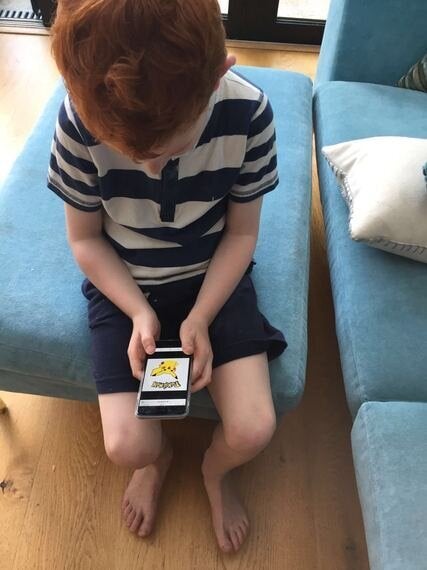 (Author's Nephew Playing Pokemon)
And I am actually fascinated about what we can infer from this.
Are we actually surprised that button bashing on a new version of the NES and sending little creatures to fight each other in fantastical poke-gyms is preferential to thinking about what feels like weekly terrorist incidents and perennial anxieties that we all share about the future.
I am not surprised at all.
Studies have shown that nostalgia can be a sign of depression, and if we apply this theory epidemiologically to entire populations of people, can we thus infer that for some of us reminiscing about a simpler time, collecting stars, fighting turtles and rescuing Princess Peach just one more time, makes us feel better?
When we learned last month that anti-depressant use has doubled in the UK, I would say to those that are able, forget the Xanax and Prozac, get out there find some cartoon critters and pre-order your retro game console now!
Popular in the Community