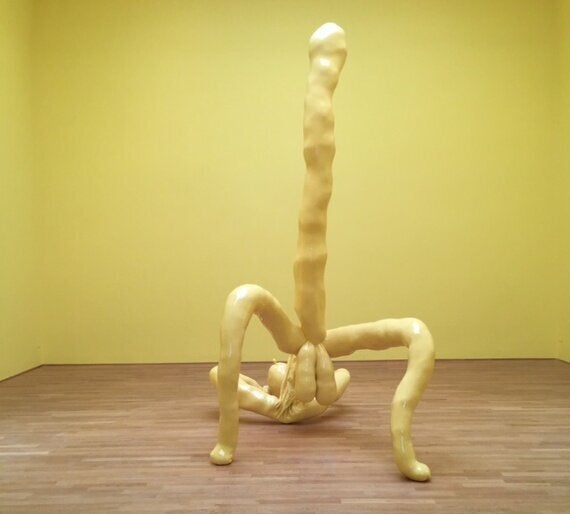 In 1993 Emma Dexter as Director of exhibitions at London's ICA oversaw a show called Bad Girls that put Helen Chadwick at the front of the line of bad girls in the art world. Lots of people have tried to take that title, Bjork for one, whose recent show in New York has all but scupper that (it has been universally panned and the curator might even lose his job over it). But Sarah Lucas has more or less been the heir apparent, until now. Here at the Venice Biennale she has seized the crown. Her show for the British Council I SCREAM DADDIO is the star turn at the Giardini. She has painted the whole of the inside a bright canary yellow and filled it with her wonderfully rude pieces. At the entrance is a large solid resin sculpture that looks like painted bronze (above). It stands twice human size and it looms over the viewer. But to either side she has added some really bad girl pieces. They are casts of a female backside with a real cigarette sticking out or even ones of vaginas smoking a fag (below). It is a bit British carry on comedy but it works and the men who look too long get deep stares from the well groomed women who are with them. Again Emma Dexter is on hand and they all deserve a prize which I hope they will get.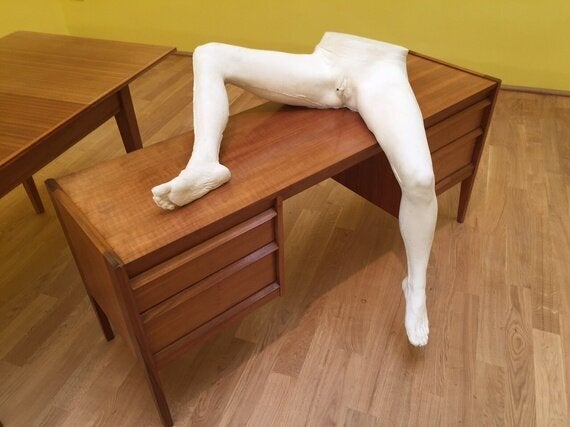 Other great shows include Maria Agrimika's work for the Greek Pavilion called Why Look at Animals for which she seems to have wrecked the place and installed a replica of a taxidermy shop in Volos. The animals look old and dusty and the whole place is down at heel (below) when you leave you are given a cow bell on a cord to wear around your neck. It is hard hitting, and many of the shows try to exceed the usual market orientation of such art world galas.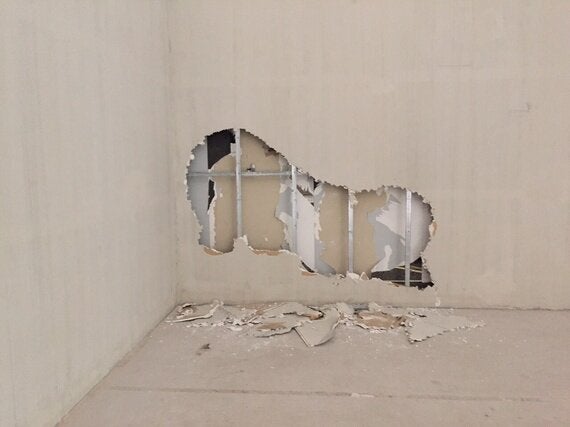 Pamela Rosenkranz at the Swiss Pavilion also hits a home run. Her Our Product uses the whole space including the outside and entrance which she has painted a sickly green and when you get to the interior she has flooded the huge space with a light fleshy coloured liquid that is bubbling away. It is really fantastic and repulsive. You want to go for a swim or maybe a mud bath, really a strong work (below).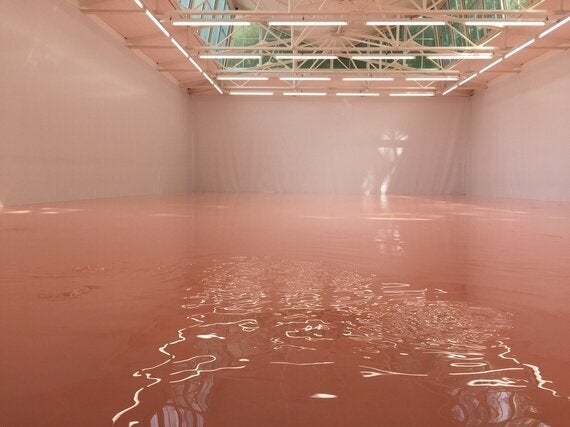 Fiona Hall at the brand new Australian Pavilion had to contend with Kate Blanchet doing the official launch of the building, and the space itself which is very luxe. She works with many communities of women in Australia and the show is complex and again not very Biennale but all the better for it.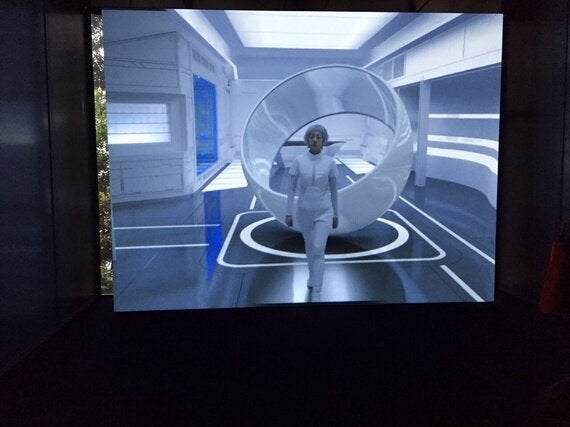 Moon Kyungwon & Jeon Joonho at the Korean Pavilion had the strongest video work, and as usual there was a lot, with The Ways of Folding Space & Flying. The production values of the video were staggering (above) as was the projection, the latest tech from Korea no doubt but put to great use. So many of the other videos left me cold, too long and not interesting enough, people walked in and out of most of them.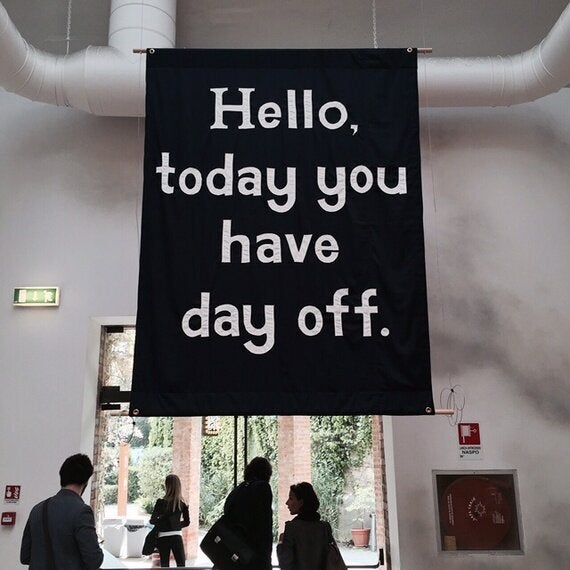 Jeremy Deller another UK artist was shown in the main show and his Hello, Today you have a day off was rather fun (above). The show also had some skull paintings by Marlene Dumas who has a great show on now at Tate Modern. Glenn Ligon showed some very dark (in every sense) paintings called Comeout. Adrian Piper's Everything #21 was rather bleak but fit the mood (below).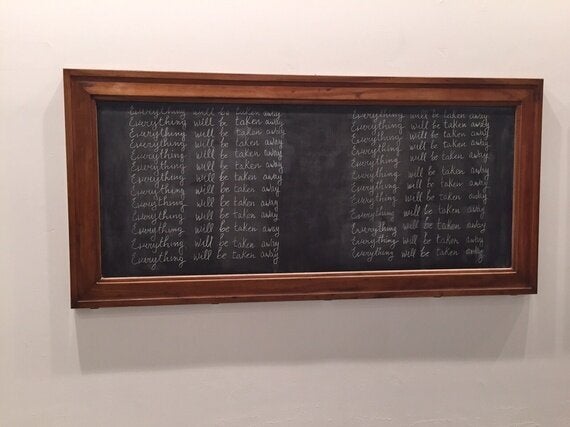 The artist collective from Canada called BGL took over the whole building and turned it into a local shop a bit like the Greek pavilion but it is filled with Canadian goods and it has the feel of the wilderness about it and it is a lot of fun. In another space reached by external clambering about is a room filled with empty paint tins, artists hard at work.
The Spanish had a large group show that was loud and fun and featured a comic book trail where you had to find all five parts dispersed throughout the gardens (below). A bit like outdoor gay sex cruising, which was the theme of the comics. The final lines are "What we homosexuals are mainly blamed for also contains most of our subversive potential. I keep my treasure in my ass, but my ass is open to everyone" - Mario Mieli