Worsted Men's Hole (with cashmere and silver mink), 2013, wool, cashmere, silver mink, cotton, 32 x 30 inches
Fabric supplied by Holland & Sherry
Artists Lisa Z. Morgan and Eric Magnuson joined forces in 2011 to form The Lavender Hinge: an ongoing erotic project, in which they explore their artistic and personal relationship.
It is somewhat rare amongst artist-couples to make work of this sort - one thinks of Michael Landy and Gillian Wearing, Gary Hume and Georgie Hopton, or any of the other YBA couples (Young British Artists - no longer so young) who have made individual bodies of work. A few have collaborated on the raising of children, but it is notable that Tim Noble and Sue Webster have worked together as artists while being a couple. Though this side of their relationship is now over (they announced their divorce in 2013), their joint work has not generally addressed the erotic nature of their relationship except in the drawing series The Joy of Sex, 2005 which mimics the original book but with drawings featuring themselves.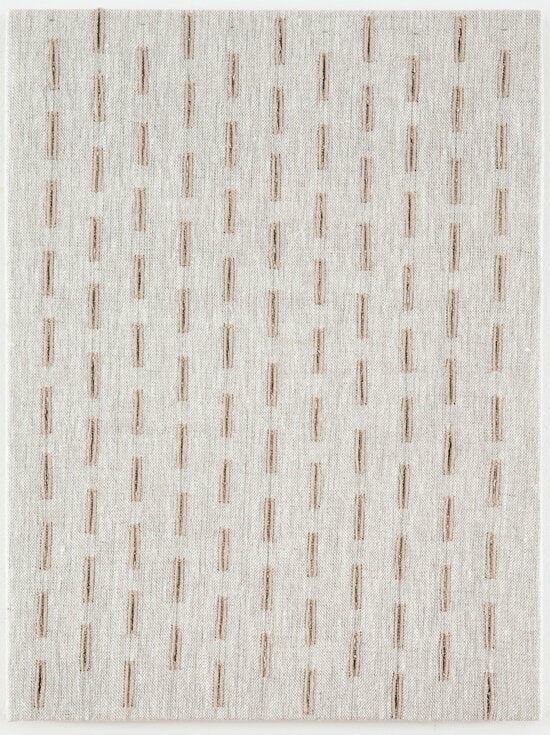 Buttonhole Practice, 2013, linen, cotton thread, 16 x 12 inches
Morgan and Magnuson's project has had the erotic at its core. It started with the creation of odd lingerie for Strumpet & Pink, which was worn by Morgan and then filmed by Magnuson in video pieces like Love Dance (for Willow), or When My Love Comes Down (for Willow), both 2011. Morgan is shown suspended mid-air, but then slowly and gently pivots around, then the speed increases and we see only her knitted knickers flash by and a flowing river in the background. We do not see her face or genitalia and (unless you happen to fetishise suspended women) the work seems to be primarily an exploration of trust - artistic and personal. These are odd videos that cross the boundaries of fashion, art, performance, nature, architecture and the personal. Morgan and Magnuson have continued to make videos as well as a vinyl record The Sound of Lavender, 2013.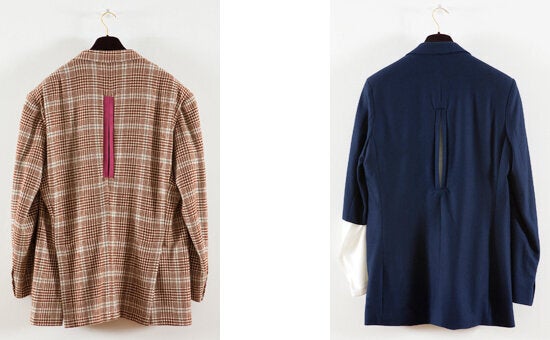 Left:Lavender Hole (for Kiton), 2013, cashmere, leather, cotton, 38 x 24 x 5 inches Right: Ten Inches (for P. Diddy), 2012, wool and rayon shell, acetate lining, 36 x 24 x 5 inches
More recently, they have created three-dimensional pieces which feature the buttonhole. The holes are either sewn into existing clothing or onto stretched canvas. A bright lavender oversized leather buttonhole was sewn into the back of an expensive Kiton jacket for Lavender Hole (for Kiton), 2013, while for Ten Inches (for P. Diddy), 2012, they removed part of a sleeve in order to have the material to open up the back of a jacket as a conceptual portrait of the singer. These assisted readymades engage other works that mix gender, desire and expectations of propriety as in their Composition for Bespoke Corset Suit, 2012 or Dress (for Matisse), 2012.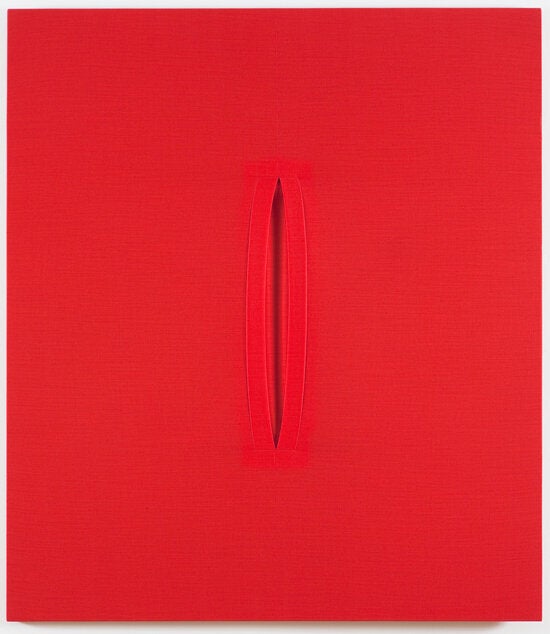 Red Hole (Kid Mohair), 2013, kid mohair, 46 x 40 inches
But it is in 'paintings' like Red Hole (Kid Mohair), Lavender Hole, Buttonhole Practice, and Worsted Men's Hole, that the work really takes off. In all of these paintings coloured fabric is stretched taught like a traditional canvas onto a wooden structure, and a large buttonhole is cut across the surface. They recall the slashed works of Lucio Fontana. However whereas Fontana's openings recall violence (other works were punctured which heightened the violent act of their making), The Lavender Hinge's recall the erotic. Their openings are more like orifices that crave to be entered. The buttonholes' lips are pulled slightly open and reveal an inside and can be seen as male or female. The Red/Lavender Holes at first sight seem vaginal, but might also be anuses. Certainly the artists have masculinity in mind in the Worsted piece, where the City business man pin stripe opens to reveal a soft pink internal space.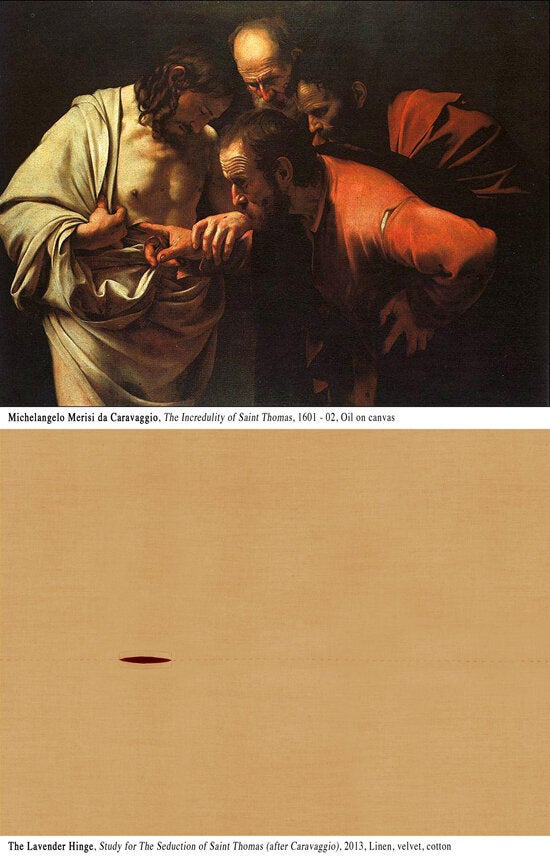 In their The Seduction of Saint Thomas (after Caravaggio) they go one step further in their enticement of the viewer. It is hard not to want to play the role of Thomas and insert our fingers into their red buttonhole. They have said of the Caravaggio "Jesus looks to be encouraging Thomas to perform a gesture (one man penetrating another or simply sticking one's finger into the wound of another) that could have been considered perverse and a violation of social and cultural mores (of the times)."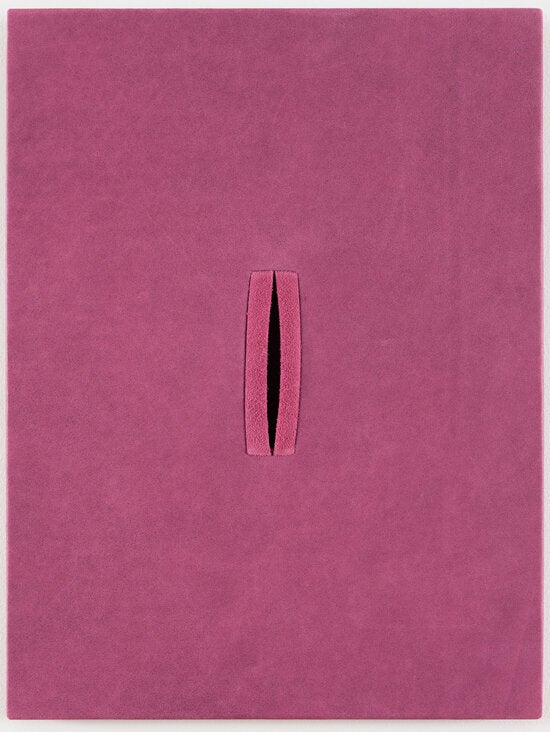 Lavender Hole, 2013, dyed Leather, 18 x 12 inches
The Lavender Hinge toy with the viewer, they acknowledge the pull of the erotic and their own sexual relationship, they ask for a visual three-way. The viewer is not excluded from their intimacy, quite the reverse, they aim to draw in our gaze and ask us to join in an ecstatic moment. Much work on the erotic is a closed loop, referring only to the individual's fetish, or object choice. But here, by abstracting the eros at play, they enable us to play along, regardless of gender, sex, or sexuality. Perhaps it is because they are a couple, or perhaps because they are at work jointly, that they have found a new take on an old pleasure.
All images courtesy: The Lavender Hinge
TLH images were photographed by David Allison
Work by The Lavender Hinge will be included in the
"Pin Me Up Pin Me Down" exhibition at
The Rue de Fleurus Gallery
November 15 - December 15, 2013