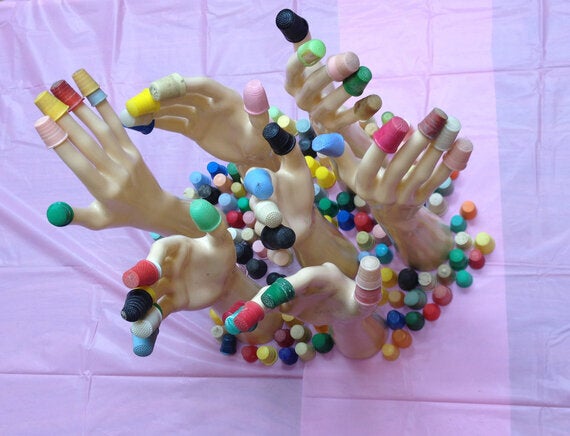 Peter Quinnell's Plastic Thimble Roundup, at The Table Top Museum Exhibition
October is a busy time for art lovers (and haters) in London, as hundreds of shows and events happen at more-or-less the same time and a super human effort is needed to see even a small percentage of them. I tried that last year; it was just too much. This year I have seen less but enjoyed it more. My highlights are below.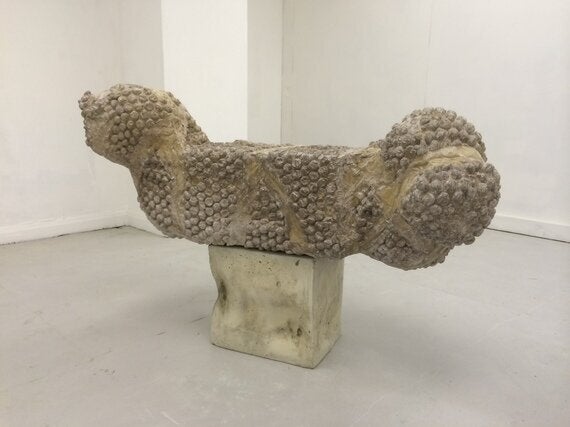 Rob Menzer, Excavated Form #15, 2014, concrete and plaster
Rob Menzer is a London based sculptor whose work was actually on show in Leeds at the And Model gallery. He made the work during a residency this September. His large concrete, plaster and hessian works called Excavated Forms do look like they have been dug up from a site near Stonehenge or from a Bronze Age hill. They look heavy but incredibly fragile, like objects that have lain in the earth for eons. Many of them look like fertility objects or at least erotic objects - if concrete can be called an erotic material. He has said that his work aims to 'draws our attention to the physical world around us and question our desire to control and stabilise it'.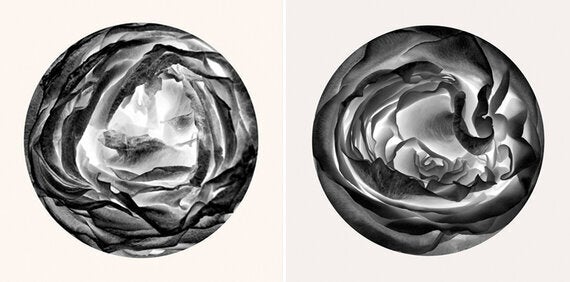 Aidan McNeill, Between Borders, 2014
Aidan McNeill's show of new black and white photographs Borders Between
at the Canadian High Commission's Official Residence in London's Grosvenor Square was in association with PayneShurvell. It is the last show they will ever have as Canada has sold the pastel coloured interiors and the freehold to a Pakistani businessman for £600 million and it will soon be luxury flats. It was great to get a chance to see the chinz covered interiors (which would not have looked out of place in an issue of Architectural Digest), and how McNeill's photos knocked them for six! Her new still life images are inversions of the actual English roses she has digitally photographed, and each retains a hint of its original colour. They look almost as sculptural as Menzer's work and disrupt the expensive interior. Shame it will be the last project there.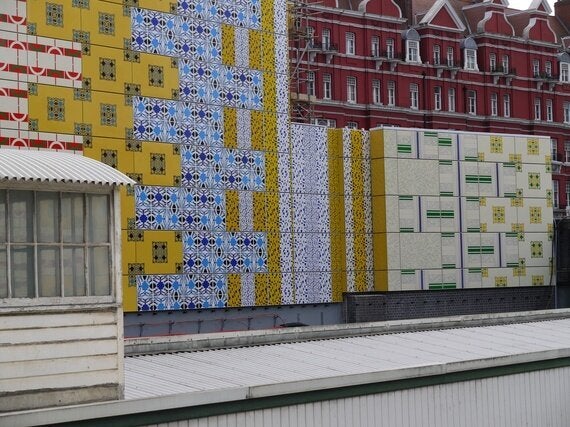 Jacqui Poncelet, Wrapper, 2012
In 2012 Jacqui Poncelet made a huge patterned installation Wrapper that completely covers the Edgeware Road tube station. She gave a talk about her work at the Artworkers Guild focusing on this incredible civic intervention. It is completely at odds with its local environs and is covered in many clashing patterns, yet the whole combines into one successful piece. In a soft voice she filled the room with her love of colour and pattern so at odds with standard British taste much less hipster London. Maybe that's why it works so well, her voice and her work. There is a quiet intensity to her vision that tap, tap, taps away at even the most cynical minimalist and even if you might not want to have it in your home, you are very happy it exists.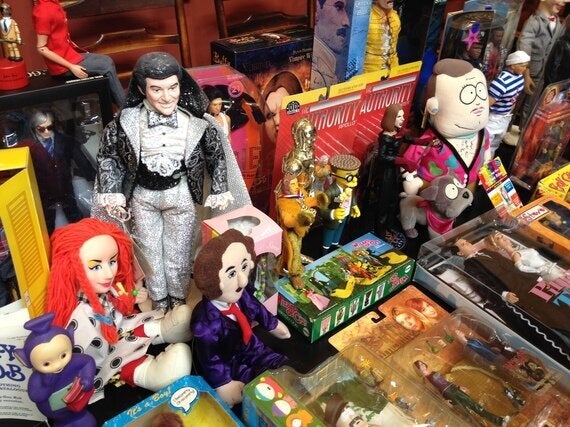 Nigel Grimmer's The Gay Doll Museum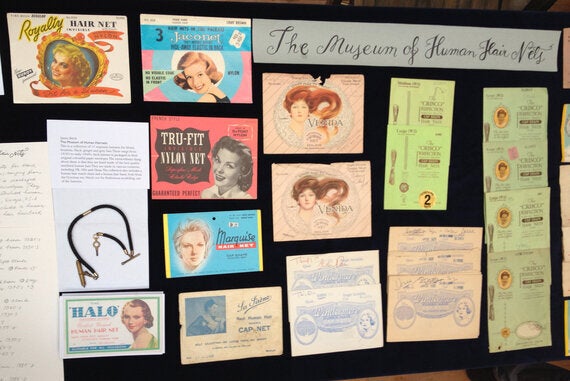 James Birch's The Museum of Human Hairnets
The Guild also had a wonderfully crazy show curated by Stephen Fowler and his team called the Table Top Museum Exhibition . It featured Nigel Grimmer's 'The Gay Doll Museum', Sallyanne Wood's 'Leg Dressings', James Birch's 'The Museum of Human Hairnets', Rebecca Jewell's 'A Cabinet of Feathers', Jo Volley's 'Pigments & Stains', Nicholas Cooper's 'British Bricks', Theo Wood's 'The Museum of Space Exploration', Tony McSweeney 'Family Butchers' Bags', and Richard Wentworth's 'The Sykes-Picot Memoir'. This was one of my favourite shows of the fall. Shame it was only a one-day event. Artists, curators, collectors and dealers all brought and displayed parts of their own collections of wonderfully mad things. Each table was a treat, not a single dud. Who doesn't like seeing what other people collect, their likes and tastes are on show and in a way that is what collecting art is about. They say you should only ever buy pieces you really like and not think of the market and here, we saw feathers, thimbles, meat bags, woven hair and gay dolls! It was a real treat.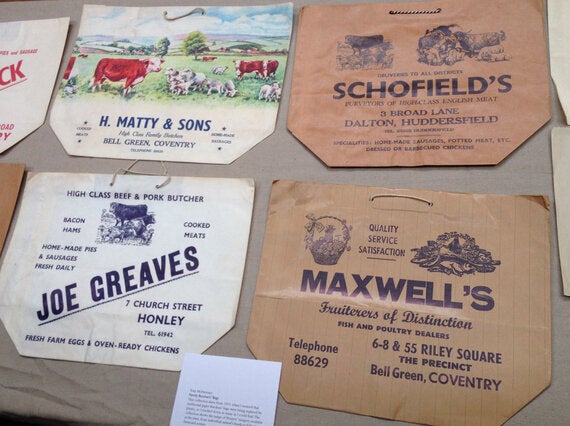 Tony McSweeney's museum of Family Butchers' Bags
Three of the art world's heavy hitters Richard Serra, Richard Tuttle and Gerhard Richter also had shows that opened to differing acclaim. Serra presented four large metal sculptural works, verging on installations at Gagosian to possibly the best notices, while Tuttles' new commission for the Tate Modern's Turbine Hall ran to very mixed reviews. His I Don't Know . The Weave of Textile Language, is a very large abstract work of wood covered in three fabrics of his design. Those who know his delicate and usually very small gallery based works must have wondered what on earth he was doing. But so strong is the call of the Siren Tate that he like Rachel Whiteread had to have a go, yet seems to have been overwhelmed by that large empty space. Perhaps Richter has come out best as he was the artist who opened the brand new London branch of the esteemed New York dealer Marian Goodman. Her new gallery is so grand, so luxe that it might have defeated many other fine artists in her stable. His work more than matched the glamour of the space and if you have not been there yet go see it. I think she may have thrown down the gauntlet to White Cube and Gagosian - who knows where will they find such a large central space to compete?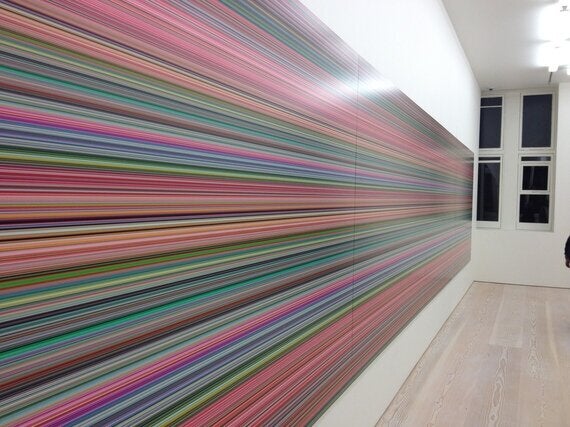 Installation view of the Richter show at Marian Goodman Gallery London
The Fine Art Society has long held real gems of shows and on Bond Street you don't really expect that. But their new show What Marcel Duchamp Taught Me is the largest in their history and runs over the entire five floors of the building featuring new works by over 50 contemporary artists who hold Duchamp as a touch stone. Gavin Turk made a large version of the Rotoreliefs called Rotor Rings which greets visitors at the entrance and works that relate to every period of Duchamp's output can be found alongside some of his own works like the Monte Carlo Bond. Cedric Christie, Oliver Glegg, Nancy Fouts, Kendell Geers, Conrad Shawcross and Cornelia Parker are amongst the many artists who have really succeeded in making work that relates not only to Duchamp but their own histories as makers.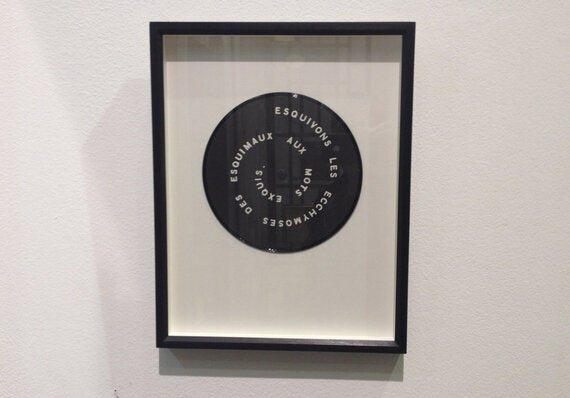 Marcel Duchamp, Esquivons les Ecchymoses des Esquimaux aux Mots Exquis, record/sound recording, 1968
London in the fall is such a great place to see work and there is so much of it out there. I find the online art sites are helpful in deciding what to try to see and I hope that people do get out there as the nights draw in and the cold rain ends our long late summer.
Rob Menzer courtesy the artist
Aidan McNeill courtesy the artist, PayneShurvell gallery
Jacqui Poncelet courtesy the artist
all other images courtesy the author