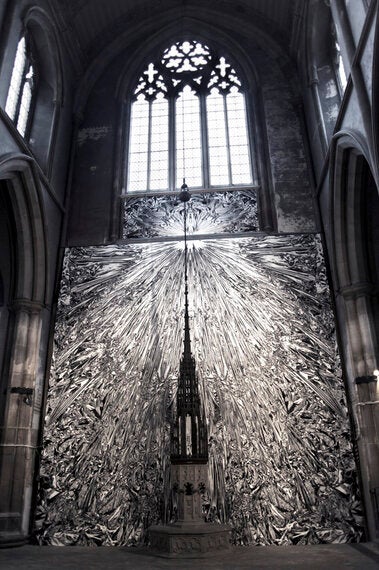 HS, a photographic installation by Maciej Urbanek
HS is the new site-specific photographic installation by Maciej Urbanek in St Michael's Anglican church in Camden. It is a very high church indeed, I mistook it for a Roman one when I entered, but should have known that it wasn't as I was going to see a contemporary art installation. The C of E has a long history in the UK of trying to get contemporary art into its spaces. St Stephen, Walbrook in London has a 1972 Henry Moore sculpture that is also an altar. Antony Gormley's Sound II is in the Winchester Cathedral and Bill Viola'sMartyrs (Earth, Air, Fire, Water), was just installed (May 2014) in St Paul's Cathedral.
Father Philip North, the Team Rector of the Parish of Old St Pancras (soon to be bishop of Burnley) has been placing contemporary art works in his church for some time, and it is he who facilitated the project privately funded by John Booth. Urbanek was also helped by EPSON who printed the huge image on fine art paper that measures over 60 square metres so that it would "look like a watercolour or a drawing" as opposed to a billboard. To make the highly Baroque image Urbanek first photographed black plastic rubbish bags. He then manipulated the images on the computer so that in the end the work is a mix of Sci-fi aesthetics (all liquid silver foil), Rococo excess (folds that could be a spun silver tapestry) and edgy contemporary art (if you look close you can see the seams of the prints stapled to the hidden under-wall).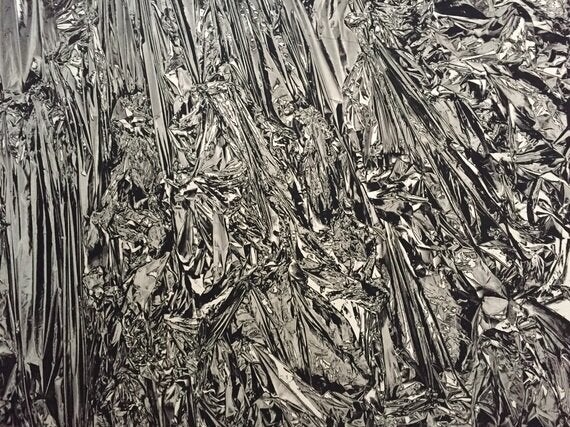 It is also, for its home audience (the local parishioners) an object of veneration. It stands behind the baptismal font and directly faces the altar. It recalls images of Christ depicted as golden rays of light (which themselves reference Apollo, the Greek God of light). Discussing the work in situ Urbanek relayed a story where one elderly woman parishioner told him that in the work she could see the face of "a cat, a Satan, that bars her from going to heaven". The work is very abstract, the geometric shapes themselves do not depict any direct imagery or narrative, but it is so open that people can see into it what they want. They can project onto it art or religion. The site certainly has something to do with that. Urbanek mentioned that one of his artist friends said "I wonder how I would feel if someone prayed in front of one of my art works".
The notion took him aback because he had been so preoccupied with the massive task of making and installing the work that he had not had time to consider how it might be seen in a non-secular light. Few contemporary artists work with religion as a topic unless in a scathing fashion, but to address spirituality in a secular world is a hard task. The main art world is also consumed at the moment with consumption and the flashing of money. No month goes past without a new auction record being set and yet this work (which also addresses the sublime) seems so outside of that discourse, if that is a discourse. Christ throwing the money changers out of the temple is an old biblical story and perhaps those contemporary interventions that do work, are those that deal with the history of religion and do not elide it.
Urbanek is Polish by birth (he studied at Goldsmiths and the Royal Academy) and is well aware of his country's relationship to Rome. He feels it is just another part of who he is as an artist, and an area which he has the right to explore. Some of his work mixes the queer, the abstract as well as the religious as in his 2010 work Shroud where a huge (nearly 7 foot) nude bodybuilder was presented like the should of Turin in photo negative. The man stares out and towers over the viewer as the image was printed at life-size. It conflates so many of Urbanek's concerns. Yet HS towers above us in a new way, it invites us into it, whereas unless the viewer thinks they could pull that beefy Jesus, it is likely they will start to feel uncomfortable under his gaze, or it may be his nudity. People are happy to stand and carefully examine (stare) at nude female images by Lucien Freud but they almost always turn red when looking at his equally unsparing paintings of naked ginger pubed gents.
HS is unsparing too, in a way it commands us to look at it, and it commands respect. It is like a grudge match featuring contemporary art vs. traditional religious imagery. While we were talking another pensioner, Peter, stopped to talk to Urbanek and I asked him what he thought of the installation. He replied "Brilliant, fantastic". I pressed him, did he normally like contemporary art and he said that he was 'not into art at all' and that he had a neighbor who was an artist who taught at a London university but he couldn't "stand any paintings that he did". I think that being abstract is one of the obvious strengths of Urbanek's installation, you can look at it as a religious or secular object. People still want a connection to something greater than themselves and Tate Modern is a new Cathedral, all museums are, so how interesting to find new work in an old cathedral or church that gives us that double edged feeling.
When I asked Urbanek about the moniker HS, he gave me a wry smile, and told me that every year at Easter in a formal consecration ceremony they process a large lit white candle around the font and then spill the hot wax into the awaiting water. Jump in!
The work can be seen from December 5, 2014
HS installation view provided by the artist
Copyright © 2014 Maciej Urbanek