I have to admit that I am not the best at web searches or for finding information on museum or gallery sites even when I know what I am looking for. I often type in what I think should be the key word only to find no results. This got me to thinking that if I didn't know what was on a site, say LGBT info. What would I get when I tried different sites? So I did.
Interestingly very little came up on most of the main global museum sites. That is what makes the National Portrait Gallery's Queer Perspectives all the more important. Run by artist Sadie Lee whose own work often explores gender identity and flux and whose paintings fall under several categories like "Tomboys and Crossdressers" and "Inappropriate Women", Lee presents a quarterly tour of the museum's permanent collection accompanied by an LGBT artist from a wide variety of media. Past artists who have selected works and then spoken about them on the informal tours include singer David McAlmont, artist Sunil Gupta, historian and activist Simon Watney, director Neil Bartlett and writer Ali Smith.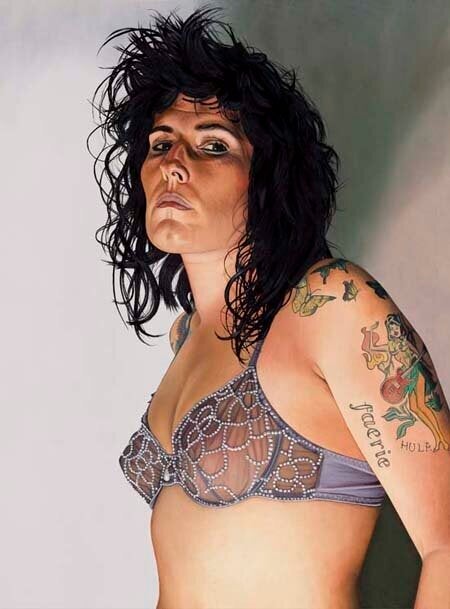 Anderrida Shurville by Sadie Lee, oil on canvas, 2011
Lee encourages her guests to select between 3-5 works that have some personal resonance. The works might depict an LGBT subject (Peter Pears and Benjamin Britten by Kenneth Green, Oscar Wilde by Napoleon Sarony, Henry James by John Singer Sargent) or simply be of interest to the speaker (McAlmont spoke passionately about a rather dull marble sculpture of Queen Victoria and Albert). Lee in discussion with the artists teases out interesting LGBT links, and facts about the institutional collection allowing other voices and interpretations to emerge.
The banter that develops between Lee and her guests is one of the highlights of each event as well as the very active audience participation that can be disruptive but also inject unexpected turns (they continually ask questions or makes comments). The free but ticked events are usually oversubscribed and are the only regularly scheduled LGBT programme at any major museum that I know of (I would be very happy to be corrected).
Lots of museums have the occasional talk or film but none seem to have an ongoing programme or one that functions on a continuous basis. The British Museum has a very good same-sex desire trail through their collection though it does not seem to have been updated for a while. The Victoria and Albert has a simple LGBTQ history page that is at least aspirational as they "look forward to progressing these issues through future projects and events" though without listing any. Which is certainly better than the MOMA site, which brought nothing up at all. Neither did the MET's but I did find a link on another site which informed me that the MET held a 'LGBT Post Pride Members Reception: An Evening in Cloud City' last year. I found no information on the MET site, nor any mention of one for 2013. Their search page seems to bring up only images of works in their collection, as did the Rikjsmuseum's. Again that is not to say that they don't do events just that they were not easily visible on the site, which may simply be an oversight. Websites for smaller contemporary spaces without historic collections usually do not have search facilities on them as they hold a lot less content. The large encyclopedic institutions really need to address this issue.
What is heartening is that most cultural institutions at least recognize that some LGBTQ presence as well as one for race, and women needs to join their site map. Hats off to the National Portrait Gallery who have committed to doing something positive and ongoing. Andrew Logan, artist and "inventor and impresario of the unconventional beauty pageant The Alternative Miss World" is the most recent to take up the tour guide baton (May 2).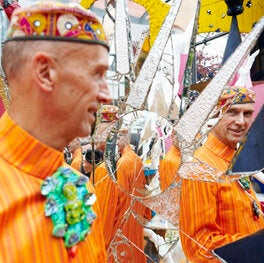 Courtesy of AndrewLogan.com and the National Portrait Gallery
National Portrait Gallery: Queer Perspectives 2 May 2013, 19:30
St.Martin's Place, London WC2H 0HE