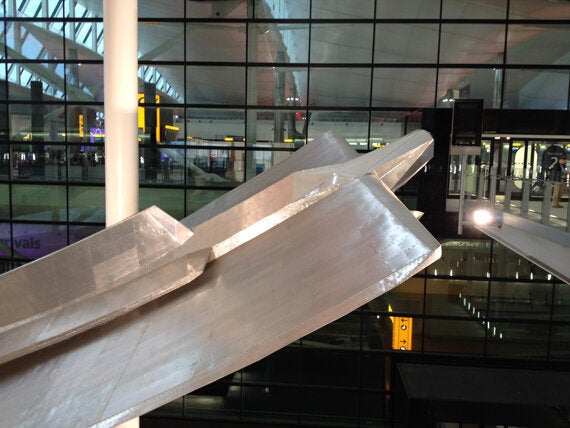 Richard Wilson's new sculptural installation Slipstream had its preview last night at the new Heathrow Terminal 2 (oddly named The Queen's Terminal - which queen or queens does it refer to?) Spanish architect Luis Vidal is responsible for the framework that the 78 meter long sculpture resides in, and it has been much derided, but I think most people would agree that Wilson's work is a triumph.
Vidal hoped to make the terminal a destination and spoke of the new building in the same context as Covent Garden (old and new). He hopes that the experience of being frisked, strip search or x-rayed while a surly teen asks for your passport, ticket, belt and shoes will bring the same joy as a cool glass of white wine on a hot day in an open air café. Wilson simply wants to bring back the experience of the awe of flying.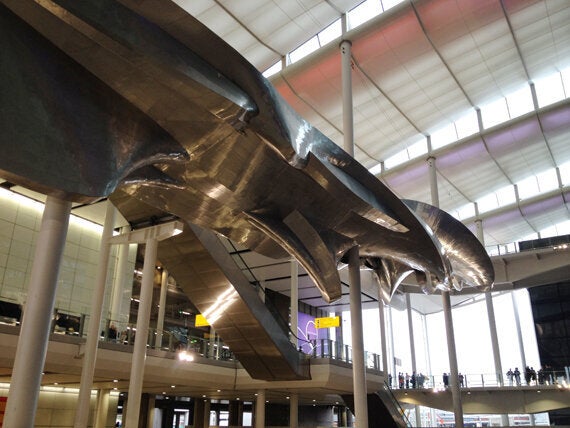 And boy how he succeeds. The massive three dimensional flight path of a small plane looping mid-air soars above the viewer and though the aluminium coated structure weighs in at 77 tonnes it conveys the effortlessness of its digital origins. It really has to be seen to be understood as an object, and seen from as many views as possible, and here the building does work, as it offers so many views on so many floors.
I doubt that the 20 million travellers a year that will pass it by will feel they have the time to do so but I hope that they will explore the piece. They will be greatly rewarded. Wilson was selected out of a shortlist of five international artists presented to BA by the curator of the project, Mark Davy of Futurecity (who are also the force behind Mark Wallinger's White Horse project for Ebbsfleet). BA's faith in such a wonderfully crazy idea has been well rewarded. The work was engineered by Price & Meyers and made for Wilson in 23 large pieces by Commercial Systems International in Hull.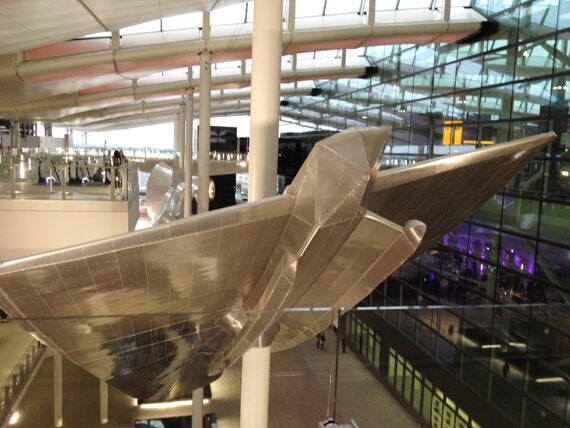 I doubt any of those involved thought about the noise of the planes taking off every minute but they provide an exhilarating soundtrack for the work. That said, I wouldn't want to live in the flight path, bring on Boris Island.
Terminal 2 opens to the public on June 4, 2014
All photos courtesy the author
Related