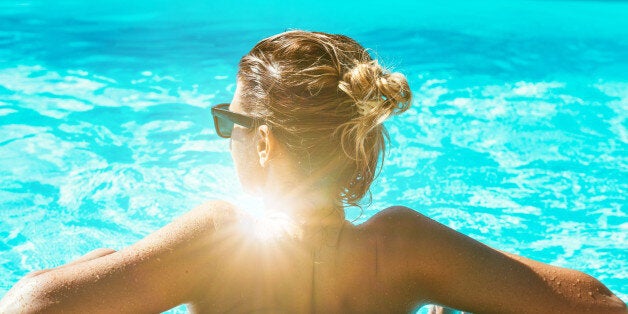 Looking forward to a summer holiday is one of the highlights of my year, and for most of us we need it red-ringed in our diary from January 1st to get us through those new year blues. But for some women going on a summer holiday fills them with dread rather than excitement.
1 in 3 women in the UK suffer from bladder weakness - making it more common than hay fever. You can then imagine why going on holiday can make them feel insecure and fearful. They worry about how bladder weakness will impact some of the things we most look forward to about our holidays, like swimming, wearing summer clothing and swimwear (how will they wear it with a pad?), playing with our children and spending quality time with a partner - it can cause huge embarrassment and anxiety for these women. New research conducted by INNOVO®, has revealed that two fifths (36%) of women suffering from bladder weakness will not go swimming due to the fear of wearing a pad; 20% of women under 30 (likely to be young mothers suffering from incontinence postnatally) are unable to play with their children in the pool, and a quarter would avoid wearing swimwear or summer clothing altogether .
Other holiday pleasures like spending intimate time with our partner is also a worry - 1 in 10 women who suffer from bladder weakness admit that they would be anxious about having sex when on holiday. Bladder weakness can cause leakage during sex, and therefore many women choose to avoid intimate situations altogether because of the embarrassment and anxiety it can cause.
It's such a shame that women are sacrificing their well-earned holidays due to feeling insecure and anxious. Summer holidays should be fun, not something we would rather avoid. I have had numerous women in my surgery who are suffering from bladder weakness, and are worried about when those 'little leaks' can become a big humiliation. It's imperative that we talk about it and help women realise that there is a solution - there is no need for them to continue to suffer in silence and rely on pads.
That's why this summer, I am encouraging women to really self-invest in themselves, live for 'wow' moments and not suffer in silence when it comes to urinary incontinence. A weak pelvic floor is the root cause of bladder weakness, and by restoring the pelvic floor muscles with Innovotherapy (available at restorethefloor.com), these women can regain the confidence they have lost.
We need to empower women suffering from bladder weakness and ask them to invest into themselves this summer and strengthen their pelvic floor. Women must claim back their lives, their summer holidays - and most importantly - their confidence too.