With Christmas approaching, it is sobering to think that the latest government guidelines are saying that there is no safe alcohol limit. I always used to console myself with the thought that a glass of red wine had health benefits but it seems that isn't really the case.
But whilst alcohol is far from essential when it comes to Christmas celebrations, many of us will be indulging over the festive season. So how do we indulge, celebrate and party with friends and family but still keep body and mind happy? Here's how...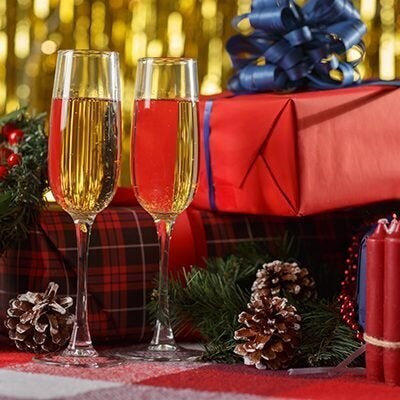 1. Make sure you are well hydrated before you go out drinking. Dehydration will only get worse after a few drinks and give you a hangover from hell the next day. And once you are out, the standard advice of alternating alcoholic and non-alcoholic drinks, ideally water, really does help. Or be canny and mix the two from the outset - white wine spritzers may sound a bit 80s but Christmas is always a bit kitsch!
2. Look out for lower alcohol versions of your favourite tipple as the alcohol content of many beers and wines is much higher than it used to be. We are getting more used to checking food labels for sugar and fat content - apply the same principle to alcohol percentages too.
3. And whilst we are on the subject of sugar, remember that alcopops and cocktails can be full of the white stuff - meaning that our body is taking a hit from the empty calories of both alcohol and sugar. They can soon add up, so try to stick with low sugar and non-creamy drinks to avoid that holiday weight gain.
4. Make the most of the socialising. The more chatting and dancing you do, the less drinking you can manage. So, be the life and soul of the party and you will have more life and soul the next day too - when you are hangover-free!
5. Be festive-fit! Being active during the holiday season keeps you in a healthier frame of mind, holds the weight-gain at bay and may, according to a recent study, reduce the health risks of the alcohol you are consuming.
What's more, alcohol knocks our will power for six so we snack more when we are drinking. We may then have a late night and sleep poorly as alcohol isn't conducive to good quality sleep even if we feel as though we have crashed out. The next day, tired and hung-over, we are more likely to reach for high-sugar, high-fat foods to re-energise... and eat more calories as a result. Cutting back on the booze will cut back on that problem too - so yet more reason to be alcohol aware this Christmas.
For more free help and advice on food, drink and weight over Christmas and the New Year visit www.vavistalife.com